Visual Inspection
The Biostar X470GTN is a mini-ITX sized motherboard aimed at gamers looking to build a small form factor system or at least one with a smaller footprint in comparison to ATX. While we covered on the previous page the obvious similarities in design and aesthetics compared with the X370GTN we previously reviewed, the overall consensus is that both boards are indistinguishable other than the full length PCIe 3.0 x16 slot which gets a coating of Iron slot protection and the embedded chipset change from X370 to X470. Everything else from the RGB infused power delivery heatsink down to the rear panel input and output selection, and even layout is identical.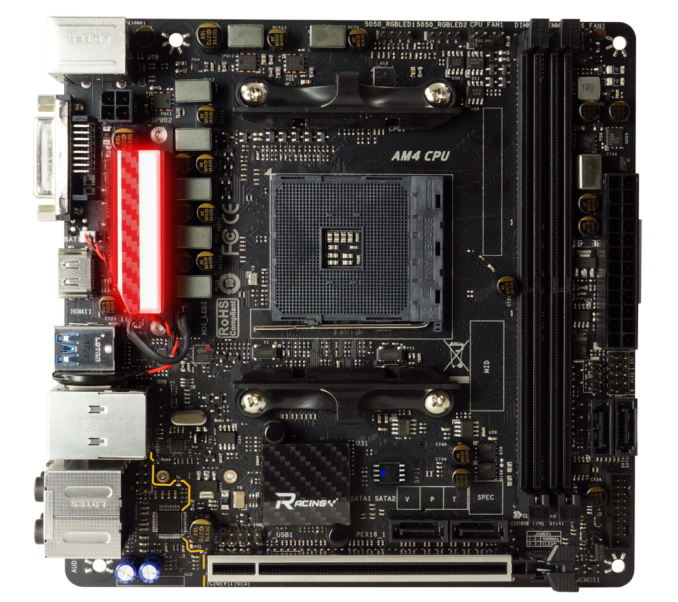 Memory support on the X470 comes via two slots laid out side by side, which allows for DDR4-3200 to be installed. A total capacity of up to 32 GB is supported with the AM4 socket allowing for dual-channel memory configurations to be used. Biostar does provide a basic list of compatible DDR4 memory which resembles a basic QVL support list, but they do state themselves that it's not a full listing of supported memory sticks and should be used as a guide for testing. Biostar also does not state whether or not that this board supports ECC memory or not. Due to the sizing limitations associated with the mini-ITX form factor, Biostar has included a full-length PCIe 3.0 slot which operates at x16 with a Ryzen desktop processor and x8 when a Ryzen APU is installed. The full-length PCIe 3.0 slot has a coating of what Biostar call their 'iron slot' protection which is designed to protect the slot from physical damage associated from heavier graphics cards and during installation.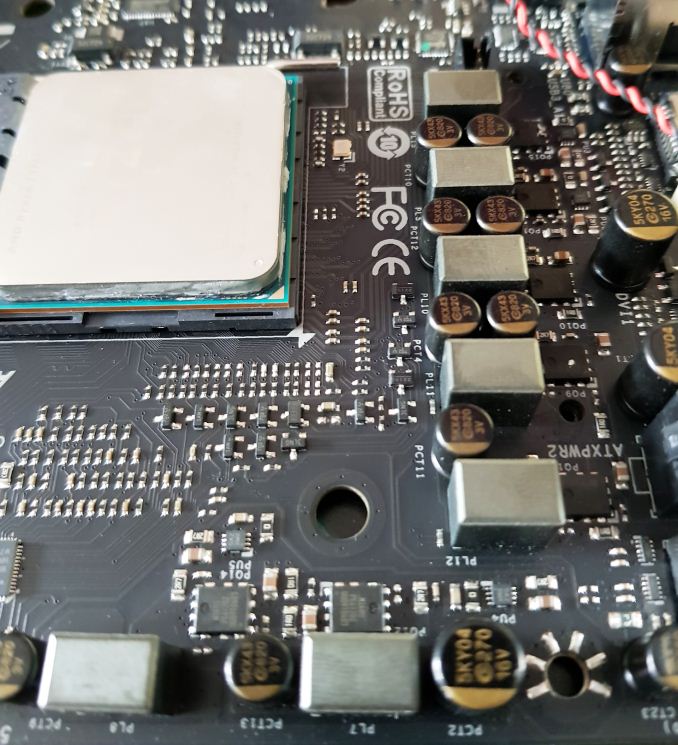 The power delivery on the Biostar X470GTN is rather decent for a board in its current price range and pedigree. The power delivery runs in a 4+3 configuration with an Intersil ISL95712 controlling things, while a total of seven Nikos PK612DZ dual N-channel MOSFETs and seven individual chokes are also present. Also featured is a total of three Intersil ISL6625A drivers with two provided for the CPU and a single driver is present for the memory/SoC section of the power delivery.
AM4 Motherboard Power Delivery Comparison
Motherboard
Controller
H-Side
L-Side
Chokes
Doubler
ASRock B450 Gaming ITX/ac
ISL95712 (6+2)
10
10
8
-
ASRock B450 Gaming K4
ISL95712 (3+3)
12
9
9
-
ASRock X470 Taichi Ultimate
IR35201
(6+2)
16
16
16
8
Biostar X370GTN
ISL95712
(4+3)
7
7
7
-
Biostar X470GTN
ISL95712
(4+3)
7
7
7
-
GIGABYTE X470
Gaming 7 Wi-Fi
IR35201
(5+2)
12
12
12
5
MSI X370 XPower Gaming Titanium
IR35201
(6+2)
10
16
10
5
Biostar advertises an onboard LN2 switch in its marketing materials but the location of this on the PCB is unfortunately uncharted. Another feature not present is an external clock-generator but despite this, the BIOS does actually offer BCLK adjustment from 100 MHz to 107.3 MHz so even though the lack of an external clockgen might be a buying decision, the ability to change base clock is an option. Biostar may have mistakenly copied the marketing from the bigger X470GT8 which does physically include this switch designed for sub-zero overclockers. More extreme users looking at the Biostar X470GTN certainly won't be impressed by the 4+3 power delivery on offer and this has to be expected from what is a lower end X470 $130 mini-ITX motherboard.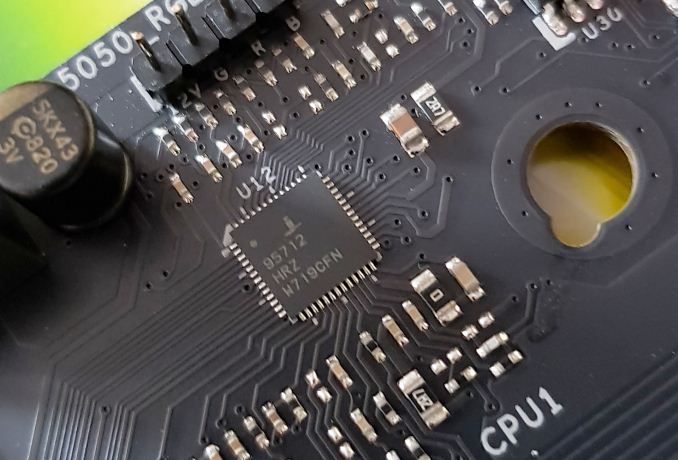 The power deliveries on both the Biostar X470GTN and the previous X370GTN mini-ITX motherboards are identical, even down to the slim and lightweight RGB laden MOSFET heatsink. The 4+3 configuration of this calibre is more than ample for a board of this pedigree, although users that don't make the use of a chassis with good airflow could potentially struggle when overclocking, especially at stock settings, but the small MOSFET heatsink covering the CPU area of the power delivery seems ample and causes no major areas of concern.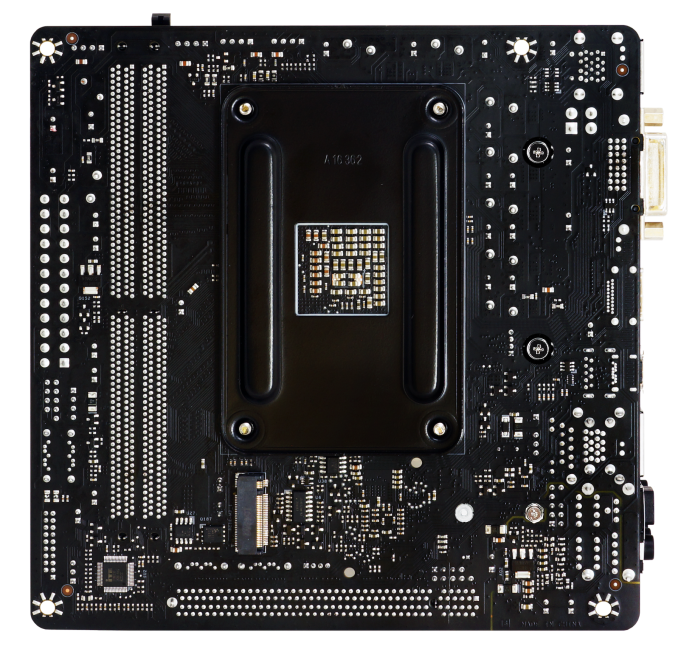 Biostar has included a total of four SATA ports which all feature straight-angled connectors. These are located in pairings, with one set to the bottom right-hand side of the two memory slots and the other two sitting to the right-hand side just above the full-length PCIe 3.0 x16 slot. The SATA ports support RAID 0, 1 and 10 arrays. Biostar has included a single M.2 but due to spacing limitations with the mini-ITX form factor, the slot is located on the rear of the PCB. The slot supports M.2 form factor drives up to and including M.2 2280, but Biostar doesn't state, nor do they list this on the product page. Another factor for users to consider when using an M.2 slot on the rear is airflow. Some NVMe capable M.2 drives can run rather hot under load and the extra heat can quite easily cause throttling issues, so good airflow is paramount to strong and stable performance.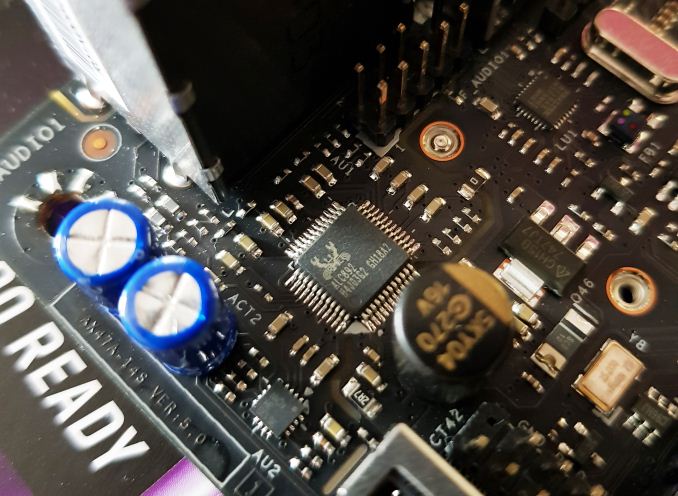 The onboard audio consists of a decent quality Realtek ALC892 eight-channel HD audio codec which is supplemented by a pairing of blue colored audio capacitors. There is a physical divide in the audio section of the PCB from the rest of the board which attempts enhance the quality of the onboard audio through less analog/digital inductance.

On the rear panel of the X470GTN motherboard is a basic and fairly standard set of outputs and inputs. USB support comes through two USB 3.1 Gen2 ports which consist of a Type-A and Type-C connector, with an additional four USB 3.1 Gen1 Type-A ports included. There are no native USB 2.0 ports on the rear, but users to expand the current USB real estate by a further two USB 3.1 Gen1 and two USB 2.0 ports due to internal headers. Users looking to utilize the Ryzen 2000 series APUs with this board can do so due to a pair of video outputs consisting of an HDMI 1.4 and DVI-D port. The five 3.5 mm gold plated audio jacks and single S/PDIF optical output is powered by the Realtek ALC892 HD audio codec whereas the LAN port is powered by the Realtek RTL8118AS Gigabit networking controller. Finishing off the rear panel of the X470GTN is a PS/2 combo keyboard and mouse port.
What's in The Box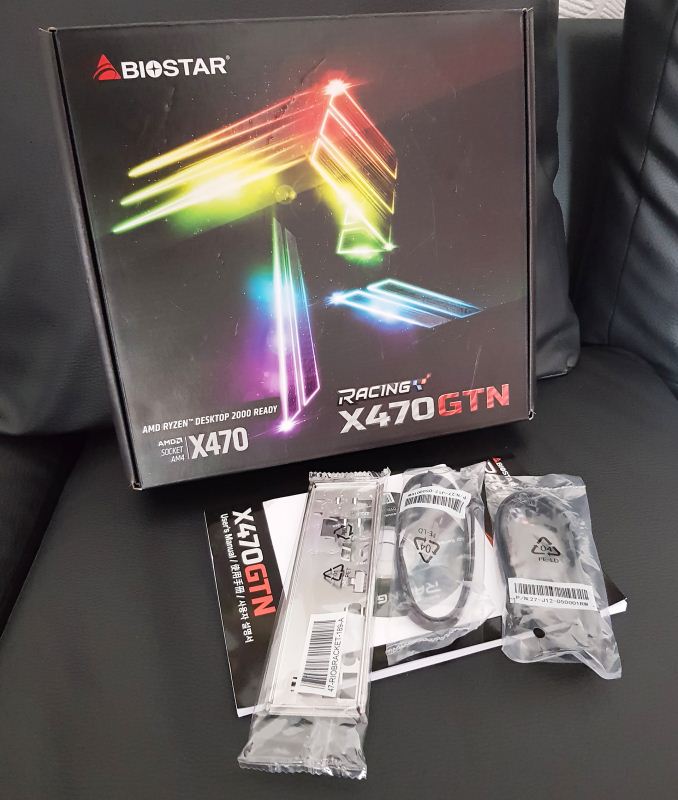 The Biostar X470GTN includes all of the basic accessories and essentials required to get started with the installation of a new system with a rear I/O shield, a glossy user manual, a driver installation disk and four straight angled SATA cables. This is the expected bundle of a $130 motherboard and represents an entry-level offering to the X470 chipset.
User manual
Driver installation disk
4 x SATA cables (all straight-angled)
Rear IO shield