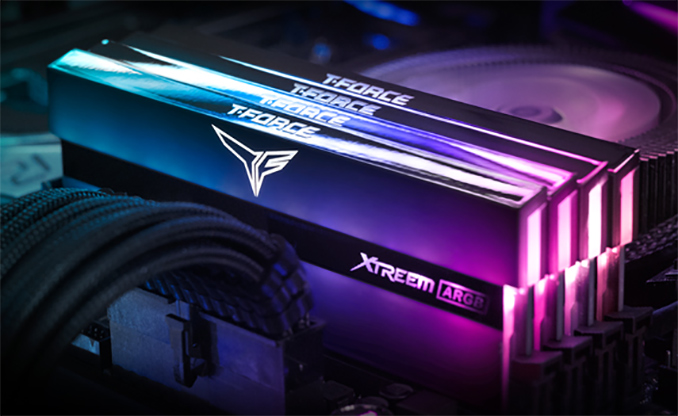 With even "extreme" clockspeed DDR4 modules bordering on being commodity hardware these days, DRAM module manufacturers are increasingly using design as one of the primary ways to attract attention to their DIMMs. Fittingly, Team Group this week introduced its new T-Force Xtreem ARGB Gaming Memory series, which offers data rates up to 4800 Mbps while using mirror finished heat spreaders to give the DIMMs some rather unique luminous lighting effects.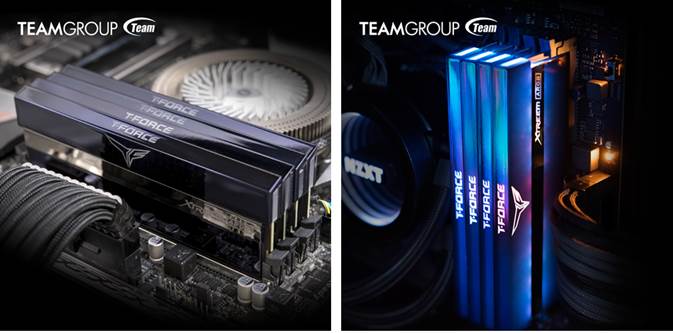 Set to be available with speed bins from DDR4-3200 all the way up to DDR4-4800 (the fastest mode ever announced by the manufacturer to date), Team Group's Xtreem ARGB DDR4 Gaming Memory modules are based on the company's proprietary PCB with integrated traces for RGB LEDs as well as cherry-picked memory chips. The DIMMs support XMP 2.0 SPD profiles for easier setting of correct data rates and latencies as well as are certified to work both with AMD and Intel platforms.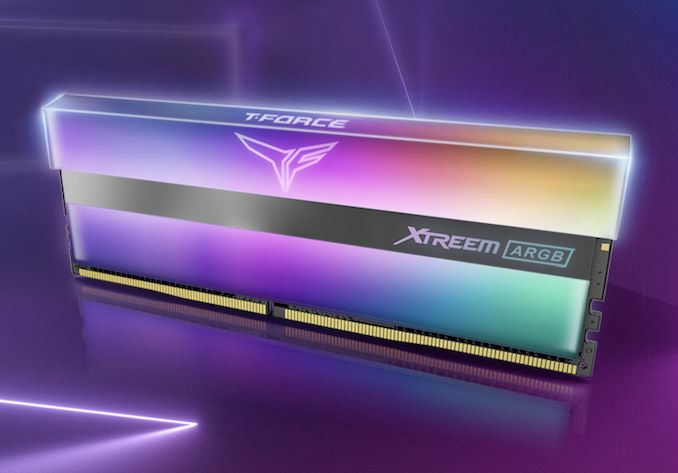 The key feature of Team Group's Xtreem ARGB memory modules is their heat spreaders with their exclusive illumination effect. Like virtually all enthusiast-grade DIMMs these days, the modules are equipped with aluminum heat spreaders, but these parts have a mirror-like surface that reflects the light emitted by the addressable RGB LEDs inside their lightbar on top. As a result, the whole surface of the the module is illuminated.
Team Group's T-Force Xtreem ARGB Dual-Channel Memory Kits
Speed Bin
Capacity
Timings
Voltage
PN
MSRP
DDR4-3200
16 GB
(2×8 GB)
CL14-14-18-34
1.35 V
765441649330
?
CL16-18-18-38
765441649347
?
DDR4-3600
CL14-15-15-35
1.45 V
765441649354
?
CL18-22-22-42
1.35 V
765441649361
?
DDR4-4000
CL18-22-22-42
765441649378
?
Team Group's website already lists a few different Xtreem ARGB SKUs, including dual-channel 16 GB kits that are rated for DDR4-3200 CL14/CL16, DDR4-3600 CL14/CL18, and DDR4-4000 CL18. So expect these products to be available shortly. Higher-performing SKUs will hit the market a bit later.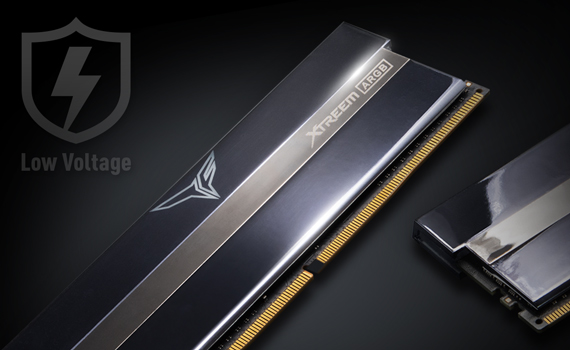 Related Reading:
Source: Team Group