G73Jh: High-End DirectX 11 Gaming
We don't have a lot of high-end notebooks in our updated gaming benchmarks, but we do have the Clevo W870CU we can still use for comparison. Note that it has a faster 920XM CPU to help out, but we appear to be GPU limited in the majority of titles. We were going to include results from the Dell Precision M6500, but gaming performance with the Quadro FX 3800M is a bit erratic and we're not sure all of the games rendered correctly. So we've got two sets of benchmarks today: first a comparison at high quality settings and 1600x900 (with 1080p results and DX11 as well where appropriate); second will be a look at how a high-end laptop like the G73Jh compares to midrange laptops at 1366x768 using our "midrange" settings.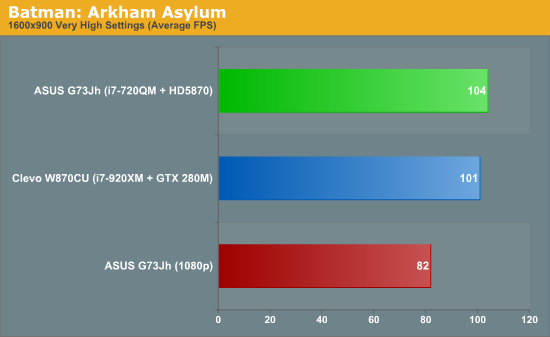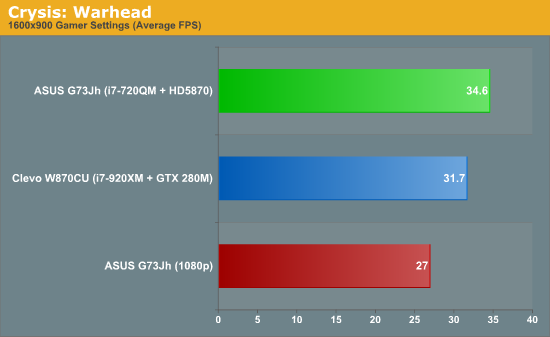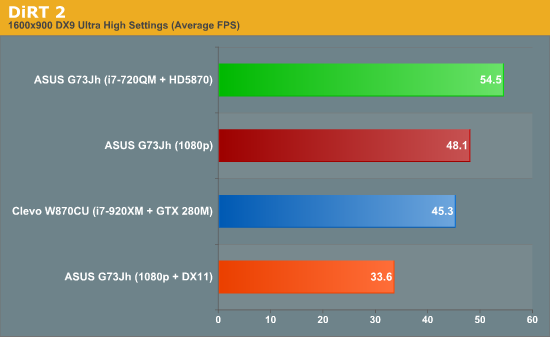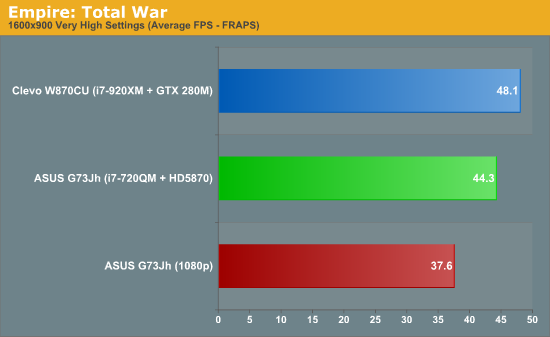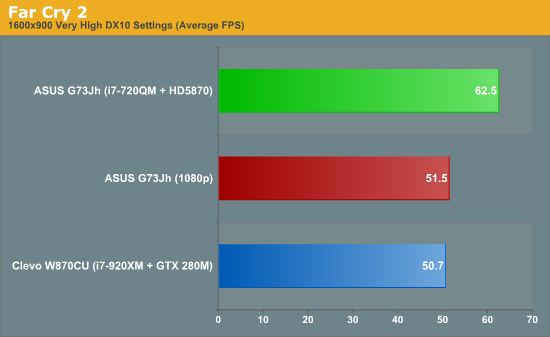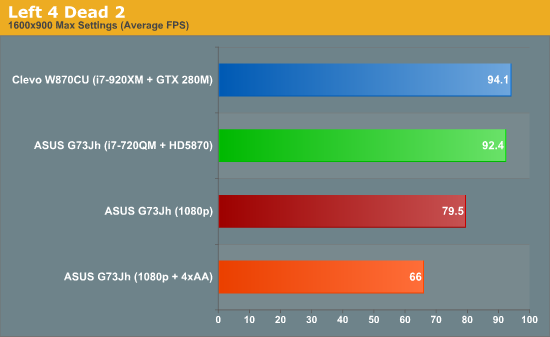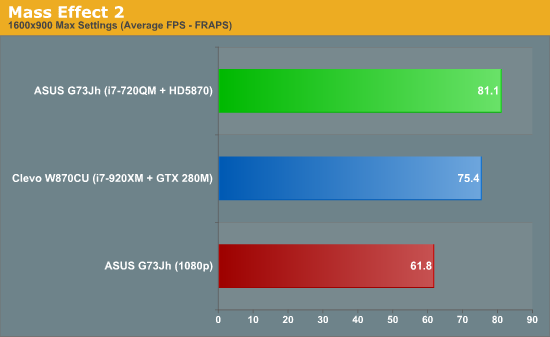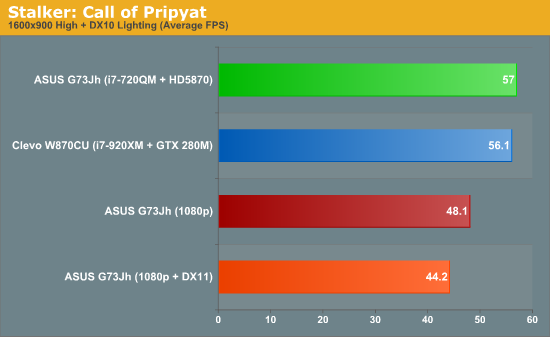 The ASUS G73Jh outperforms the Clevo W870CU in virtually every game we tested; Empire: Total War and Left 4 Dead 2 are the two exceptions, but here the performance gap is generally small—Empire: Total War is the larger difference with a performance advantage of 9%. (Note that the CPU may be part of the reason the W870CU wins, but we can't confirm at present—stay tuned for an article that will show exactly how the mobile GPUs stack up against each other with the same CPU.) Some of the titles where the G73Jh wins are also essentially tied, but Crysis: Warhead and Mass Effect 2 both show an 8-9% advantage. The two games where the HD5870 wins big are DiRT 2 (20%) and Far Cry 2 (23%).
Of course, we also need to discuss feature sets; while the GTX 280M (and the slightly faster 285M) aren't significantly slower, the HD5870 supports DX11. You can see the DX11 performance in DiRT 2 and STALKER, so there's obviously a compromise between performance and image quality, but given the pricing there's no reason to give up DX11 support for a slightly slower DX10 laptop—especially now that AMD has monthly mobile drivers coming out. You can now get the Clevo W870CU with HD5870 or GTX 285M; putting components equal to the G73Jh into such a notebook we ended up at a final price of over $2200, and that doesn't even account for the puny W870CU battery and other design elements.
There are still faster gaming notebooks, of course. We don't have updated results for the ASUS W90Vp (HD 4870X2) or any of the SLI GTX 280M/285M notebooks, but there are going to be plenty of games where the extra GPU shows its muscle. The problem is that you're now stuck deciding between DX11 support or a second GPU, unless AMD releases a mobile 5870X2 or 5970 or whatever they choose to call it (and they probably will at some point). Also, let's not forget that the second GPU means even heavier and more power hungry laptops, with a higher price as well. The Clevo X8100 is now the current champ when it comes to notebook gaming performance, but if we configure such a laptop with a 720QM, 2x2GB DDR3, and 2x500GB hard drives the price comes out to over $2600 (i.e. at AVADirect.com), and you still get the gigantic glossy Clevo chassis. If you like the design and you're willing to pay the extra $1000, GTX 285M SLI should provide roughly 50% more graphics performance than the G73Jh's HD 5870, but right now there are very few games where we truly feel the need for something faster.