In the race to get a USB3 capable mini-ITX motherboard to market, Gigabyte has today announced the first entry into the arena - the GA-H55N-USB3. Measuring a tiny 17cm x 17cm, this board is a stark contrast the the Gigabyte X58A-UD9 released last week.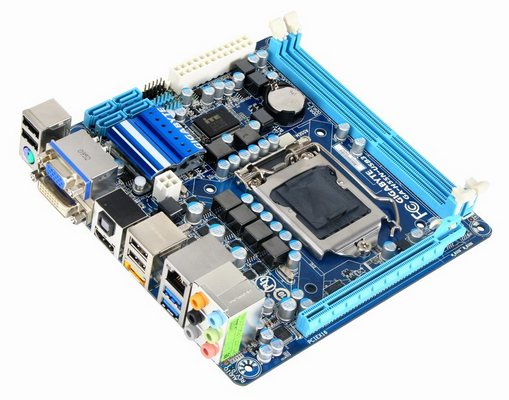 USB3 connectivity is achieved via the onboard NEC uPD720200 host controller to two USB3 ports with a bandwidth of 5Gb/s. The board also provides Gigabyte's 3x USB Power Boost, allowing USB devices a greater power range to work with and devices to charge quicker. On the board is a full x16 PCI-E 2.0 slot, four SATA 3Gb/s ports, and two DDR3 DIMM slots supporting up to 8GB. The back panel features the two USB3 ports, one eSATA 3Gb/s port, four USB2 ports (a further four available from internal headers), Realtek Gigabit Ethernet and 7.1 channel audio, a combined PS2 connection, an optical S/PDIF Out, and HDMI/D-Sub/DVI connectors


According to Tim Handley, Deputy Director of Motherboard Marketing at Gigabyte, "The GIGABYTE GA-H55N-USB3 was designed specifically for users wanting to build the ultimate home entertainment PC". Usually, a mini-ITX board is just what the doctor orders for such an endeavour, however this also expands into the realm of LAN gaming, where portability and power like to go hand-in-hand. The H55N-USB3 will support the latest LGA-1156 Core i3 and Core i5 processors with integrated graphics, as well as s1156 Core i7 processors.
Along with On/Off Charge to charge external devices and Gigabyte's DualBIOS providing a backup BIOS in case things go wrong, there are very few things to pick at on this board announcement. One thing of note is the onboard SATA ports - should a HTPC also become a basic network storage hybrid, more SATA ports would have been a good selling point for the H55N-USB3. Probably not a huge deal, but looking at the VRM layout we'd guess that HT enabled Lynnfield processor overclocking is going to be limitied - just like other mini-ITX offerings.
To receive serious consideration we think Gigabyte need to price the H55N-USB3 at around $110 (we've heard predictions of $130). The ECS H55H-I we reviewed earlier this month sets the pace and offers an absurdly cheap, good stock running mini-ITX board for $65 (after $15 rebate). The Zotac H55-ITX Wi-Fi with 6 SATA ports, 10 USB ports and (obviously) Wi-Fi is now available for $115 (after $15 rebate); and finally the Intel DH57JG has dropped in price from $125 to $110.
More news on the H55N-USB3 is expected to surface at Computex 2010, held in Taiwan on the 1st-5th June.