Styling and Use
The mini's design is cohesive with the rest of Apple's lineup. The unibody aluminum construction is less functional in a stationary desktop compared to a notebook that has to be rugged, but it's nice to look at nonetheless.
At the front of the Mac mini is the opening for the internal slot loading 8x SuperDrive. The drive can write to DVD±R discs as well as dual layer variants. DVD±RWs and CD-R/RWs are also supported. There's no option for a Blu-ray drive.
Like all Macs, there's no eject button - for that you'll need an Apple keyboard (not included). There are actually no input devices included in the purchase price, so expect to add another $120 if you want an Apple keyboard and Magic Mouse ($140 if you want them to both be wireless). There's no remote included either, although Apple's IR remotes do work with the mini.
The power button is around back, as well as the power connector. The power supply is internal so all you have on the outside is a single white cable with no power brick.
Gigabit Ethernet, FireWire 800 and four USB 2.0 ports line the rear along with the miniDP and HDMI outputs I mentioned earlier. A new addition is the SDXC slot on the back.
The mini has a single internal speaker but you also get digital/analog 1/8" line in and line out jacks. If you've got an iPhone headset, just plug it into the headphone minijack and you'll get both headphone and mic functionality.
The Mac mini ships with 802.11a/b/g/n support but has no external WiFi antenna. The antenna is located in the base of the unit, directly underneath the removable access cover.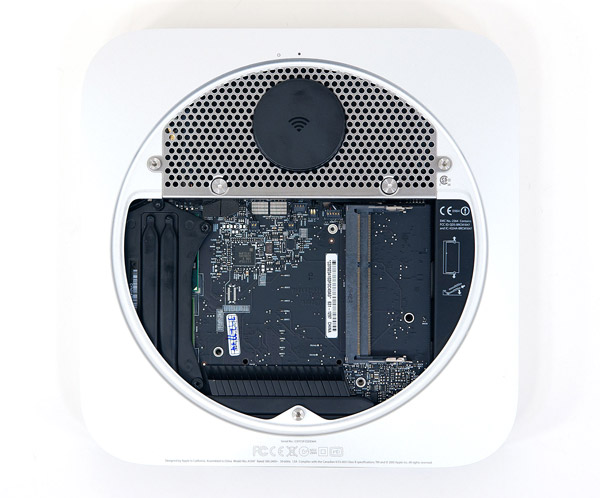 The internal antenna behaves virtually identically to a notebook's WiFi. In fact, I got very similar WiFi performance out of the Mac mini as I did with this year's MacBook Pro. With a good access point, getting reception at around 60 feet away through walls in a house wasn't a problem.
The only issue I had with the Mac mini's WiFi was when I placed the unit in my theater room. The theater is enclosed in two layers of drywall and has a small closet with a metal equipment rack in it. With the mini in the middle of the equipment rack, surrounded by amps and a pre-processor, I couldn't get more than 1.2MB/s to the nearest access point which was less than 30 feet away but outside of the room. While that's still enough bandwidth for surfing the web, it's not enough to stream HD video from a networked file server.
I wouldn't fault the Mac mini's WiFi however. I was simply asking too much of it. But keep this in mind if you don't have ethernet running to a similar setup. Thankfully, I do have ethernet going to the rack and thus it wasn't an issue.
The mini's design looks great until you start hooking a bunch of cables up to it. Despite the four USB ports, you'll want to use Bluetooth peripherals where possible. In an HTPC setting where all you need is a HDMI cable and Bluetooth input devices the setup is very clean.