CPU Options
Intel continues to sell both 45nm Nehalem based Xeons as well as 32nm Westmere models. As a result, Apple offers both in its new Mac Pro lineup. If you aren't familiar with the two architectures have a look here and here.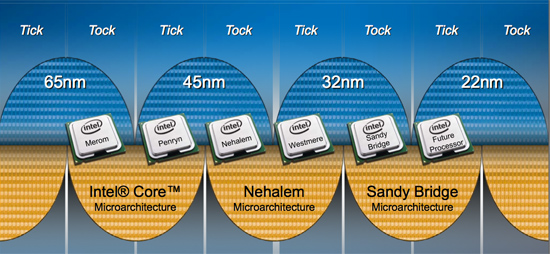 The entry level single-socket quad-core uses a Nehalem Xeon, the rest of the lineup (all six-core and two-socket quad-core) uses Westmere based Xeons. As a result, the single-socket quad-core Mac Pro has an 8MB L3 cache while the rest have 12MB L3 caches (as well as the other Westmere enhancements). Unfortunately Apple is still slow to adopt AES-NI so one of the major Westmere features goes unused in OS X.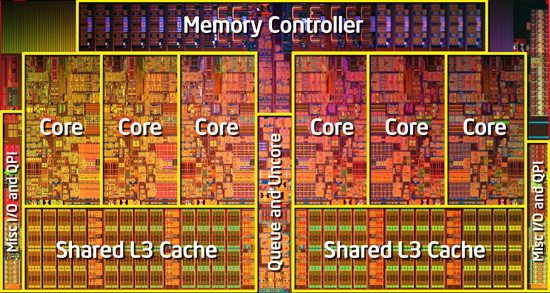 There are other differences between platforms. The quad-core options (Nehalem and Westmere) all support DDR3-1066, only the six-core CPUs support DDR3-1333.
The added cache should help performance but the bigger improvement will be in power consumption. You'll be able to get more cores at the same power levels as the Nehalem Mac Pro, or the same number of cores at lower power.
The single socket systems use a physically different CPU/memory daughterboard, so there's no hope for those wanting to simply stick in another CPU down the road.
Turbo is still alive and well but the frequency gains aren't all that great. The single socket quad-core runs at 2.8GHz and can turbo up to 3.06GHz, while the eight-core configuration starts at 2.40GHz and can only turbo up to 2.66GHz.
Roadmap
With the arrival of Sandy Bridge imminent, you might ask - why buy a Mac Pro today? And I might answer, Sandy Bridge isn't imminent for everybody.
In 2008 Intel introduced the Nehalem based Xeon and Core i7 CPUs. This architecture was the basis for the original Mac Pro. From 2008 through the end of 2009, Nehalem was not replaced at the top of the processor stack. There were more affordable derivatives (Lynnfield), but nothing usurped Nehalem's role as the top dog. Having just been updated last year, Lynnfield skipped an upgrade in 2010 and instead we saw Nehalem's replacement (Westmere, in the new Mac Pro) and new dual-core offerings (in the new MacBook/MacBook Pro). When Sandy Bridge arrives in early 2011, it won't replace any 6-core offerings in the product stack. You'll see some very competitive quad-core CPUs, but if you need more threads you'll have to wait.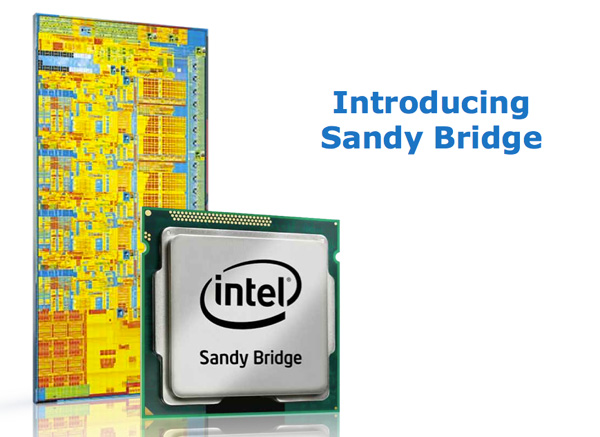 How long? Probably until Q4 2011 at the absolute earliest for 8-core Sandy Bridge based parts. Apple could update the entry level quad-core Mac Pro to Sandy Bridge before the middle of next year however.