The embedded market is huge and growing, and needs innovative, complete system platforms. These systems are compute intensive and have high performance graphics requirements, which make the embedded market a key part of AMD's strategy to drive revenue growth. There is an ongoing push for decreased power, smaller size and higher capability systems at lower price points. The strong visual element and growing need for quality graphics in many embedded markets such as set top boxes make it the ideal time for the AMD APU to get introduced into this space.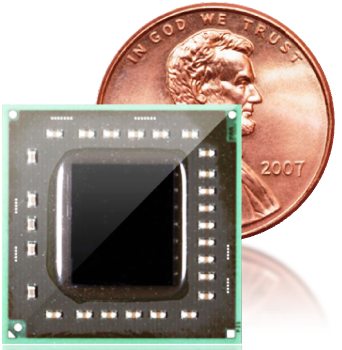 AMD's solutions (integrated CPU + GPU) are ideal for thin clients, medical imaging, point of sale and kiosk systems, gaming machines, digital signage and single board computing systems. These APUs integrate a multi-core CPU and a GPU sub-system on the same die to give a general-purpose, programmable scalar and vector processor core with heterogeneous capabilities.

The AMD Embedded G-Series Platform consists of an APU and a Fusion Controller Hub. The features are as below:

APU
2 x86 CPU Cores (40nm "Bobcat" core – 1 MB L2, 64-bit FPU)
C6 and power gating
Array of SIMD Engines [ DX11 graphics performance, Industry leading 3D and graphics processing ]
3rd Generation Unified Video Decoder [ H.264, VC1, DivX/Xvid ]
DDR3 800-1066, 2 DIMMs, 64 bit channel
BGA package
AMD Fusion Controller Hub for display and I/O
Two dedicated digital display interfaces [ Configurable externally as HDMI, DVI, and/or Display Port, and as single link LVDS for internal panels ]
Integrated VGA
5x8 PCIe®
"Hudson" Fusion Controller Hub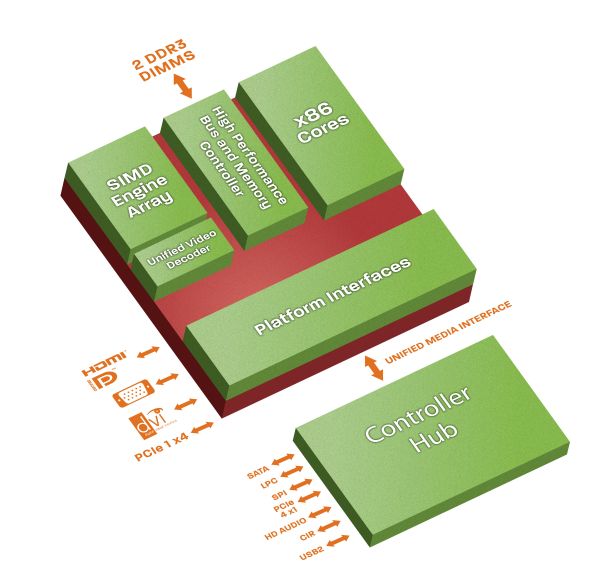 With the introduction of the G-Series, AMD is showing a strong commitment to the x86 embedded market. AMD claims that it is the world's first and only APU for embedded systems. AMD Fusion can bring a new generation of differentiated, small form factor embedded systems that consume less power, yet deliver improved performance and features. The GPU component can deliver an outstanding visual experience compared to other x86 based embedded systems.
We are reproducing the different SKUs available for the APU as well as the platform controller hub (PCH) from AMD's official site below (click to enlarge):


Given ATI's strong GPU background, there is no doubt that the graphics in the G-Series will turn out to be much better than the embedded solution from Intel and VIA. However, we do have some concerns about the capability of the UVD engine in the platform. While the marketing slides indicated that Blu-Ray titles can be smoothly played back, it also had another entry indicating that 1080p video playback support availability was only in the 18W processors and higher. We were also not provided with the difference between the embedded G-Series and the desktop Brazos platform that Anand had covered earlier. It looks likely that the GPU capabilities (SIMD engine) are not the same, with the embedded solution having half the number of stream processors. However, we are awaiting confirmation on this. Expect an update in this section as soon as we hear back from AMD.