Seagate's Satellite iOS, Android, and Browser Apps
Seagate gives you more options than Kingston when it comes to connections—the Satellite has a webserver built in that you can connect to from any device that has a browser. Turn the Satellite on, wait for it to show up in the list of available networks, and connect. This is standard stuff, and it doesn't matter what device you're using.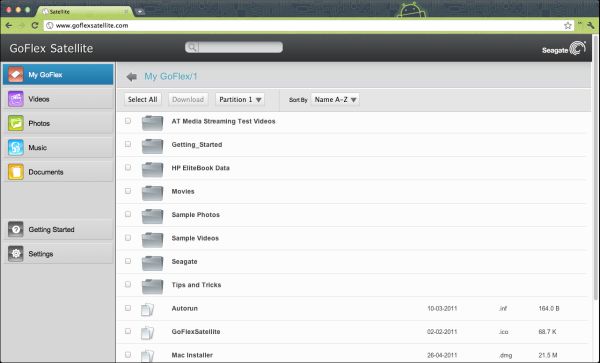 Now if you're trying to connect from a PC or Mac, just open up a browser window, enter any random URL, and it'll redirect to the GoFlex Satellite webapp (url: www.goflexsatellite.com). You get a GUI with the file system, as well as filtering files by type—videos, photos, music, and documents. There's also a "Getting Started" page that contains all the documentation and help files, as well as a settings menu. Inside the settings page, you can reboot or shutdown the device, change the SSID, enable WPA security, or reset the settings to default.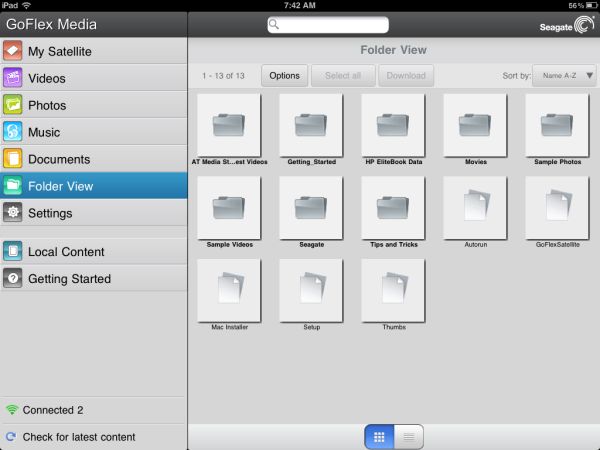 The iPad app is pretty similar to the webapp, except with the additional option to play back local content; the Android app looks identical to its iOS counterpart in every way. It's nice to have a unified UI over all three platforms; it keeps the user experience consistent and overall Seagate has done a good job to make this feel like a cohesive software platform.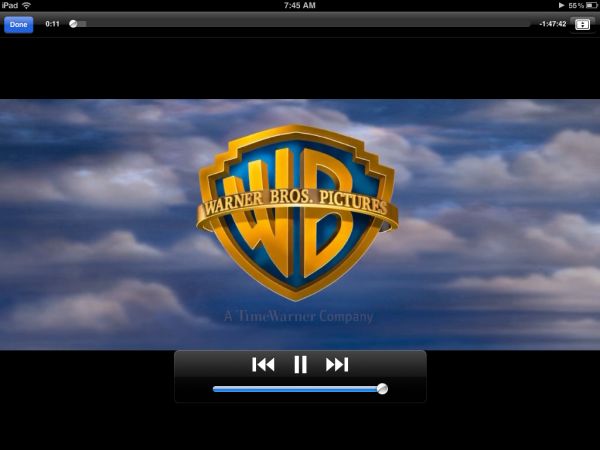 Unfortunately, all three options don't give you the same experience when it comes to playing back media. Photos and music are pretty much old hat, and all three platforms handle them with ease. When it comes to video playback, things start to diverge. The iOS app is by far the most seamless, playing every video the iPad supports with no problem regardless of bitrate or file size. The Honeycomb app works similarly in terms of file compatibility, but it does some weird things with the playback—the media player will sometimes forget it's streaming from a webserver and try to download the file. That's definitely not what I had in mind. The browser player is better than I expected, but it struggles with higher bitrate HD movies and stuff encoded in x264—and by struggles, I mean they flat out refused to play, so that wasn't useful. Overall, the in-browser webapp works pretty well as long as you make sure the files you're trying to play are compatible first.