Lenovo's Yoga 13: Ultrabook, IPS, Windows 8, and Convertible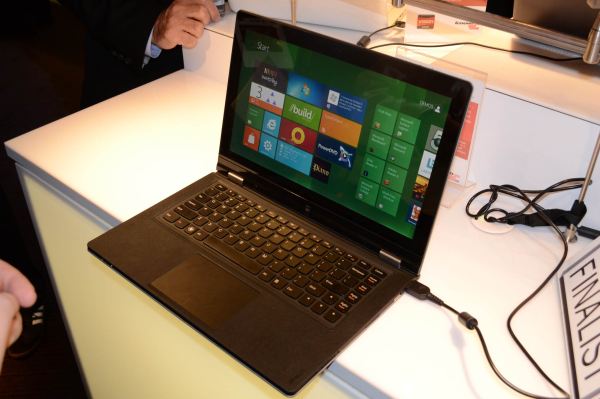 Last on my list of impressive showings at CES is the Lenovo Yoga 13. This is another ultrabook, and if you weren't at the show, let me just say that Intel is pushing ultrabooks in a major way. We've reviewed several shipping ultrabooks, and I can guarantee there will be many more to come. Every laptop manufacturer had one (or more) on display, and Intel's booth used probably half of their public floor space to show off ultrabooks and related technologies. So far, none of the ultrabooks we've reviewed have really nailed every area, but when the Yoga 13 starts shipping that might finally change.
The short summary is that the Yoga 13 sports a 1600x900 IPS touchscreen panel, and it's beautiful to behold. How Lenovo manages to cram touchscreen and IPS, plus a folding laptop/tablet hybrid into a 17mm thick chassis is something of a mystery. Okay, perhaps it's not that mysterious—I expect the device will carry a pretty steep price tag, but hopefully it will be worth buying. The design felt solid in the hand, the soft-touch coating on the palm rest is great, and with an Ivy Bridge CPU and SSD performance should be there as well. The only major complaint I have is that the IdeaPad Yoga 13 won't start shipping until the Windows 8 release, and I want to test one now (or at least when Ivy Bridge officially launches).
Best of Show Summary
I didn't intentionally set out to find a top three of CES that all shared a common theme, but it's there nonetheless. For anyone who uses a computer or tablet, or who watches TV and movies, the one thing you always have to see is the display. Put in a great display and you can rise above the crowd; cut corners and you enter the race to the bottom that has brought about the cheap construction and poor quality that run rampant at Best Buy, Office Depot, etc.
Long term, the higher quality displays in tablets and HDTVs are eventually going to force laptops to adopt better, higher resolution displays. What's sad is that I have a 1920x1200 laptop from five years ago, and that display probably cost the manufacturer $350 (possibly less). Today's $350 displays are almost universally worse, other than having brighter LED backlighting. Meanwhile, the $1000 2.8GHz Core 2 Extreme (dual-core) CPU in the laptop is now slower than even a basic $130 Core i3-2310M in most tasks, and this formerly $4000 laptop is also slower than today's laptops that cost just $750. The price-performance ratio has shifted an order of magnitude in five years, but laptop displays continue to stagnate.
I hope we're nearing the inflection point where consumers will start asking for better laptop displays. When all the tablets at Best Buy are WUXGA, QXGA, or even QHD/QWXGA, advertising a laptop as having a 720p panel ought to present problems for Joe Sixpack. I also hope that Windows 8 will revamp the handling of high DPI displays; Windows 7 does a bit better than Vista, and both are a big step up from XP, but I still routinely encounter applications that don't scale with DPI settings. When such applications are written with the assumption that everything runs at 96 DPI—and worse, when they have a fixed window size—the result is text that overruns the viewable area and buttons that are unclickable. I'd guess Metro apps will all scale nicely with DPI settings, but we'll have to see how many apps (and users) eschew Metro on desktops and laptops and stick with the familiar desktop interface.
Wrap Up
That takes care of my top three, but as I noted in the introduction I didn't even see a fraction of the show floor. (I could also do a bottom three of CES, but that's too easy: the taxi lines and crowds take slots one and two for me, and the pay-$12-per-day-for-lousy-Internet gets the third. But I digress.) Even with ten editors from AnandTech running around, I'm sure we missed covering a lot of cool technology and gadgets, so I'm curious to know: what do you see and/or read about at CES 2012 that impressed you most? What would you like to see us cover sooner rather than later? Let us know in the comments!