The Display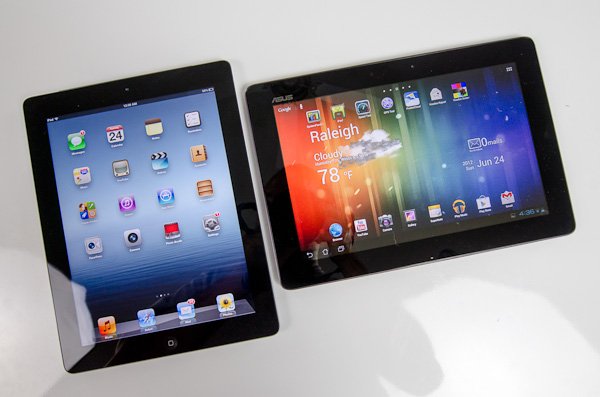 At 1920 x 1200 with a 10.1-inch diagonal, the Transformer Pad Infinity's Super IPS+ panel works out to a hefty 224 pixels per inch. That's shy of the iPad's 264 PPI but still a tremendous improvement over the 149 PPI of the previous generation Transformers. 1920 x 1200 is a fully supported resolution under Ice Cream Sandwich, so there's no funniness that has to happen in order to support the new display. It's still a 16:10 aspect ratio, but with a 1.5x increase in the horizontal and vertical dimensions.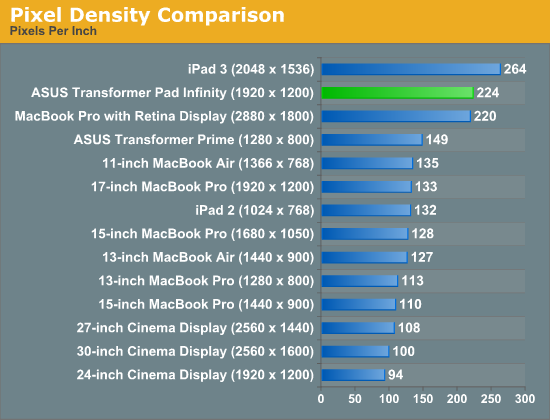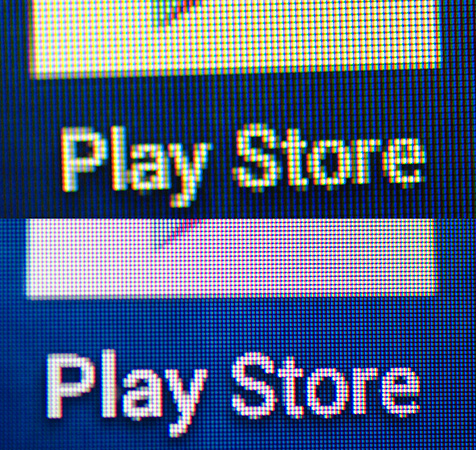 The effect on the display is subtle but present. Text looks sharper, icons look clearer, everything just gets better. The browser uses the added resolution to make smaller text more legible when zoomed out on web pages: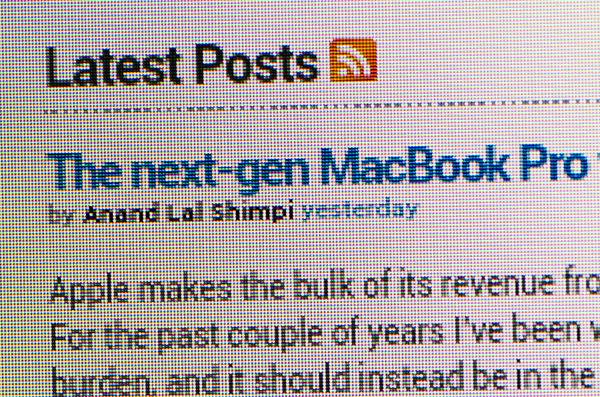 Macro shot of AnandTech.com on the Transformer Prime, 10.1-inch 1280 x 800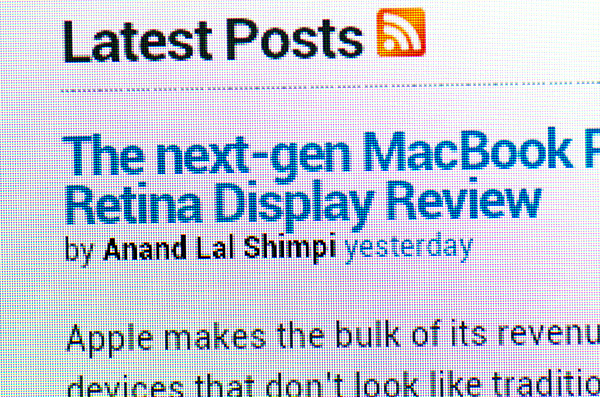 Macro shot of AnandTech.com on the Transformer Pad Infinity, 10.1-inch 1920 x 1080
High resolution photos look good on the display as well, but the effect is a bit more subtle than I would have expected. It's really text that benefits the most in my opinion.
In going to the higher resolution panel, ASUS hasn't improved color gamut or accuracy. Things are a tad better compared to the TF Prime but not appreciably so. White point is kept at around 7500K across the brightness range.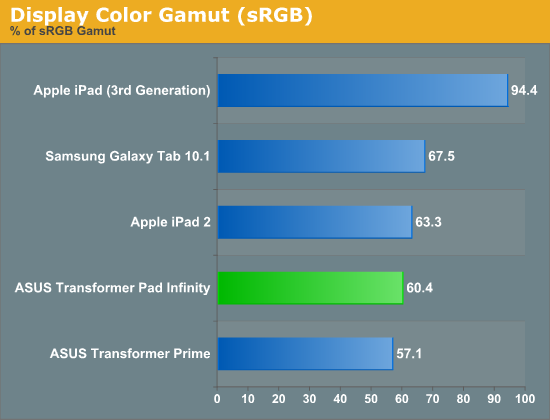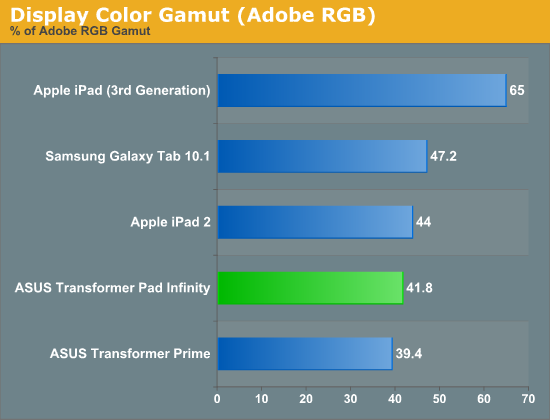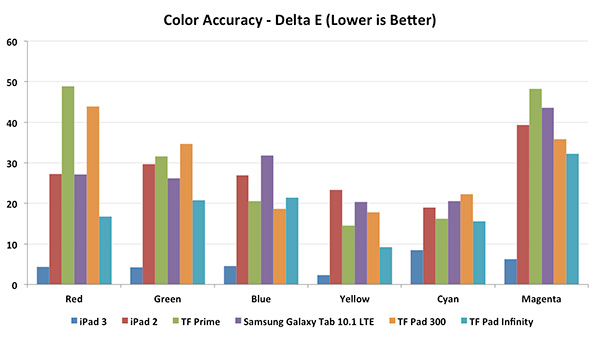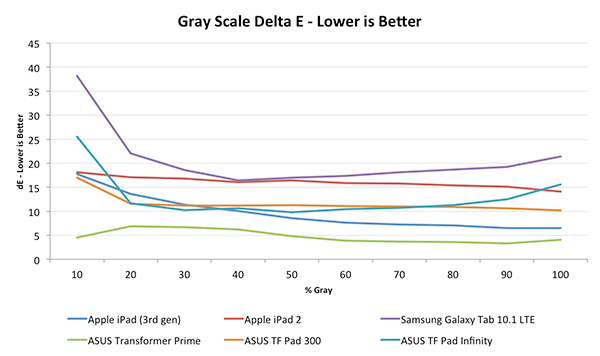 Where ASUS does deliver is in contrast ratio and brightness. In its default state the Transformer Pad Infinity can deliver, at max brightness, 460 nits. Similar to the Transformer Prime, ASUS offers a Super IPS+ mode for outdoor viewing that drives the panel and backlight to just under 700 nits.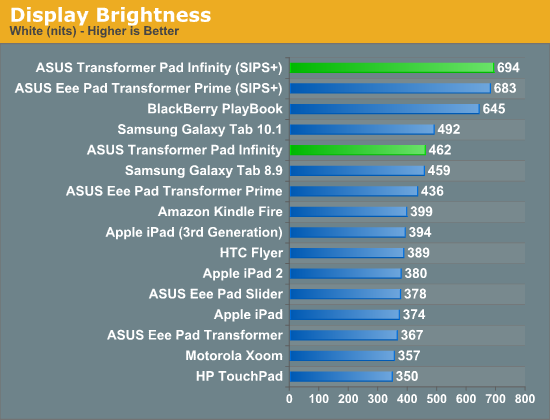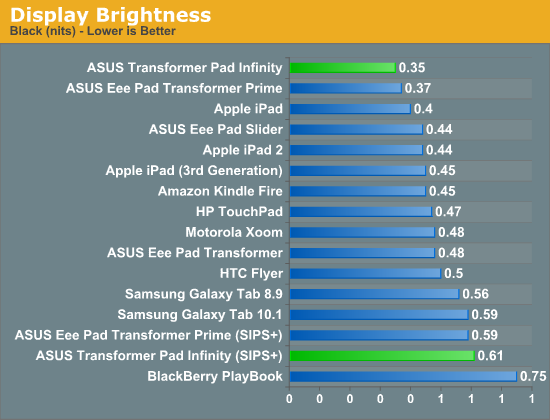 Black levels suffer a bit at the Super IPS+ setting, but otherwise the panel is actually a bit better than what ASUS used in the Transformer Prime. The result is a contrast ratio of over 1300:1, or 1135:1 in Super IPS+ mode.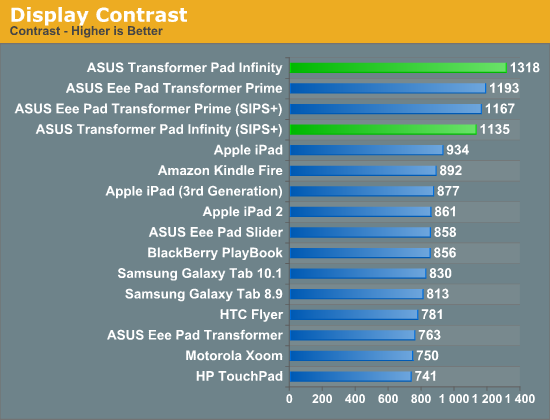 The brightness and contrast improvements are appreciated as is the increased pixel density. It would have been nice to see an improvement in color gamut and color accuracy with the Transformer Pad Infinity. Let's hope ASUS is saving the best for its Windows 8 tablets later this year.