Microsoft's Windows 8/RT launch has been a bit choppier than expected. I remember hearing rumors that the OS release could slip into next year, but it seems that the solution to the problem was to launch as devices were ready rather than delay everything. Surface was among the first out of the gate, and I was generally pleased with the tablet, but Microsoft's partner devices have been slower to release. ASUS held its VivoTab RT launch on the same day as Surface RT, but there were many key absences from the launch week in late October.
Among those missing from launch week were any x86 Windows 8 tablets. Although for most of the year Intel had been quite confident in its Windows 8 tablet story, the fact that I had to secretly borrow one just to get some rough performance numbers in our Surface RT story was a problem.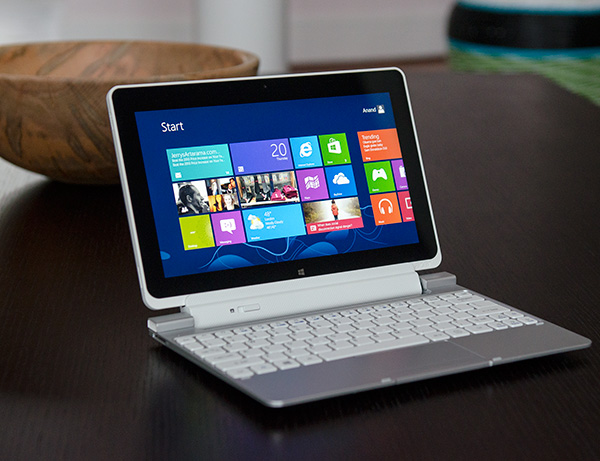 A little over a month later and things are beginning to change. Contrary to popular belief, driver problems aren't what kept the first Atom Windows 8 tablets out of the market at launch. A bug (not related to power management) caught several months ago caused schedules to slip by about a month and a half. Depending on whose design the OEM followed (Intel's or their own), the implementation of the fix could come quickly or would take a bit longer. In this case, Acer and Samsung found themselves on the right side of the fence. We've had Atom based Windows 8 tablets from both companies for weeks now. Vivek is working on our review of the Samsung ATIV Smart PC, while I'll kick things off with Acer's Iconia W510.
The W510 features Intel's Atom Z2760, the SoC more commonly associated with the codename Clover Trail. While Intel's Core series of CPUs will be used in high-end Ultrabooks, tablets and convertibles, doing battle at the lower price points against ARM is the Z2760/Clover Trail. Down here, Intel promises all of the power efficiency of ARM, similar pricing, better performance and of course backwards compatibility with older Windows applications.
Although Intel has largely lost the advantage x86 compatibility promised to bring to the smartphone space years ago, that advantage is alive and well under Windows. With Windows RT devices, Microsoft has the somewhat difficult job of explaining that your brand new Windows device won't run older Windows applications. For an Atom based Windows 8 platform however, that caveat just isn't there. Meanwhile you get all of the benefits of a Windows RT device, including connected standby - a feature that won't be present on Core based Windows 8 tablets until Haswell rolls around in the second half of 2013.
Acer's W510 is a 10-inch Windows 8 tablet designed to compete in a market crowded by ARM based solutions running Android, iOS and Windows RT. Backwards compatibility with decades of x86 applications is a clear point of differentiation.
The W510 is available in two different capacities: 32GB and 64GB. Acer sent along a 64GB version, which is divided into a 46.6GB user partition and 11.05GB recovery partition. Of that 46.6GB that you get to begin with, nearly 13GB is taken up by Windows, leaving you around 30GB free to begin with. This isn't anything unusual for folks buying a Mac or PC, but if you're comparing to lightweight mobile OSes you're going to end up with substantially less usable storage than is advertised.
While Microsoft has definitely help cut down on the amount of bloatware installed on Windows 8 systems from the factory, there are still some culprits. Acer ships McAfee Internet Security trial-ware on the W510 by default). Spotify comes pre-loaded on the machine, as are direct links to Amazon and Ebay for some reason. The tradeoff in buying a Windows 8 tablet instead of an ARM based Windows RT tablet is that you don't get Office Student/Home Edition 2013 for free. Acer makes it easy for you to get an Office 2010 trial, but that's about it.
Tablet Specification Comparison
Acer W510
Apple iPad 4
Google Nexus 10
Microsoft Surface RT
Samsung Ativ Smart PC
Dimensions
10.2 x 6.6 x 0.3"
9.5 x 7.31 x 0.37"
10.39 x 6.99 x 0.35"
10.81 x 6.77 x 0.37"
11.97 x 7.46 x 0.39"
Display
10.1-inch 1366 x 768 IPS
9.7-inch 2048 x 1536 IPS
10.1-inch 2560 x 1600 PLS
10.6-inch 1366 x 768 PLS
11.6-inch 1366 x 768 PLS
Weight
1.27 lbs
1.44 lbs (WiFi)
1.33 lbs
1.5 lbs
1.64 lbs
Processor
Intel Atom Z2760 (2 x 1.8GHz Atom, PowerVR SGX 545)

Apple A6X (2 x Swift, PowerVR SGX 554MP4)

Samsung Exynos 5 Dual

NVIDIA Tegra 3

Intel Atom Z2760 (2 x 1.8GHz Atom, PowerVR SGX 545)
Connectivity
WiFi
WiFi , Optional 4G LTE
WiFi
WiFi
WiFi , Optional 4G LTE
Memory
2GB
1GB
2GB
2GB
2GB
Storage
32-64GB
16GB—64GB
16GB or 32GB
32GB or 64GB
64GB
Battery
27.0Wh
42.5Wh
33.75Wh
31.5Wh
30.0Wh
Starting Price
$499
$499
$399
$499
$599
Although the official MSRP of the W510 is $599, you'll find the 32GB model at $499 and the 64GB model will set you back another $50 on top of that. Each capacity is available as a standalone tablet or bundled with the keyboard dock.
Like Microsoft's Touch/Type Covers for Surface, the W510's keyboard dock isn't cheap. Acer lists the dock at $150, and that's roughly what I've seen it cost online as well. Acer will sell you the dock separately through its online store but I haven't seen it widely available elsewhere (as of writing this the dock is out of stock at Acer as well).
Design & Build Quality
I've been saying this a lot privately, but Acer's recent transformation reminds me a lot of HTC. From a design standpoint, the products Acer was putting out two years ago look absolutely nothing like what it's shipping today. Design is now a priority at Acer, and it shows.
The W510 is all plastic and glass, but it doesn't feel cheap. The back is an aluminum colored plastic that looks good and feels durable. Around the edge is a nice looking white plastic border and up front there's the usual bezel and glass treatment. The result is a black frame with white border aesthetic that isn't fundamentally new, but surprisingly rare in modern tablets.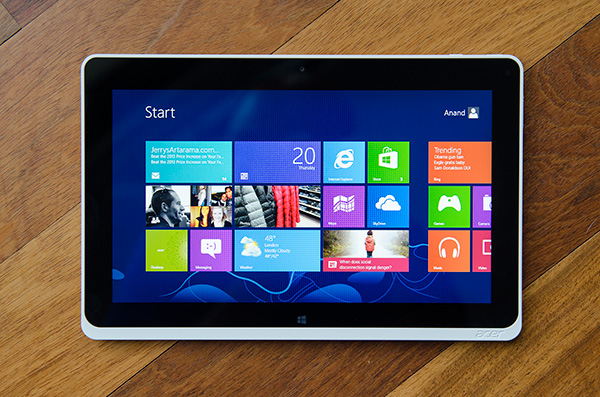 There is a hint of flex in the chassis that's barely enough to make a creaking sound if you try and flex the W510 at its corners. Where the back and border plastics meet isn't particularly well engineered either – the two meet in a relatively neat fashion but run your finger along the border and you'll feel the unevenness of the levels they meet at. None of these things are deal breakers, but Acer is playing in a different league now – with much higher standards.
The W510 is a fairly light device, at least for a 10-inch tablet. At 1.3 lbs it's lighter than the big iPad, Surface and the Nexus 10. The weight (or lack thereof) is immediately noticeable, and makes carrying the W510 a pleasure. The 16:9 aspect ratio of the tablet isn't the most natural unfortunately. Despite the light weight, the W510 ends up feeling a bit long as a result. There's nothing that can be done about that unfortunately.
Optimizing around 16:9 delivers a much better video viewing and multitasking experience, at the expense of pretty much ruining portrait mode aspirations and making for a slightly awkward in-hand feel.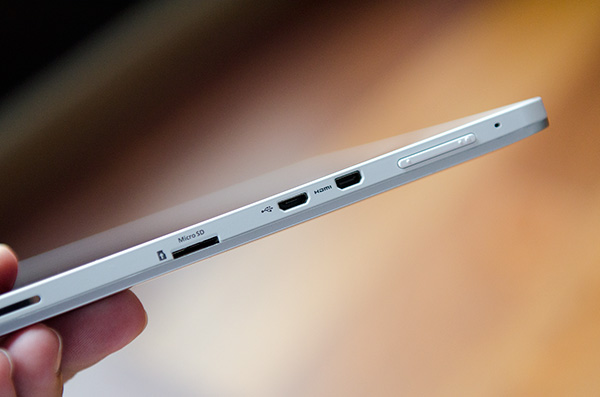 As the W510 is a Windows 8 tablet, it comes full of IO around the edges. On the right edge there are micro HDMI, micro USB and micro SD slots. The trio of micro IO ports are joined by a volume rocker. Up top there's the usual 1/8" headphone jack, rotation lock slider and power/lock button. Acer's proprietary dock/charging connector is at the bottom of the tablet.