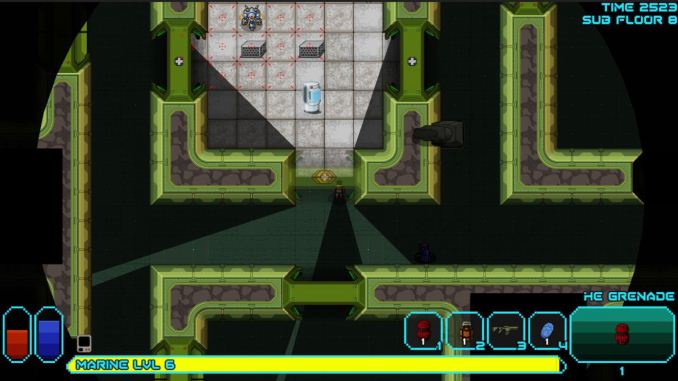 With the craziness and germ cultivation experiment known as CES now behind us, we can return to our regularly scheduled updates. For me, that means a quick look at what's going on with Humble Bundle while I work on wrapping up some laptop reviews. The big news for the week is a collection of six rogue-like games, with the first three coming with any donation of $1 or more while the second half of the bundle is only for $6 or higher donations. Let's break it down, as usual.
The first three games consist of Dungeons of Dredmor Complete (07/2011, 79%), which is probably the closest you'll get to a true semi-modern take on Rogue, with a healthy dose of tongue-in-cheek humor tossed in. Hack, Slash, Loot (12/2012, N/A) is more like the original Rogue, with graphics very much of the old-school variety and somewhat more simplistic controls, but it's still good for some simple fun on occasion. And Paranautical Activity (02/2013, N/A) changes things up with FPS action with power ups and retro neon graphics (probably my least liked of the three games).
Moving on to the three titles you get with a $6+ donation, The Binding of Isaac: Wrath of the Lamb (05/2012, N/A) is the expansion to The Binding of Isaac (09/2011, 84%), and it includes the original game along with new items, power ups, chapters, enemies, etc. The game itself is an action-heavy game with RPM elements and randomly generated levels. Similar to other rogue-like games, you'll die…a lot…and sometimes you'll get the right combination of items to help you survive as you dig a bit further into…your crazy bible-obsessed mother's basement. Graphics are a smooth-running sprite-based affair that shouldn't tax any modern system too much – one of the great benefits of these indie games. Next up, Teleglitch: Die More Edition (07/2013, 78%) is the extended edition of the original Teleglitch (12/2012, 84%). It's a top-down view with some nice lighting effects, though I have to say the text is a bit hard on the eyes – and as you can probably guess, you should again prepare to die a lot.
Last up is by far the largest of the games, Sword of the Stars: the Pit (02/2013, 68%), but size isn't necessarily everything (not that I'd know….) Set in the SotS universe, The Pit is yet another action-RPG, and it's the only game in this bundle that requires Windows (Steam or DRM versions are available) – all of the other games are available for Windows, OS X, and Linux (with Steam and DRM-free versions as well). The Pit is actually my favorite of this collection, probably because I'm an old man now and like its turn-based gameplay and slightly more cerebral approach. Like Dredmor, this is a game that has a lot in common with the original Rogue style of gameplay, only with a sci-fi backstory.
If you're like me and happen to like randomly generated dungeons (and for that, I blame my childhood spent playing Rogue many a time on an old IBM PC), this is a great collection of games. You might not want to sit down and play every one of them (repeatedly), but if you have a bit of free time they're mostly easy to jump in and out of. They're also pretty painful as far as I can tell in regards to permadeath, which is probably the one thing I didn't necessarily enjoy about Rogue. One thing I'd like to see with a lot of these indie games is support for ChromeOS, though perhaps that's because I've been playing around with Acer's C720. Most of these games are very low on system requirements, and it would be great to see more good games on Chrome, but I suspect development is far easier if you're targeting Windows (or even OSX and Linux).
And on a somewhat related note, Humble Bundle is doing their first ever audiobook bundle. I don't actually listen to audiobooks, so it's not really something that grabbed my attention, but most audiobooks tend to cost quite a bit of money. The eight books available for a "name your own price" ($5.95 or higher required to unlock the three extra books) are The Satanic Verses, Stolen, Abandon, Junky and Found, withHeartbreaking Work of Staggering Genius, Blood Meridian and On a Pale Horse being the bonus titles. Happy listening!