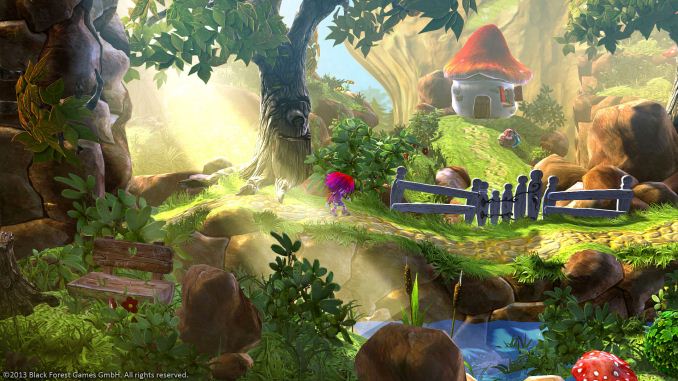 I'm going to make a change with my coverage of gaming bundles; rather than focusing mostly on Humble Bundle, I'll try to gather together a short overview of the current gaming bundles on a weekly basis. These posts will generally come on Thursday night/Friday morning, starting… now.
First up, Humble has two bundles going on right now, their regular weekly bundle along with a two week Indie Bundle 11. Starting with the latter, as honestly it's the more interesting bundle to me (and yes, I bought it!), six games are currently announced for the Indie Bundle 11, split into the core games as well as a couple extras that you get for beating the current average – and next Tuesday Humble will add a few more items to the bundle, as usual. The four current base games in the bundle, which you can get with any donation, are Dust: An Elysian Tail (85%, 05/2013), Giana Sisters: Twisted Dreams (77%, 11/2012), Guacamelee! Gold Edition (88%, 08/2013), and The Swapper (87%, 05/2013). Beat the current average ($4.51 at the time of writing) and you also receive Antichamber (82%, 01/2013) and Monaco: What's Yours Is Mine (83%, 04/2013). Frankly, that's a stellar lineup of indie games, and every single one is at least worthy of a bit of your gaming free time (unless you hate games I suppose, you old curmudgeon). Purchasing those six games off of Steam would normally run you up a tab of $94.94, so nabbing all six for less than a fiver is practically criminal.
Humble's current weekly sale caters to a different type of gamer, specifically the adventure gamer. Sponsored by The Adventure Company (and Friends), the core pack comes with four games at a "pay what you want" price: Aura: Fate of the Ages (63%, 06/2004), Dead Reefs (51%, 07/2007), Mystery Series: A Vampire Tale (NA, 03/2012), and Safecracker: The Ultimate Puzzle Adventure (69%, 08/2006). Pay $6 or more and you receive seven additional adventure games: The Book of Unwritten Tales: Digital Deluxe Edition (82%, 11/2011), The Book of Unwritten Tales: The Critter Chronicles Collector's Edition (73%, 12/2012), Dark Fall: The Journal (68%, 07/2003), Dark Fall 2: Lights Out (66%, 08/2004), Deponia (74%, 08/2012), Edna and Harvey: The Breakout (56%, 01/2011), and Jack Keane 2: The Fire Within (52%, 06/2013) – but not the first Jack Keane game apparently. And if you're really into adventure games, a $15 or higher donation tacks on one final game, The Raven: Legacy of a Master Thief Digital Deluxe Edition (74%, 07/2013). Obviously some of these are pretty old adventure games, and some are "hidden object" games, which are IMO a lower quality sort of "adventure"; the scores should also tell you that not all of these are particularly compelling. Still, purchased separately on Steam you'd be looking at $134.90 for the whole kit and caboodle.
Next up after Humble Bundle is Bundle Stars, who have just announced a new Reboot 1.0 bundle with seven games – and if you act fast (like in the next day), you can get the bundle for just $2. There's no charity donation here, but if you want a way to grab a bunch of games on the cheap then Bundle Stars has quite a few options currently available. As for Reboot 1.0, you get Steam copies of Dark Sector (66%, 03/2009), Dino D-Day (53%, 04/2011), Dream Pinball 3D (61%, 2006), GTR Evolution (83%, 09/2008), Space Pirates and Zombies (74%, 08/2011), SpaceChem (84%, 03/2011) and the SpaceChem: 63 Corvi DLC (NA, 07/2011). I'm not sure what the regular price will be ($4 probably?), but at $2 if there's even one game in that list that catches your eye it's worth the price of admission.
Looking for even more gaming options, like maybe some additional indie goodness? Have no fear, for we have two more bundling sites to look at. Indie Gala has their weekly update, this time the Capsule Computers bundle running with four base games and seven extra titles for donations of $5.55 or more. Three of the extra titles haven't been named, but the base four titles are Dracula 4: Shadow of the Dragon (32%, 06/2013), Always Remember Me (NA, 05/2011), Raiden Legacy: The Return (~75%, 05/2012), and Hero of the Kingdom (~66%, 11/2013). Beat the average of $5.55 or more (currently) and you also get Dysfunctional Systems: Learning to Manage Chaos (~72%, 06/2013), Nightmares from the Deep: The Cursed Heart (NA, 04/2012), Hero Siege (NA, 12/2013), Dead Sky (~32%, 11/2011) and three additional titles that will be revealed later in the week. Admittedly, that's not the strongest batch of games around, but perhaps some of them will appeal to some of our readers. Indie Gala also has their Interstellar bundle still available for about 17 hours if you hurry, which is arguably a better set of games – Cubicity, Interstellar Marines, Rush Bros., Beast Boxing Turbo, Sang-Froid: Tales of Werewolves, Interstellar Marines: Spearhead Edition, Finding Teddy, PixelJunk: Shooter, and PixelJunk Monsters: Ultimate are available for $6 or more.
Finally, we have the Indie Royale Debut 10 Bundle, with seven of the eight games revealed and a minimum price of $4.55. That will get you Crater Maker (NA, 02/2014), Doom and Destiny (~81%, 11/2012), Kill Fun Yeah (NA, 05/2012), Millennium 4: Beyond Sunset (~90%, 08/2011), Spirited Heart Complete (NA, 04/2009), Strategic War in Europe (~70%, 06/2012), You Still Won't Make It (~83%, 08/2013), and one more title to be revealed later in the week.
Addendum #1: I saw a post from one of our readers below and I also received an email from one of the developers mentioning Groupees' Build a Greenlight 5 bundle. Given these are apparently all indie games that are still in development (hence the Steam Greenlight tie-in), there are no reviews or scores to speak of at present, but your purchase will get you the games either as a DRM-free direct download or from Desura, and when (if?) the game is officially greenlit, you get a Steam key as well. The way this bundle works is a bit differently as well; you have to pick at least four games and you can choose up to all eight, and the minimum donation per game is $0.25 (so $1 for four or $2 for eight games). I like that you can pick and choose which games to support, so if there's a game you have no interest in playing you don't need to worry about it, but I just went ahead and did a $2 purchase for all eight (even if I might never/hardly play some of them). The current crop of titles consists of Drive to Hell, Heroes of a Broken Land, Magicians and Looters, Monster Challenge Circus, Paper Dungeons, Savage: The Shard of Gosen, Spice Road, and Trace Vector. I always wanted to be a game designer/developer as a youth, so good luck to all of the devs!
Addendum #2: Also from a reader comment below, Blink Bundle has a two-tier offering going on right now. $1.99 gets you the base tier consisting of Blue Toad Murder Files, Vox (apparently a Minecraft-style game with smaller blocks?), Mutant Storm Reloaded, and one bonus game that will be revealed in about five days. The $4.99 tier adds six more games: King Arthur's Gold, Legends of Aethereus, Iesabel, Kairo, Little Racers STREET, and another bonus title. Enjoy!
And that is a lot of gaming, and a lot of links, so hopefully you can find something you'll like in that list. Sure, there are big games coming out as well (not so many in the post-holiday doldrums of course), but those tend to get plenty of press. If I missed any great deals, though, let us know in the comments.