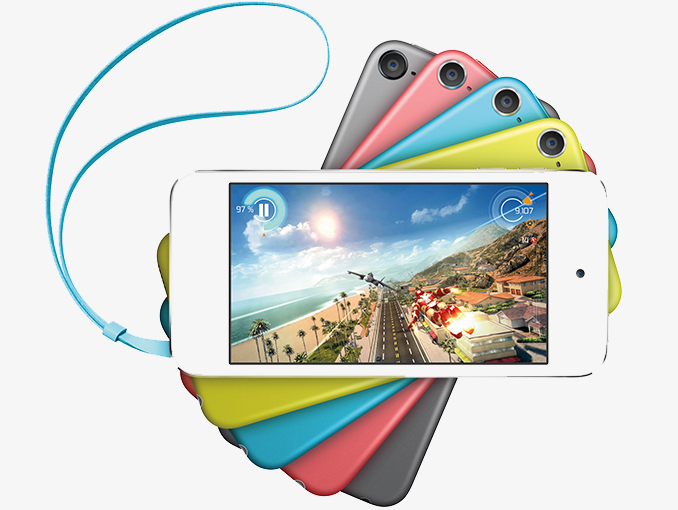 Today Apple quietly refreshed their iPod Touch lineup, with the changes specifically being focused on the 16GB iPod Touch. The fifth generation iPod Touch line was announced in September of 2012. The device was launched in 32GB and 64GB variants with six different color options and a hardware platform that borrowed from many different Apple devices on the market at the time. Internally it used the same Apple A5 chip used in the iPhone 4S which is a dual core Cortex-A9 based design running at 800MHz paired with a PowerVR SGX543MP2 GPU and 512MB of LPDDR2 memory. On the front it has the same 1136x640 IPS display used in the iPhone 5, 5c, and 5s, as well as the 1.2MP front-facing camera from the iPhone 5. On the back it has the 5MP rear-facing CMOS sensor used in the iPhone 4 paired with the optical system of the iPhone 5. The 32GB and 64GB models were priced at $299 and $399 respectively.
Eight months after the initial launch of the new iPod Touch, Apple introduced a more inexpensive 16GB model which only came with a silver back and a black front face, and did not include the rear-facing camera or wrist strap from the more expensive iPod Touch models. This version was priced at $199 in the United States and until now the tradeoffs included with it were the only option for consumers who didn't want the larger storage capacity models.
Apple's new 16GB iPod Touch introduced today now comes in the full array of colors that only the more expensive models offered previously. It also includes the rear-facing camera and the wrist strap, effectively making it an identical device to the more expensive models apart from the amount of internal storage. The refreshed 16GB iPod Touch still costs $199 and is currently only available in the United States for the time being, with availability in other countries in the near future. In addition to the upgrades to the 16GB model, Apple has dropped the price of the 32GB and 64GB versions to $249 and $299 respectively.
Source: Apple