MSI X99S MPower Software
Over the last couple of generations, MSI's main hub of options has switched from a combination of Control Center and MSI Suite to Command Center with a much cleaner interface and array of options. Before that, the driver disk offers some MSI branded wallpapers for installation along with the drivers and software: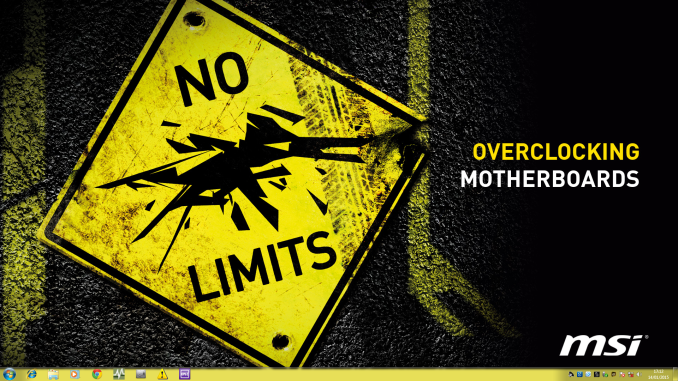 I am always up for a change in background to align with the products I have purchased, and this OC background catches the spirit nicely.
One of MSI's recent pushes in software has been with the ECO Center, designed to help users disable certain parts of the motherboard to save power. This software is included in the package, despite the X99S MPower being part of the overclocking range.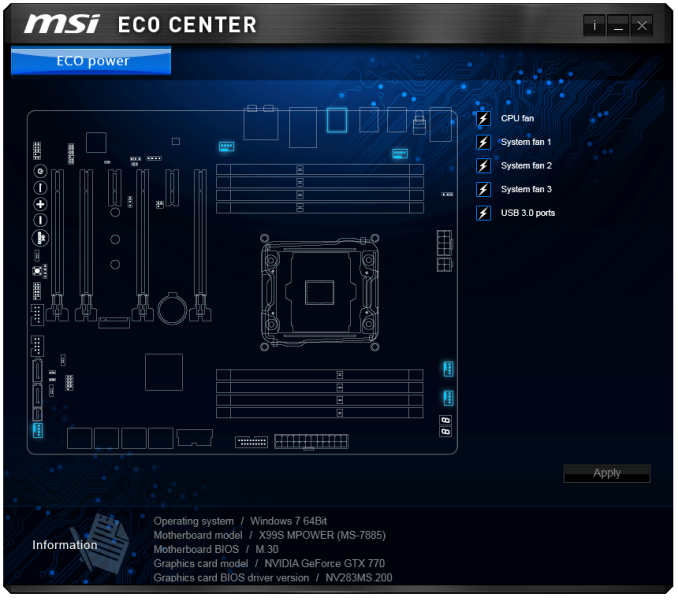 It is not advised to disable the CPU fan unless it is powered with a fan controller elsewhere! Perhaps MSI should add that as a warning next to that option. However saving the odd watt here or there might make a small adjustment to anyone's electricity bill. I normally work along the line of 1W = $1/yr as a rough guide when I am energy saving, although local pricing might vary (I actually pay £0.15/kWh here).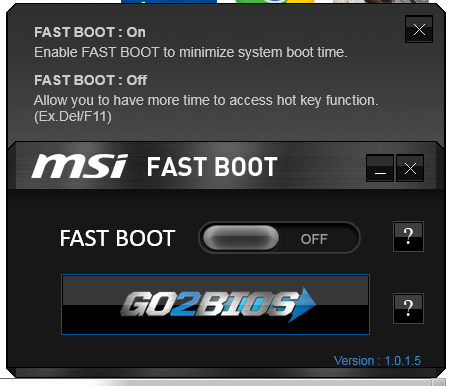 With the latest operating systems supporting UEFI fast booting methods, MSI has added an option to enable this feature along with a button to access the BIOS on the next reboot. Personally I find this a nice option to have, especially when overclock testing a new system – no more pressing DEL/F2 to get into the BIOS.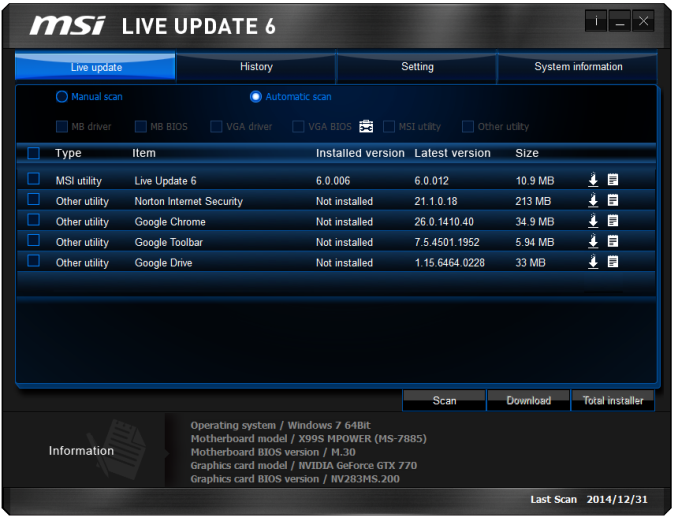 One of the cornerstones of the MSI software package is Live Update 6, which still holds the title as the best update package available on any motherboard. This downloads a list of what drivers/software should be on the motherboard and then compares it to what the user actually has. The ones that do not match are then offered as downloads, including sizes of download, and then the progress is shown as the updates are downloaded and installed. No other update package comes close, however there is one small issue. I would suggest to MSI to have an option to disable certain updates – I certainly do not want to download additional 'Internet Security' when I have my own preferred option on hand.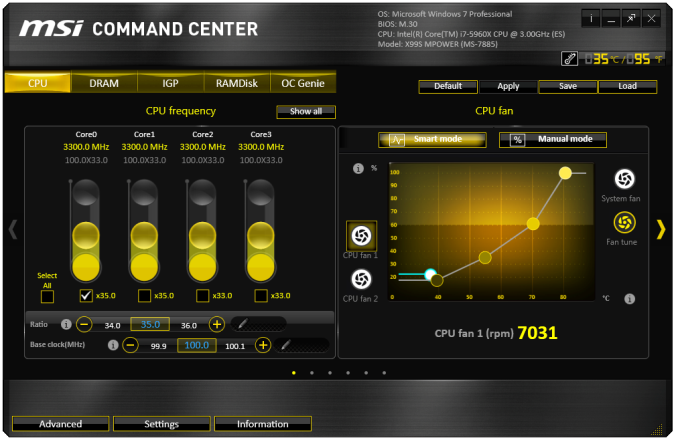 The Command Center software is where most of the regular action happens, with this front page showing which CPU is in use, what motherboard and BIOS version is in play and what operating system is installed. Here we also get quick access to CPU Multiplier and BCLK overclocks, as well as graphical CPU fan adjustment. The Fan Tune option allows the system to detect the fan power and speed response to help the user adjust the fans based on the dead zone in each.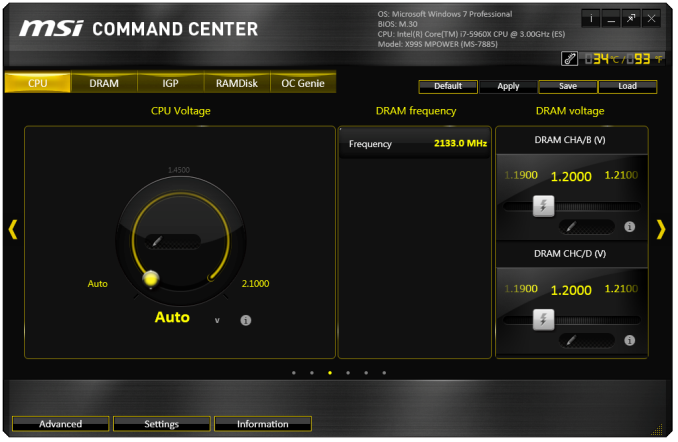 Unfortunately MSI has not fixed the error in Command Center I brought to their attention in the last generation – no user should be allowed the option to enable 2.1 volts to their processor. Not even extreme overclockers using liquid nitrogen will need (or can control) that much voltage, so it should not even be an option to regular users in the software without some big flashy warnings. Other manufacturers sometimes offer something similar, but they do not advertise 2.100 volts as the max on their sliders or dials, whereas for MSI it is staring the user right in the face. Come on MSI, step up the game and limit it to something more useful, such as +30% of stock voltage detected on the CPU.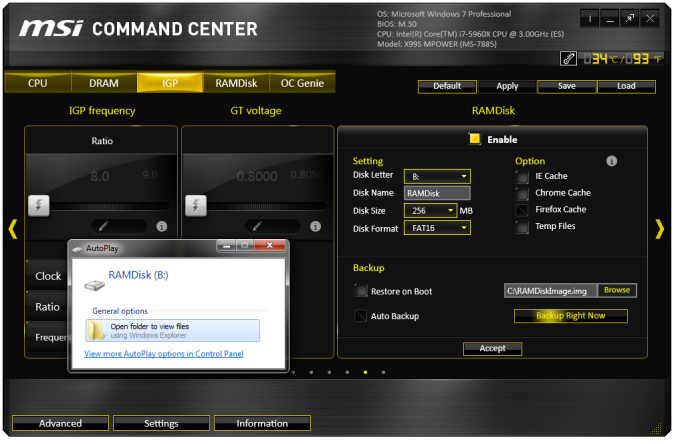 Command Center also allows a RAMDisk, although unlike ASRock's implementation, the size of the RAMDisk is only limited by the drop down menu. Annoyingly the user has to enable the RAMDisk (which might take a minute) before re-enabling it with a new disk size other than 256 MB. This should be adjusted to improve the user experience.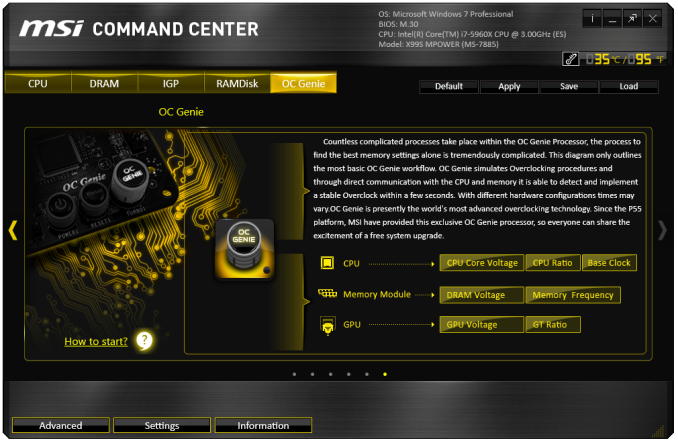 Enabling OC Genie can also be done in software if the button onboard is unavailable – either through Command Center here or via the BIOS. This would be a great place for MSI to offer different OC Genie options, although it is perhaps an opportunity missed.
Aside from the monitoring and information tabs also in Command Center, users can download and install two newer software packages aimed at extreme overclockers that cannot install extra fluff in order to squeeze the maximum performance out of their systems.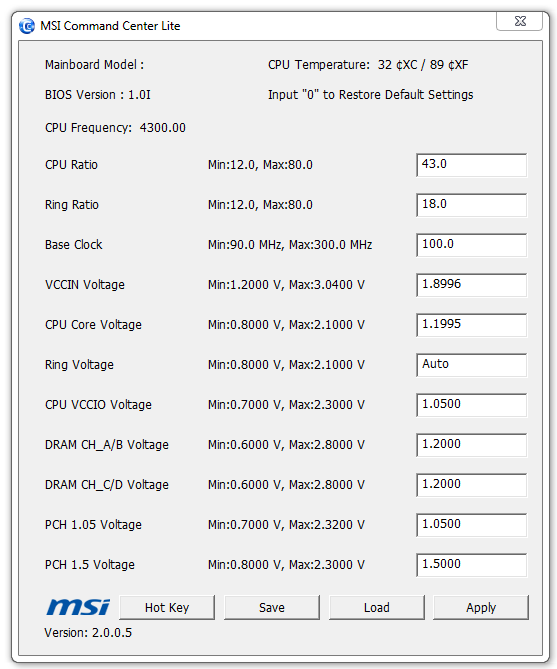 CC Lite is now on v2, suitable for X99 processors. Here adjusting the text and clicking Apply is all that is needed to enable an overclock. Users can also adjust the overclock with a selected hotkey, which is especially useful for benchmarks that have variable CPU load sections.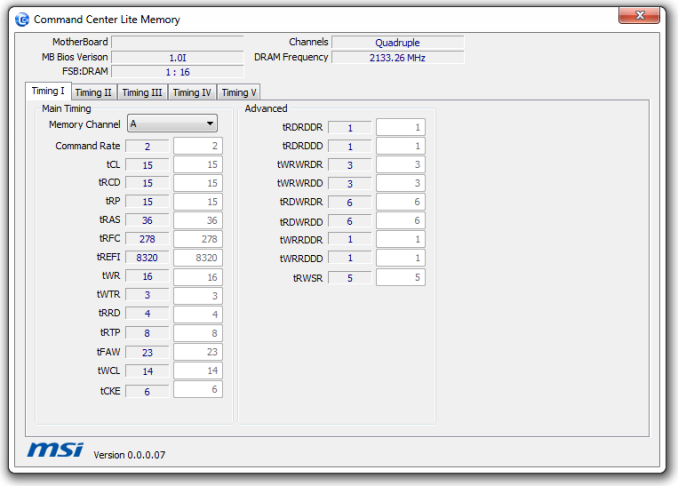 Newer to the Lite family is the CC Memory adjustment software. Similar in nature to CC Lite, the focus here is on the memory sub-timings.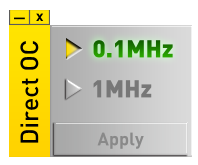 Overclockers also have to install the DirectOC driver and software in order to adjust the processor frequency jumps that the DirectOC buttons perform.