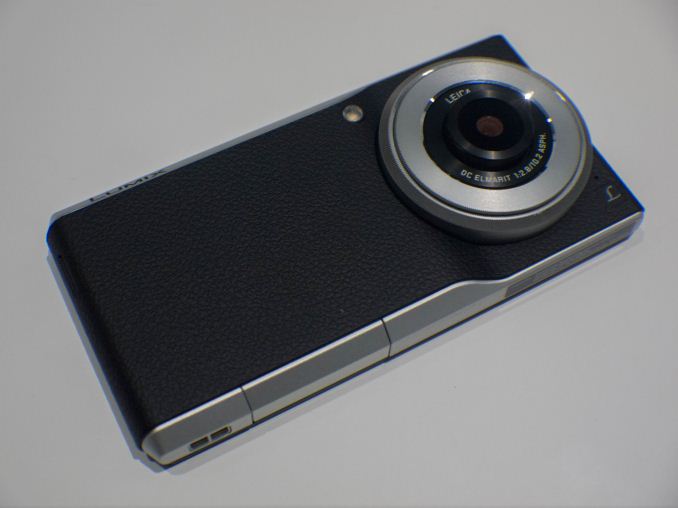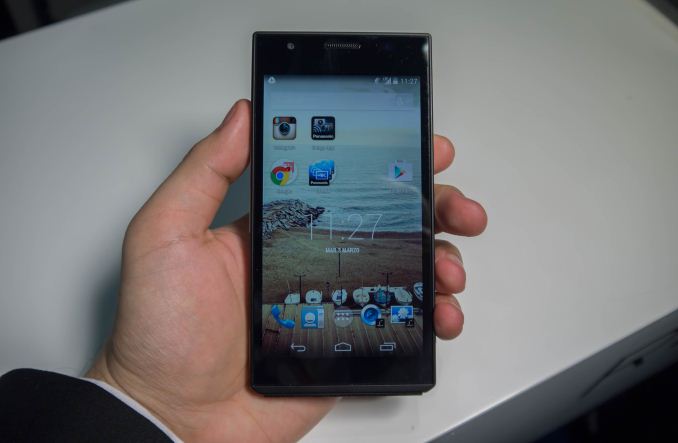 At MWC 2015 this year we had the opportunity to pass by the Panasonic booth while they were holding a media event for the Lumix CM1 camera/smartphone hybrid. These "big-camera" smartphones have been around for quite a while, most notably from Samsung with their Galaxy Camera or Galaxy K Zoom product lines. The biggest disadvantage from those products were that the phone-side of the devices were always rather large spec downgrades from their flagship "pure" smartphone counterparts.
The Lumix CM1 offers some fresh air by trying to not skimp on the phone hardware itself, offering a Snapdragon 801 as the brains of the device. While this isn't the newest and most powerful SoC from Qualcomm, it still offers a very high-end experience over other products such as Samsung's alternatives. It is pretty clear that Panasonic is trying to position itself the CM1 into against the K Zoom as both are the only Android camera hybrids which also offer cell connectivity.
Samsung
Galaxy K Zoom
Panasonic
Lumix CM1
CMOS Resolution
20.7MP
20.9MP
CMOS Format
1/2.3", 1.12µm pixels
1", 2.4µm pixels
Optical System
Focal Length: 4.4 - 44mm
(35mm equiv: 24-240 mm)
F/3.1-F/6.3 aperture

10x zoom + OIS
Focal Length: 10.2mm
(35mm equiv: 28mm)
F/2.8 - 11 aperture
Dimensions
137.5 x 70.8 x 16.6mm
(20.2mm max at lens)

200g
135.4 x 68.0 x 15.2mm
(21.1mm max at lens)

203g
Video Recording
1080p60 max
2160p15 (50mbps)
1080p30 (20mbps)
Display
4.8" 1280x720
Super AMOLED
4.7" 1920x1080
LCD
SoC
Exynos 5 Hexa (5260)
2x 1.7GHz A15
4x 1.3GHz A7
Mali T628MP3 600MHz
Snapdragon 801 (MSM8974AB)
4x 2.26GHz Krait 400

Adreno 330 450MHz
Storage
8GB + microSD
16GB + microSD
Battery
2430 mAh (9.23Whr)
2600 mAh (9.9 Whr)
OS
Android 4.4
Android 4.4
Connectivity
2G / 3G / 4G LTE
(Intel XMM7160
Category 4 LTE)

802.11a/b/g/n, NFC,
BT 4.0, GPS/GNSS
2G / 3G / 4G LTE
(Qualcomm MSM9x25
Category 4 LTE)

802.11a/b/g/n/ac, NFC,
BT 4.0, GPS/GNSS
Panasonic's crucial feature to differentiate the CM1 from the competition is the massive 1" CMOS image sensor. This is by far the biggest sensor employed in any currently exisiting smartphone and should offer substantial advantages in light sensitivity as the 2.4µm pixel pitch offers more than quadruple the light collecting area over the 1.12µm on the K Zoom and other commonly found smartphone image sensors.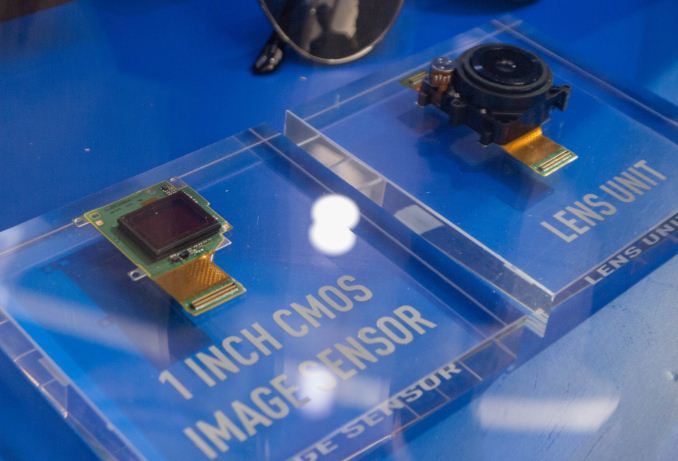 It's on the optical system that Panasonic didn't venture too far, as the CM1 offers no optical zoom at all. The Leica lens promises excellent optical characteristics such as a reduction in vignettes, flaring, ghosting and chromatic inconsistencies while increasing resolution and edge-to-edge sharpness. The lack of OIS may also be eyebrow-raising as we're starting to see the technology adopted in current conventional flagship smartphones. Having a large image sensor and the capability to shoot in up to ISO 25600 mode here may help to reduce exposure time, and thus possible blurriness due to shaking, but it's still something that needs to be tested out in practice. Panasonic employ their own dedicated ISP named the "Venus Engine", from which we might also see some advanced post-processing done to improve image quality.
The device offers a 4.7" 1080p LCD screen that is by far the sharpest in its category. Panasonic did great here as we've seen camera-oriented smartphones employ lower resolution screens. From the small hands-on time, visibility seemed good as was the colour accuracy.
The device ships with Android KitKat 4.4, a rather disappointing aspect for a device shipping in 2015. There is very little OS customization and Panasonic relies more on stock Android looks and features. It's on the camera side where the CM1 shines, as we see a camera application that basically mimics every feature found on standard Lumix dedicated cameras. We have the full breadth of controls that you would expect from a full-featured camera, including exposure, aperture, ISO, white-balance, focus-modes and the vast plethora scene-modes that would put competitors such as the K Zoom to shame. We also have full RAW capture, a feature avoided in existing camera-oriented smartphones up until the release of Android 5.0 and Camera2 API compatible devices.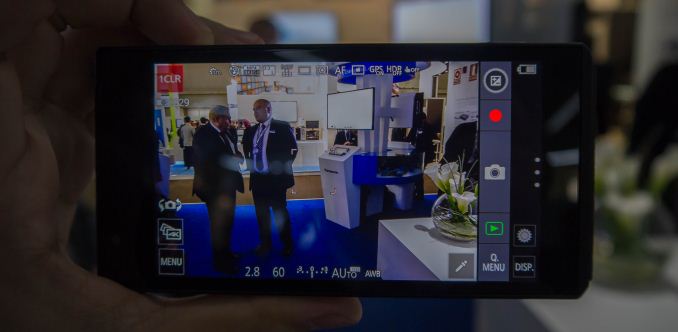 The camera lens is surrounded by a "manual control ring", a turnable ring which can be set up, depending on shooting mode, to control different functions such as shutter speed, aperture or ISO. I found the ring to function very well and it certainly helps when you want to take very quick adjustments in (for example) the exposure while in manual mode. The device also features a dedicated hardware camera shutter button and a camera-quick access button which can be used to open up the camera app in sub-one second time even when waking up the device.
The general feel of the device was extremely solid, at 203g and 15.2mm thickness the device felt quite hefty. The faux-leather texture found on the front and sides give it a very good grip and it doesn't detract from the rather premium feel of the camera-phone. Although the device is quite thick and heavy, we're only seeing a 2600mAh battery employed. I'm not sure how the internal hardware is set up, but I expected it to much larger than that when I initially first picked up the unit.
The LED flash was probably the most disappointing aspect, as it simply really can't be considered a proper solution and even Samsung's camera-phones employ Xenon flashes. I tried it out in the Panasonic booth and it is little more powerful than your standard smartphone flash.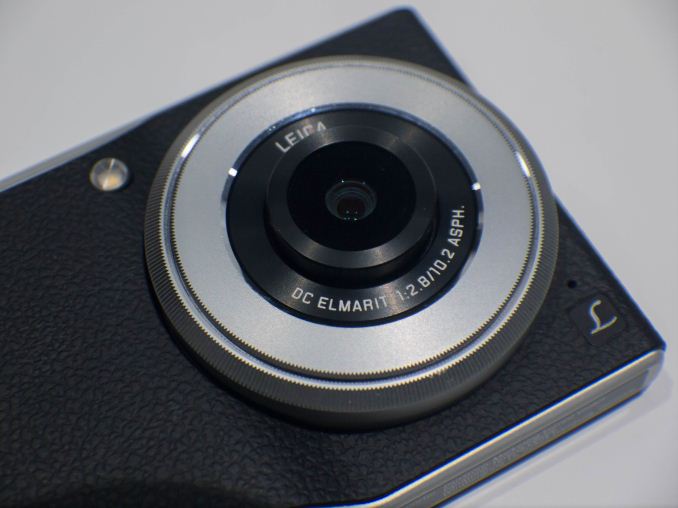 On the bottom of the device we find a flap which covers the SIM and microSD slots. There are two contact pins right next to it which seems to be designed for dock-charging, although Panasonic didn't have the corresponding accessories on display.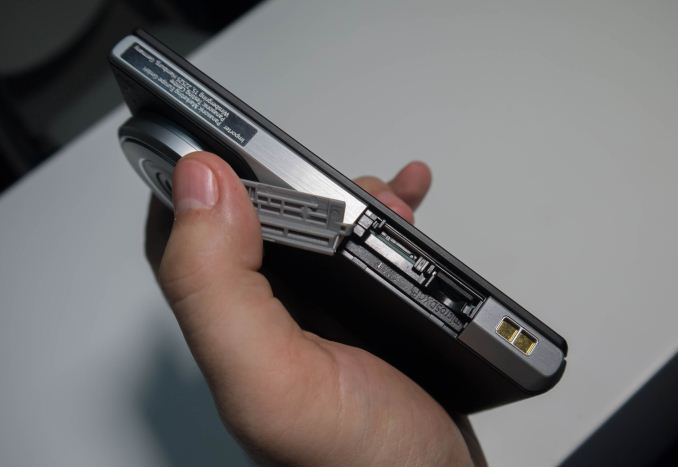 The Lumix CM1 seems to be an interesting device which wants to position itself as a serious alternative to the K Zoom. We've seen quite a few Android-powered cameras announced in the past, but these two products remain the only ones which offer the true combination of point-and-shoot cameras with the option of cellular connectivity.
There seems to be no contest on the software side as Panasonic brings the years of experience from its Lumix brand to Android with little compromise. I'm not yet sure how image quality will pan out given the lack of an optical zoom and OIS, and it's something we would have to extensively test in an eventual full review. On the phone side we have the hardware matching 2014's flagship smartphones, which again, doesn't match current flagship devices, but nevertheless narrows the spec gap which we've seen to be quite large on the K Zoom.
It all falls back down to pricing. With an MSRP of 899€ and availability only in certain European countries, the CM1 comes with a really steep price that is hard to reason with. It remains a niche product for those who really want the flexibility of a smartphone device, yet want to have a higher-end camera without actually carrying one around.