Sandy Bridge E
Depending on whom you ask, desktop replacement notebooks are either a growing or a shrinking market. Most large OEMs have completely abandoned the DTR market, with high-end DTR-like notebooks generally going the "mobile workstation" route instead. There are also large notebooks that some might call DTR (e.g. Alienware's M17x and M18x, and most of the other 17.3" gaming notebooks), but if you want true desktop power you'll want a desktop CPU. That's precisely what AVADirect/Clevo are offering with the P570WM, supporting Intel's socket 2011 processors in a large chassis with an equally large power brick. It's interesting to note that this isn't the first time we've heard about X79 gaming notebooks. AVADirect even points out in their forum post, "Almost one year ago, AVADirect began...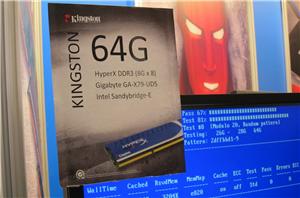 I dropped by Kingston's booth at the IDF tech showcase to check out two things this evening: Kingston's SSDNow KC100 and another Sandy Bridge E demo. The KC100 is...
11
by Anand Lal Shimpi on 9/13/2011
IDF isn't a traditional trade show in the sense that the majority of the show isn't built around a wide open show floor with tons of booths and product...
16
by Anand Lal Shimpi on 9/13/2011
Intel's upcoming 6-core, quad-channel high end Sandy Bridge E platform is due out in Q4 of this year. Intel has demos of the platform around IDF, many of which...
11
by Anand Lal Shimpi on 9/13/2011