Crash course in Storage and Storage Networks
Here's a quick introduction for those of you who are new to enterprise storage. We'll try to cover the most important concepts.
The first decision to make is what disk interface you are going to use:
15000 RPM SAS disks are bought for their robustness and low latency and are mainly used for disk intensive server applications. Transaction based applications in particular need this kind of hard disk. The biggest disks (300GB) consume a lot of power and are very expensive.
10000 RPM SAS disks offer higher capacities (up to 400GB) and are used in the same applications as their 15000 RPM brothers, but they are available at lower price points and have lower power consumption. Less intensive databases and web servers are their natural habitat.
Nearline or "RAID enabled" SATA disk are more robust than normal SATA disks. With capacities at 750GB, SATA disks have pushed the 10000 RPM SCSI based disks out of the backup and fileserver market. With fewer disks needed and lower rotation speeds, power consumption is a lot lower.
More information about
how SAS and SATA changed the professional storage market
is available for the interested. Even more important than choosing the right disk interface is how you make those disks available to your users. There are three primary approaches.
Direct Attached Storage (DAS
): thanks to the SAS protocol, you can attach two (but no more) servers to a DAS storage rack. Most of the time, you use a 12 Gb/s Infiniband cable to attach your DAS rack directly to the storage controller card in your server. From the point of view of your server, a DAS is just one or more logical disks it has access to.
Network Attached Storage (NAS
): basically the appliance version of a fileserver. As it is yet another device attached to your network, you can in theory access it with as many servers as you like. You use a UTP cable to attach the NAS to your network. To your server, a NAS behaves like a fileserver - a shared storage that is accessible via the network.
Storage Area Network (SAN
): a number of disk arrays accessed by one or more servers, most of the time over a switched network. The servers that need access to the shared storage run "initiator" software to send off block requests to the "target" software running on the disk array. You could say that in this case the server is a "storage client", while the real server is the storage server on which the target software runs, and which will send back the requested blocks. From the server OS point of view, parts of the SAN are yet another logical disk it can access.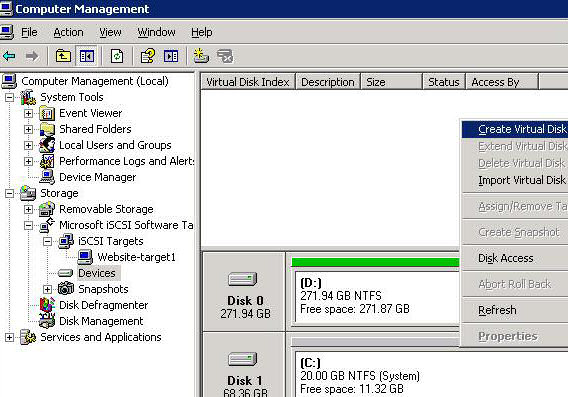 Above you can see how the Microsoft (iSCSI) target appears as a logical disk. The target is in fact running on the storage racks we tested, but for our testing "client" OS it looks like a local disk.
Just like a DAS, the access to the SAN occurs by sending block transfers, not file transfers (NAS). Implementing a SAN is not enough to give servers concurrent access to the
same
data. Only with a clustered file system that implements the necessary locks are the servers able to read
and write to
/from the same data. Otherwise, each server will have access to different parts of the SAN, or it will only be able to read files/data that it can't write. In a way, SANs are DAS with added network capabilities. SANs can be accessed over a TCP/IP Ethernet network (iSCSI) or a FC protocol based switched network (using fiber optic cabling most of the time), also called a "switched fabric".