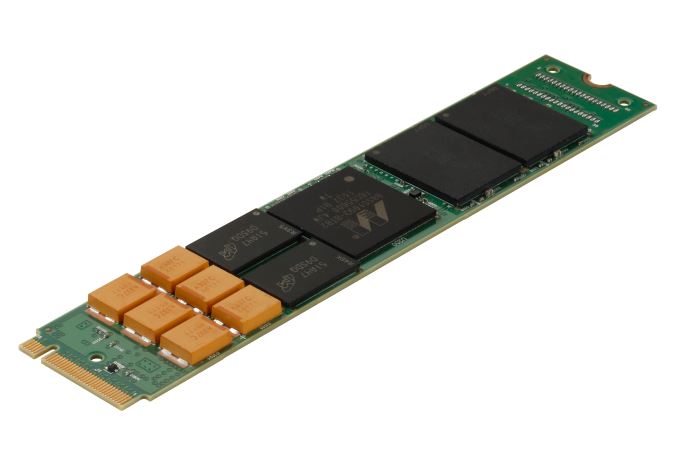 Micron entered the PCIe SSD market in 2011 with the formidable P320h. Using generously overprovisioned 34nm SLC NAND and a controller with 32 NAND channels and a PCIe 2.0 x8 link, the P320h boasted extreme write endurance ratings and performance that is still respectable by today's standards, but with a commensurate price tag. Two years later Micron introduced the P420m with the same controller but 25nm MLC NAND, adding power loss protection capacitors and offering similar performance on read-heavy workloads at a much more accessible price. Today Micron is announcing two new product lines that bring support for NVMe and PCIe 3.0 and use Micron's latest 16nm MLC NAND.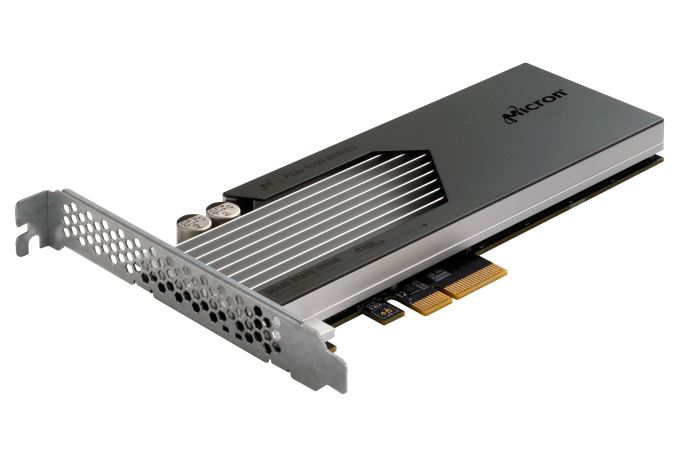 The new Micron 9100 NVMe PCIe SSD series is the high-performance and high-capacity product. Capacity ranges from 800GB to 3.2TB in either half-height half-length add-in card form factor or as a 15mm thick 2.5" U.2 drive. With a TDP of up to 27W, the Micron 9100 SSD is the more direct successor to the P420m and is using a PMC-Sierra controller that is descended from the controller used in Micron's previous PCIe SSDs.
Micron 9100 PCIe SSD Specifications
Capacity
800GB
1.2TB
1.6TB
2.4TB
3.2TB
Interface
PCIe 3.0 x4 HHHL or U.2
Sequential Read
2.1 GB/s
2.8 GB/s
2.8 GB/s
3.0 GB/s
3.0 GB/s
Sequential Write
650 MB/s
1.3 GB/s
1.3 GB/s
2.0 GB/s
2.0 GB/s
Random Read IOPS
540k
700k
700k
750k
750k
Random Write IOPS
55k
180k
100k
300k
160k
Idle Power Consumption
7W
Active Power Consumption
16W
21W
21W
27W
27W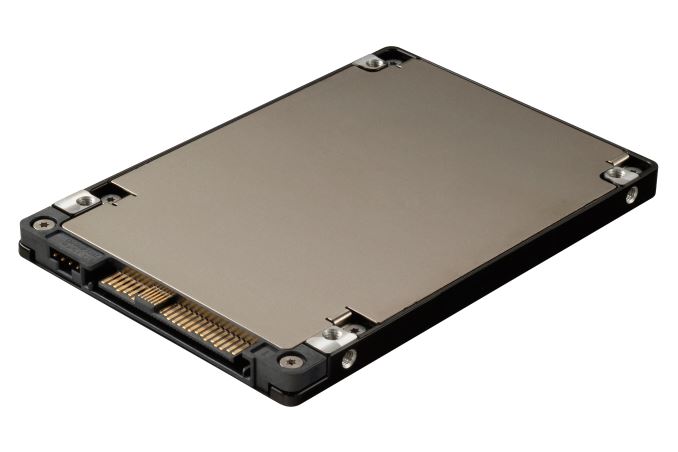 The Micron 7100 NVMe PCIe SSD expands Micron's offerings into a more mainstream segment of the market by adopting Marvell's 88SS1093 controller that is designed for client and smaller enterprise drives. Capacities for the 7100 range from 400GB to 960GB for the M.2 version and from 400GB to 1.9TB as a 7.5mm thick 2.5" U.2 drive. The smaller Marvell controller will keep power consumption below 12.5W and the M.2 version further throttles to a limit of 8.25W.
Micron 7100 PCIe SSD Specifications
Capacity
400GB
480GB
800GB
960GB
1.6TB
1.92TB
Interface
M.2 22110 or 2.5" U.2
2.5" U.2
Sequential Read
2.4 GB/s
2.5 GB/s
2.5 GB/s
Sequential Write
475 MB/s (M.2)
500 MB/s (U.2)
600 MB/s (M.2)
900 MB/s (U.2)
900 MB/s
Random Read IOPS
180k
220k
235k
Random Write IOPS
25k
10k
33k
12k
40k
15k
Idle Power Consumption
3.7W
Maximum Power Consumption
8.25W (M.2)
12.5W (U.2)
12.5W
Both the 9100 and 7100 series include models in two tiers of overprovisioning: for read-heavy or mixed workloads. The drives with greater overprivisioning sacrifice some capacity for greatly increased random write speeds and improved write endurance, though specifications for the latter have not yet been released.
Source: Micron