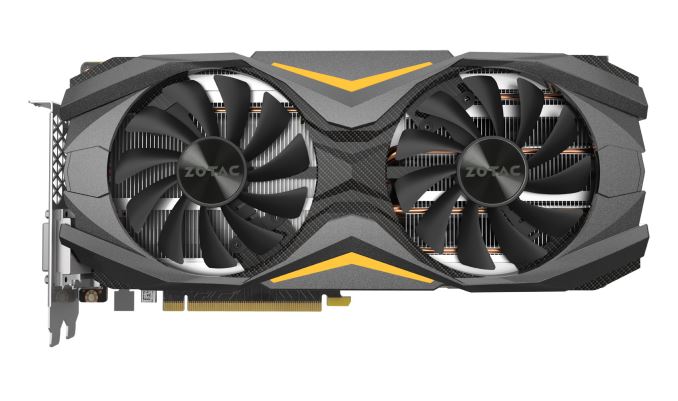 A few weeks back we saw the announcement of NVIDIA's GeForce GTX 1080. NVIDIA put the founders cards on sale first, with third-party cards set to be released later. As we approach the sale date of the 1080 we can now lift the covers on the solutions other vendors will be releasing. Today features cards from both Zotac and EVGA.
Zotac will be releasing two custom version of the GeForce GTX 1080, the GeForce GTX 1080 Amp Edition and Amp Extreme. Both cards will receive their own revision of their Icestorm cooler. The key differences between the two for the cooler is that the the AMP Edition (pictured above) sports five heatpipes and two 100mm fans, while the AMP Extreme will have six heatpipes, three 90mm fans, and those fans will have a new design aimed at reducing the dead spot in the middle of the fan. Zotac claims that on the latter this will increase airflow and reduce noise.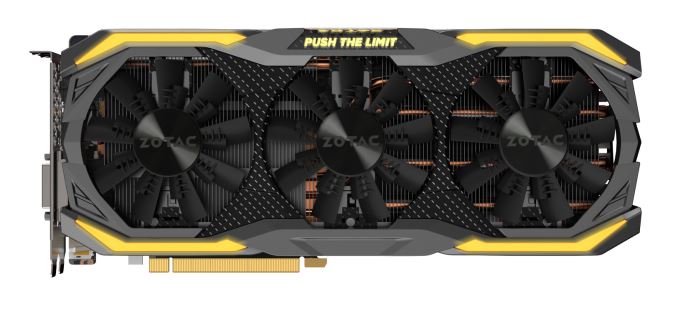 Speaking of noise, both cards will have a 0 dB fan idle mode that they call Freeze, which stops the fan under low load situations. Each of these cards will be wearing what Zotac calls "Carbon Exoarmor". Featuring a full backplate, a metal fan shroud, and what appears to be carbon fiber highlights.
To aid with fitting these cards in with any build these cards will feature Zotac's all new Spectra lighting system. Meaning that these cards will have RGB LED's on both the front and back of the card, and will be fully adjustable from the redesigned FireStorm App. Pricing and availability for these cards is not yet known.
EVGA's entry into the ring is the EVGA GeForce GTX 1080 SC Gaming ACX 3.0. What this will mean is a card that carries the third iteration of their ACX 3.0 Cooler Featuring a 0 dB fan idle mode, RGB lighting, and a load of heatsink changes. EVGA is specific on two features of this cooler including their Straight Heat Pipe 3.0 technology which they say increase heat pipe and copper contact to increase cooling. They also note a cooling plate, a.k.a. heat spreader, that sits between the PCB and the heatsink to cool memory and MOSFETs.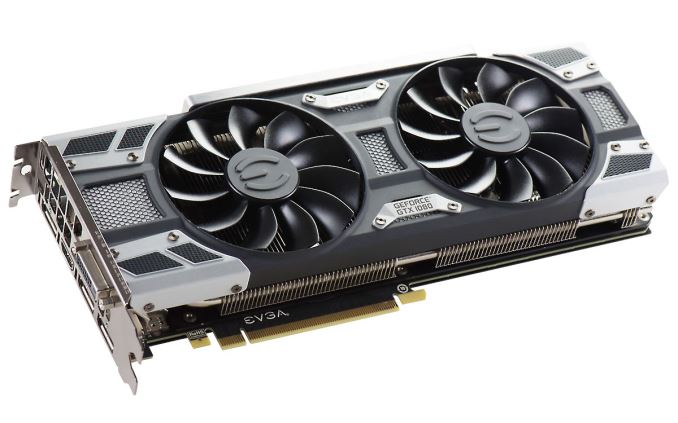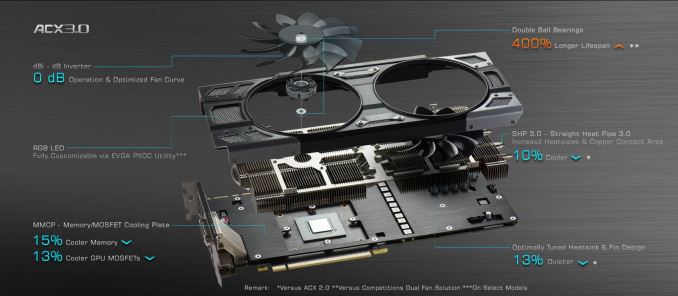 GTX 1080 Specification Comparison
EVGA GTX 1080
SC Gaming
GTX 1080
Founders Edition
Core Clock
1708MHz
1607MHz
Boost Clock
1847MHz
1733MHz
Memory Clock
10Gbps GDDR5X
10Gbps GDDR5X
VRAM
8GB
8GB
TDP
180W
180W
Launch Date
Early June
5/27/2016
Launch Price
MSRP: $649.99
MSRP: $699
Worth noting for these numbers is increased base and boost clocks to the tune of about 6%. A moderate but practical difference. Aside from that we are looking at the standard memory and memory speeds. EVGA will also be releasing Precision X 6.0 to Coincide with the upcoming release. The EVGA GeForce GTX 1080 SC Gaming ACX 3.0 card will release in early June for $649.99.
As the incoming hardware approaches we can look forward to learning more of what the market will bring us. Today saw the announcement of cards from Zotac and EVGA, though I'm sure we're bound to see many more releases as summer comes upon us. Be sure to keep an eye out here in the coming weeks as review samples start to trickle in.