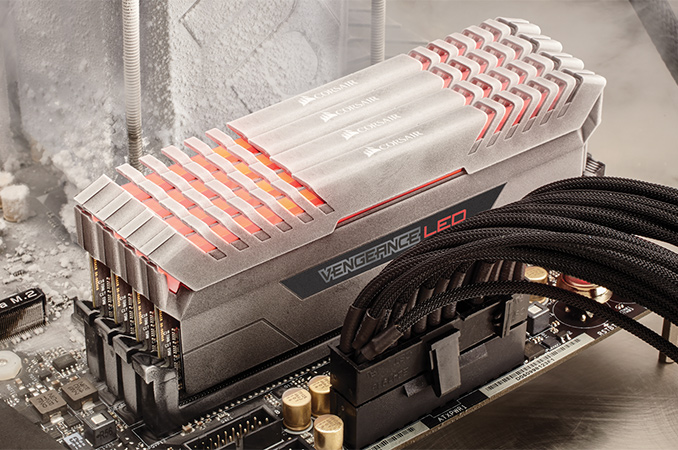 Corsair has introduced its Vengeance LED family of memory modules designed for enthusiasts of high-performance PCs and modders. The fresh range of Corsair's memory combines new design featuring LED lighting with high capacities as well as increased data-rates. Initially, the Vengeance LED DDR4 DIMMs will be available with data-rates up to 3466 MT/s, but in the near future the company promises to add DRAM sticks with speeds up to 4333 MT/s.
Each Corsair Vengeance LED unbuffered memory module is based on a custom 10-layer PCB as well as pre-binned DRAM chips that can run at data-rates well beyond 2133 MT/s and 2400 MT/s officially supported by today's CPUs. The modules are equipped with aluminum heat spreaders featuring red or white lighting to complement design of modern motherboards, graphics cards, cases and PSUs. All new Vengeance LED DIMMs are optimized for Intel's X99 and 100-series platforms and come with XMP 2.0 profiles to make it easier for end-users to run them at their data-rates with the right timings and voltage.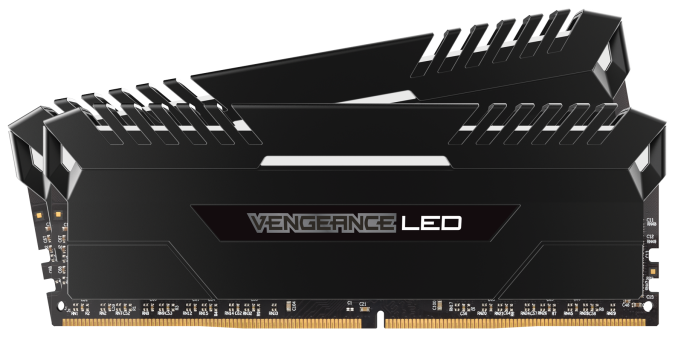 Initially available Corsair Vengeance LED memory modules come in 8 GB and 16 GB capacities (which means that they are likely based on the latest 8 Gb DDR4 ICs) and are shipped in dual-channel and quad-channel kits. The modules are rated to run at 2666 MT/s, 3000 MT/s, 3200 MT/s, 3400 MT/s as well as 3466 MT/s data-rates with CL15 17-17-35, CL16 18-18-35 or CL16 18-18-36 latencies. Depending on exact speed bins, the modules feature 1.2V or 1.35V power supply.
Eventually, Corsair plans to introduce Vengeance LED modules capable or running at higher data-rates, including 3800 MT/s, 4000 MT/s as well as 4333 MT/s. Right now, the world's highest-performing memory modules have 4 GB capacity and can run at 4266 MT/s. Therefore, with the introduction of DDR4-4333 DIMMs, Corsair would formally offer the world's fastest memory sticks.

Pricing of Corsair's Vengeance LED memory kits depends on specifications and capacity. The most affordable DDR4-2666 16 GB (2×8 GB) dual-channel kit costs $105, a faster DDR4-3200 16 GB (2×8 GB) dual-channel kit is priced at $115, whereas a DDR4-3200 64 GB (4×16 GB) quad-channel kit costs $485. All Vengeance LED modules and kits from Corsair are backed by the company's lifetime warranty.
Source: Corsair