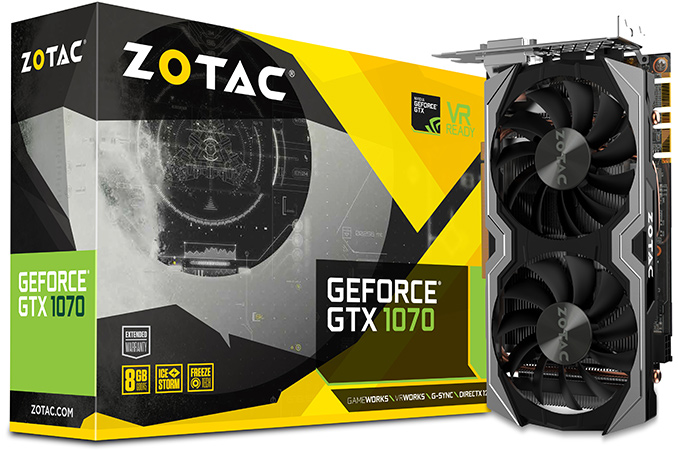 ZOTAC has added a small form-factor video card based on NVIDIA's GeForce GTX 1070 GPU to its lineup of products. The graphics adapter is designed for Mini-ITX PCs and will be the second product of such kind on the market after GIGABYTE's GeForce GTX 1070 Mini-ITX released earlier this year.
From performance and connectivity point of view, ZOTAC's GeForce GTX 1070 Mini (ZT-P10700G-10M) card resembles larger designs by other companies: the GP104 GPU (with 1920 stream processors, 120 texture units and 64 raster operations pipes) operates at 1518/1708 MHz (base/boost), 8 GB of GDDR5 memory function at 8 Gbps data rate and deliver 256 GB/s of bandwidth. Meanwhile the card is equipped with three DisplayPort 1.4 connectors, an HDMI 2.0b port as well as one dual-link DVI port, which is exactly what NVIDIA's reference cards offer.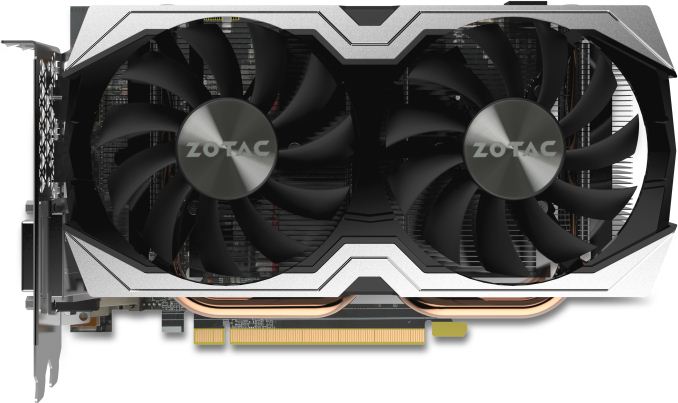 Despite the small size, the ZOTAC GeForce GTX 1070 Mini is equipped with a rather sophisticated cooling system (not exactly surprising because we are talking about a 150 W TDP here) featuring a copper base, two thick heat pipes, a relatively large aluminum radiator with thin fins as well as two 90-mm fans. The cooling system requires more space than coolers on other Mini-ITX graphics cards, but most of such builds have some extra space inside. The card requires one 8-pin auxiliary PCIe power connector to function, just like all the other GeForce GTX 1070 graphics adapters around.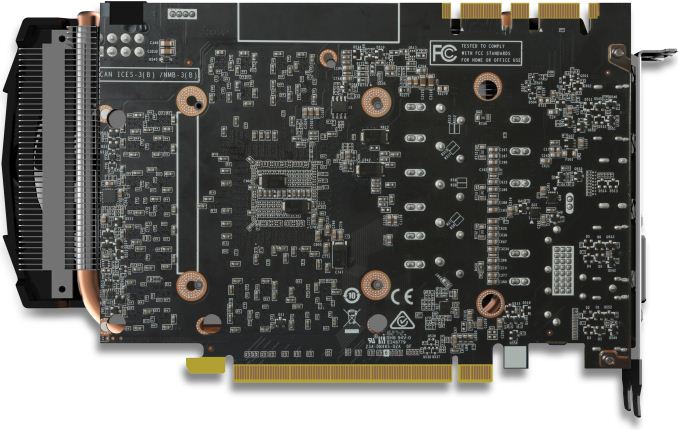 ZOTAC does not disclose a lot of details regarding its Mini-ITX graphics cards and things like VRM design of the board remain unknown. NVIDIA's reference GeForce GTX 1070 comes with a 4+1 phase VRM, but GIGABYTE's GeForce GTX 1070 Mini-ITX actually has a 5+1 phase VRM design (more VRMs has various positive and negative effects and doesn't specify the quality of such components in a number alone).
GeForce GTX 1070 for Mini-ITX PCs Specification Comparison
ZOTAC GeForce GTX 1070 Mini
GIGABYTE GeForce GTX 1070 Mini ITX OC (OC Mode)

GIGABYTE GeForce GTX 1070 Mini ITX (Gaming Mode)

GTX 1070
Founders Edition
Core Clock
1518 MHz
1556 MHz
1531 MHz
1506 MHz
Boost Clock
1708 MHz
1746 MHz
1721 MHz
1683 MHz
Memory Clock
8 Gbps GDDR5
VRAM
8GB
TDP
150 W
Launch Date
December 2016
July 2016
6/10/2016
Launch Price
$395

?

$449
When it comes to price, the ZOTAC GeForce GTX 1070 Mini costs $395 at Amazon and Newegg, which is a bit more expensive than NVIDIA's reference GTX 1070 graphics adapters, but is still more affordable than the GTX 1070 Founders Edition.
Related Reading:
Source: ZOTAC