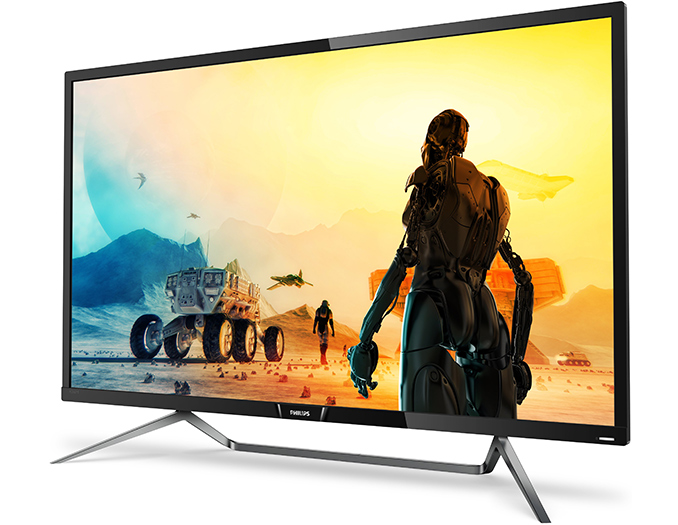 Philips has announced its new large gaming display that brings together an ultra-high-definition resolution panel, VESA's DisplayHDR 1000 certification, and AMD's FreeSync dynamic refresh rate technology. In addition to being the only ultra-large gaming monitor to support the aforementioned features (among those announced to date), the Philips 436M6VBPAB also supports USB Type-C docking, which is going to please users of laptops that feature only USB-C ports.
A Gaming Display with Quantum Dots, Ambiglow, and a Remote
The Philips 436M6VBPAB relies on a 43-inch 8-bit + FRC VA panel featuring a 3840×2160 resolution, 600 – 1000 nits brightness, a high contrast ratio (since it is a VA panel, we are probably talking about something like 2000:1 or better), a 4 ms response time, a 60 Hz optimum refresh rate, 178°/178° viewing angles, and so on. The backlighting is outfitted with a Quantum Dot-enhancement film that enables it to cover an above-average 97.6% of the DCI-P3 color gamut.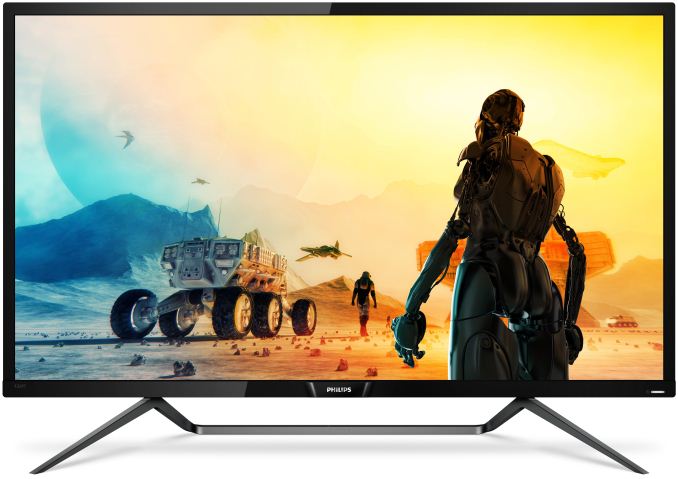 In addition to accurate colors and HDR support, the 436M6VBPAB supports Philips' Ambiglow technology, which produces LED lighting effects to match ambient lighting with what is happening on the screen. This is not a programmable RGB lighting found on gaming displays from companies like ASUS, but it adds visual effects that are useful practically and bring additional immersion to games.
Speaking of gaming, it is noteworthy that the ultra-large monitor from Philips takes a page from AOC's book and supports the so-called Low Input Lag mode that reduces input lag by bypassing "most of the display's internal processing." This is not particularly surprising since both AOC- and Philips-branded LCDs are made by TPV.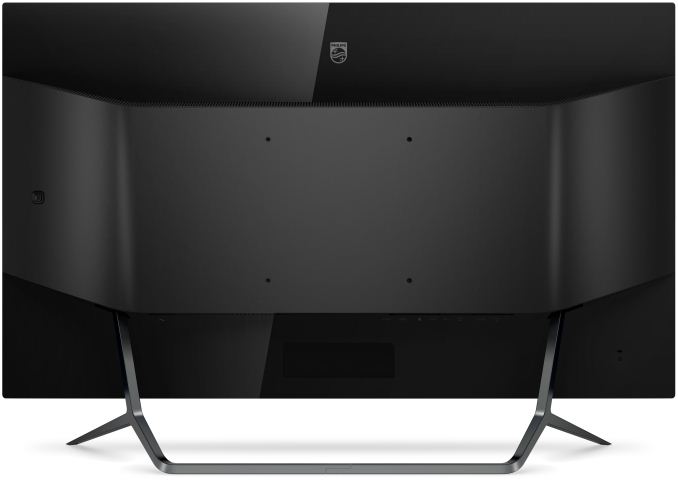 Moving on to connectivity of the 436M6VBPAB. The monitor has four display inputs: 1x DisplayPort 1.2, 1x Mini DisplayPort 1.2, 1x HDMI 2.0, and 1x USB Type-C that can be used both for display connectivity and as an upstream port for a USB 3.0 hub. The LCD supports Picture-in-Picture and Picture-by-Picture capabilities from two sources. As for audio, the display features a 3.5-mm audio input, 3.5-mm audio output as well as two built-in 7-W speakers with the DTS Sound badge.
Another important feature of the Philips 436M6VBPAB monitor is bundled remote controller that can be used to control the monitor as well as other devices connected using HDMI (e.g., media players, game consoles, etc.). The remote is going to be quite handy because the 43-incher can be used like a TV when connected to various media streamers or players (or even a TV tuner!). Now, a disadvantage of this size is that the 436M6VBPAB does not come with a stand that can regulate its height or tilt. To partly solve this, it does have VESA mounts.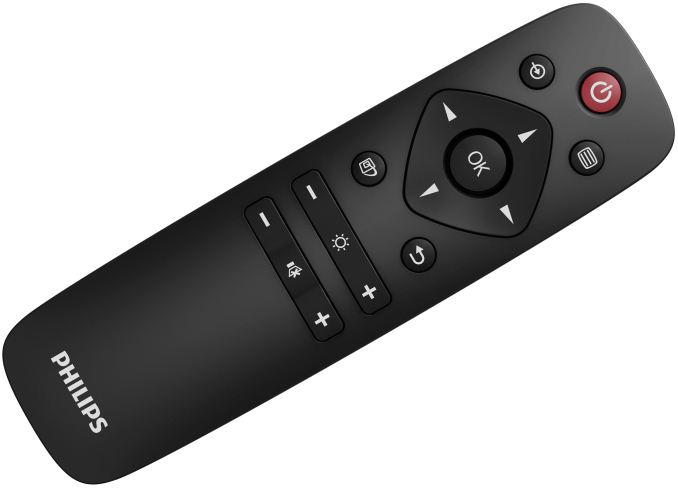 FreeSync Meets HDR
The new monitor from Philips belongs to the brand's Momentum lineup of LCDs aimed at gamers and multimedia enthusiasts. Given the target market, the key features of the Philips 436M6VBPAB besides its dimensions and Quantum Dot-enhanced backlighting are AMD's FreeSync technology and VESA's DisplayHDR 1000 badge, a rather odd combination considering the fact that FreeSync 2 is a technology that is supposed to bring HDR to gaming displays. There is an explanation to this combination.
AMD's FreeSync 2 mandates monitors to support a number of features: they have to support the tech on the logical level (i.e., let games tone map directly to the native color space of a display), they have to cover at least 90% of the DCI-P3 color space, and they have to support a dynamic refresh rate with Low Framerate Compensation. In case of the 436M6VBPAB, the LCD supports a wide color gamut and a dynamic refresh, but not direct tone mapping and LFC, which is why it cannot get an appropriate AMD certification. In fact, it yet has to get a FreeSync certification, which is why Philips uses the term 'Adaptive Sync for AMD GPUs'. Philips does not disclose dynamic refresh range of the monitor, but given its maximum refresh rate, we don't expect the minimum refresh rate to be much below 45Hz.
Update 6:15 PM ET: Philips Australia has published official specifications of the 436M6VBPAB monitor on its website. The specs list 3840 × 2160 at 60 Hz as "optimum" resolution and refresh rate of the display. At the same time, the LCD supports a 23 - 80 Hz scanning frequency for DisplayPort and HDMI inputs, which looks like the FreeSync range. Considering that 80 Hz is an odd refresh rate, it is highly likely that the monitor overclocks itself from 60 Hz to 80 Hz in certain situations. In the meatime, since display supports a 23 - 80 Hz scanning frequency, it is more than enough for LFC.
Update 4/27: AMD confirmed on Friday that the Philips 436M6VBPAB display is FreeSync certified.
As for the DisplayHDR 1000 logo, the VESA's highest HDR has a rather strict requirements for brightness (600 nits full-screen long duration minimum, 1000 nits full-screen flash minimum) and black levels. The VESA does not mandate local dimming for this standard, yet it does not believe that corner maximum limit of 0.05 nits and tunnel maximum limit of 0.1 nits are achievable without local dimming. That said, while the Philips 436M6VBPAB does not support FALD (full array local dimming), it does support some kind of local dimming and therefore should feature a good contrast ratio.
The Philips Momentum 43" 4K HDR display with Ambiglow
436M6VBPAB
Panel
43" MVA
Native Resolution
3840 × 2160
Maximum Refresh Rate
60 Hz (normal)
80 Hz (overclocked)
Response Time
4 ms GtG
Brightness
720 cd/m² (typical)
1000 cd/m² (peak)
Contrast
4000:1
Backlighting
LED with quantum dots
Viewing Angles
178°/178° horizontal/vertical
Aspect Ratio
16:9
Color Gamut
100% sRGB/BT.709
97.6% DCI-P3
HDR
HDR10
DisplayHDR Tier
1000
Dynamic Refresh Rate Tech
AMD FreeSync
23.976 - 80 Hz
Pixel Pitch
0.2479 mm²
Pixel Density
102 PPI
Inputs
1 × DisplayPort 1.2
1 × Mini DisplayPort 1.2
1 × HDMI 2.0
1 × USB Type-C
Audio
3.5 mm input/output
2 × 7 W DTS Sound speakers
USB Hub
2 × USB 3.0 Type-A connectors
1 × USB 3.0 Type-C input
VESA Mount
200 × 200 mm
MSRP
Europe: €799
UK: £699
US: $799 without VAT (unconfirmed)
Pricing and Availability
Philips plans to start selling the 436M6VBPAB this May for €799/£699 in Europe. As production of the unit ramps up, its availability will get more widespread in June, but the manufacturer does not explicitly say when it plans to start its sales in the U.S.
Related Reading: