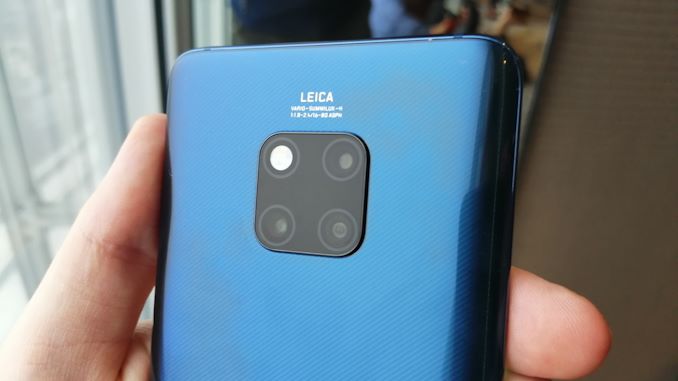 New to the market is the latest flagship smartphone from Huawei. Following the Mate series, last year's Mate 10 and Mate 10 Pro are succeeded by the Mate 20 and the Mate 20 Pro, featuring the 7nm Hisilicon Kirin 980 chipset, along with a whole new design with added features. Out of the two, the Mate 20 Pro is aiming for the upsell, with new features such as reverse wireless charging, an OLED HDR display, an IP68 rating, a larger battery, and support for a 40W Supercharge.
Huawei Mate 20's
Mate 20 Pro
Mate 20
Mate 20 X
SoC
HiSilicon Kirin 980

2x Cortex A76 @ 2.60 GHz
2x Cortex A76 @ 1.92 GHz
4x Cortex A55 @ 1.80 GHz
GPU
Mali G76MP10 @ 720MHz
DRAM
6GB LPDDR4X
4GB LPDDR4X
6GB LPDDR4X
?GB LPDDR4X
Display
6.39" OLED
3120 x 1440 (19.5:9)
DCI-P3, HDR
6.53" RGBW LCD
2244 x 1080 (18.7:9)
DCI-P3, HDR
7.2" OLED
2244 x 1080

(18.7:9)




DCI-P3, HDR

Size
Height
157.8 mm
158.2 mm
Width
72.3 mm
77.2 mm
Depth
8.6 mm
8.3 mm
Weight
189 grams
188 grams
Battery Capacity
4200mAh

40W SuperCharge
4000mAh

22.5W SuperCharge
5000mAh


Wireless Charging
Qi
+ Wireless reverse charging
-
Rear Cameras
Main
40MP f/1.8
27mm equiv. FL
12MP f/1.8
27mm equivl. FL
40MP f/1.8
27mm equiv. FL
Telephoto
8MP f/2.4
3x Optical zoom
80mm equiv. FL
8MP f/2.4
2x Optical Zoom
52mm equivl. FL
8MP f/2.4
Optical Zoom
Wide
20MP f/2.2
Ulta wide angle
16mm equivl. FL
16MP f/2.2
Ultra wide angle
17mm equivl. FL
Ultra wide angle
Front Camera
24MP f/2.0
Dot-projector
Flood illuminator
IR camera
-
Storage
128 GB
+ proprietary "nanoSD" card
I/O
USB-C
USB-C
3.5mm headphone jack
Wireless (local)
802.11ac Wave 2 Wi-Fi
Bluetooth 5.0 LE + NFC
Cellular
Kirin 980 Integrated LTE
(Category 21/18)

DL = 1400 Mbps
4x4 MIMO
3x20MHz CA, 256-QAM
(5CA no MIMO)

UL = 200 Mbps
2x2 MIMO
1x20MHz CA, 256-QAM
Splash, Water, Dust Resistance
IP68
(water resistant up to 1m)
IP53
(no water resistance)
Dual-SIM
2x nano-SIM
Launch Price
128 GB: 1049€
4+128 GB: 799€
6+128 GB: 849€
128 GB: 899€

A New Generation of Design
Even by Huawei's own reckoning, the Mate 10 series sold extraordinarily well. As a company, in the first half of this year, they moved ahead of Apple to be the second biggest smartphone manufacturer in the world in terms of unit sales, totalling 95 million units. That represents a 30% year-on-year growth, although a big step up is needed to rival Samsung for that number one spot. Huawei believes that flagship devices such as the Mate 20 and Mate 20 Pro are an integral part of that strategy.
In our briefings, Huawei made it clear that they want an iconic look. Smartphones, we were told, seem to be unifying over the design and it is often difficult to tell them apart. Huawei stated that it has made design choices this time around to remain identifiable and unique in the market, and from my perspective, the choices made here will instantly indicate that someone is using a Huawei smartphone. The first obvious feature is the rear camera.
Following on from the dual-camera setup of the Mate 10 series, the new three rear cameras now appear on the back of the Mate 20 in a square pattern, with the flash in one of the corners. This quadrilateral design is slightly different on the Mate 20 Pro, as it is a larger phone so the camera layout is slightly longer vertically, however the camera setup on both is very similar: a telephoto lens paired with a wide angle lens and then an ultra-wide angle lens just for good measure.
This means that the monochrome sensor has finally gone (it had questionable benefits in the last generation), and has been replaced with a new ultra-wide sensor. This allows the new phones for an optical zoom from 0.6x to 2.0x-3.0x (depending on model), beyond which the camera goes into a 'hybrid zoom' mode, combining optical and digital zoom. The differences between the two models are in the details:
Mate 20: 12MP Wide Angle f/1.8 + 16MP Ultra-Wide f/2.2 + 8MP Telephoto f/2.4
Mate 20 Pro: 40MP Wide Angle f/1.7 + 20MP Ultra-Wide f/2.2 + 8MP Telephoto f/2.4
The 40MP wide angle also supports "4-in-1 shots", or more commonly referred to 2x2 pixel binning, combining data from multiple pixels to produce 10MP photos that look better in low light. For both cameras OIS is found only on the telephoto lens, while other stabilization comes from Huawei's AI-stabilization technology.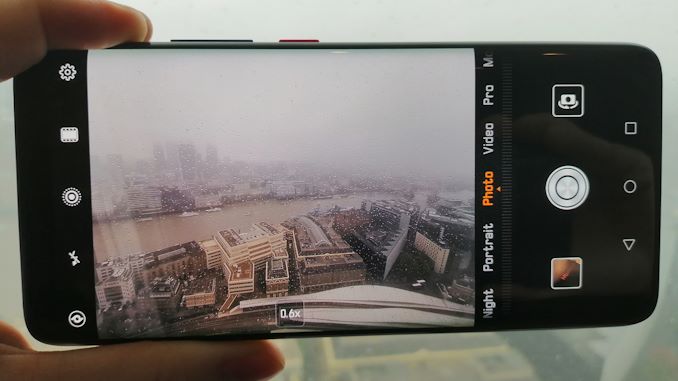 Sticking with the cameras, the front facing camera is different on both models as well. The standard Mate 20 will have a single 24MP f/2.0 RGB camera sensor on the front, whereas the Mate 20 Pro is going all in with proper facial recognition, with a dot projector, the 24MP RGB sensor, a time-of-flight proximity sensor, a flood illuminator, and an IR camera, similar to the Apple system but in testing felt a lot faster, capable of dealing with some sizeable side angles. Huawei was not clear if this is going to be used as a way to make payments, although some announcements might be being made at the presentation today. Huawei did state that apps and files can be locked away using the facial recognition.
Also on design uniqueness, Huawei is pleased with what the company has done with the rear of the device for feel. The main color choices for the Mate 20 and Mate 20 Pro use a glass ridged rear surface, with microbumps as an oleophobic coating. Running a nail across it gives that scratchy sound similar to vinyl, and the feel of the device is very natural, with Huawei stating that every edge uses rounded glass. Each model will be available in five different colors, three with the microbump ridge pattern (Pink Gold, Midnight Blue, Emerald Green) and two without (Twilight and Black).
The Hardware
Inside both devices is the Kirin 980, Huawei's newest 7nm smartphone SoC. We covered the launch of this chip at IFA when it was announced, but the high level specifications include a tri-CPU design using ARM's latest Cortex A76 and A55 processors and ARM Mali-G76 graphics. Huawei's enhancements to the chip over the Kirin 970, aside from the new CPU/GPU and manufacturing process, includes the newest version of the sensor hub, an upgraded integrated modem now capable of Cat 21 download, and a dual core Neural Processing Unit (NPU) for neural network inference.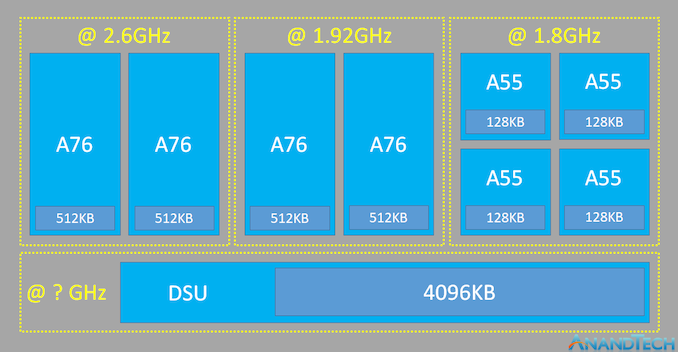 Back at IFA, we were told that this dual-core NPU is essentially just a double size NPU to that of the Kirin 970, except with 8-bit INT capabilities. Ultimately it acted like a single device, but could compute on one core for efficiency or both for throughput. At our recent prebrief, we are now told that one core of the NPU deals with 16-bit networks, while the other deals with 8-bit networks. We've asked several questions to clarify this, and are waiting on the response.
For the deep analysis of the launch of the Kirin 980, head on over to our article here.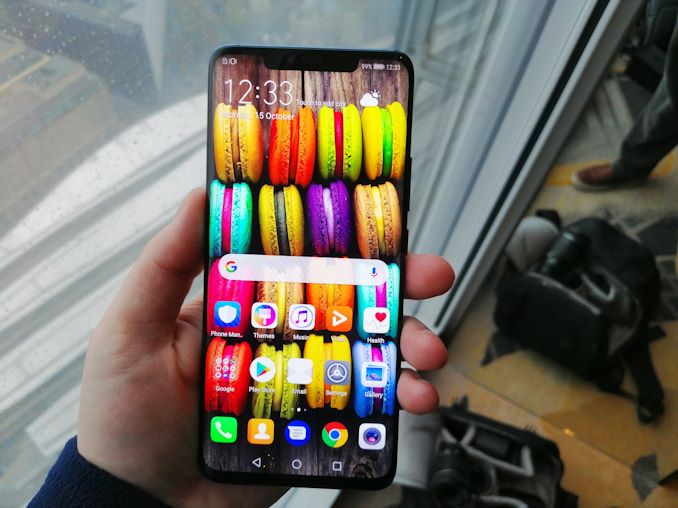 On the Mate 20 and Mate 20 Pro, one of the key differentiators will be with the screen. On the standard Mate 20, the display is a 6.53-inch 2244x1080 RGBW LCD unit, capable of a good amount of DCI-P3, and brightness up to 820 nits, in what Huawei is calling a 'Dew Drop' display based on the notch. The Mate 20 Pro by comparison uses a smaller but denser 6.39-inch 3120x1440 OLED display also capable of DCI-P3 and HDR, with Huawei stating it has a 'high color saturation' and 'high contrast ratio' but declines to give specific numbers.
Also up for differentiation is the battery, with the Mate 20 Pro getting a 4200 mAh battery capable of a new 40W Super Charge mode certified by TÜV Rheinland (we're still waiting on exact details) which Huawei states is good to charge the device from 0% to 70% in 30 minutes. The Mate 20 Pro is also equipped with fast wireless charging, up to 15W, and can be used in reverse charging mode – if you need to charge another wireless device, it will do so up to a certain limit.

We tried this with an iPhone. No problems. But no luck with my LG V30.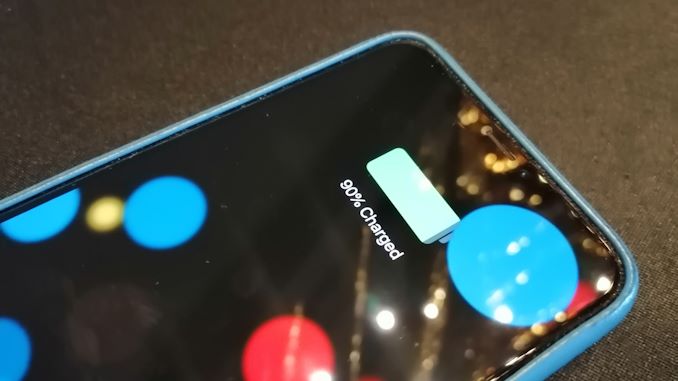 The standard Mate 20 gets a 4000 mAh battery, which is a bump up from the standard Mate 10, and will do 22.5W Super Charge, which charge the device to 56-60% in half an hour according to the claims.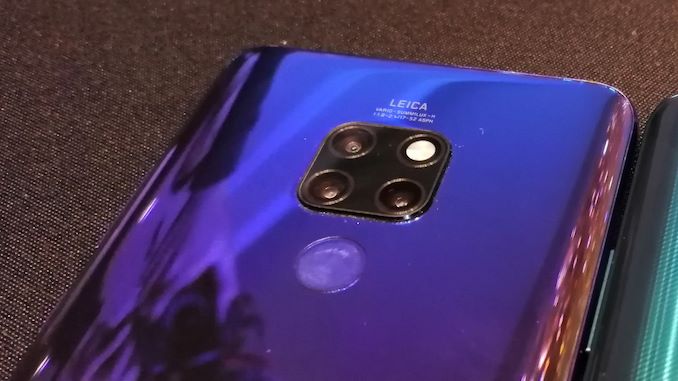 The fingerprint sensor is another area for differentiation, and the Mate 20 Pro has one built into the screen using a DPS sensor similar to the Mate 10 Pro. The Mate 20 has a rear fingerprint sensor, which in our hands-on seemed to get a lot of oil from fingerprints on it very easily. Another differentiation is the waterproof rating, with the Mate 20 Pro going at IP68, while the standard Mate 20 is an IP53 device. Also the 3.5mm jack: the Pro does not have one, but the regular Mate 20 does.
Both devices will support 802.11ac Wave 2 technology, capable of a theoretical peak of 1.732 Gbps in a perfect scenario, and both devices will ship with EMUI 9, based on Android 9, with the latest version of GPU Turbo technology and a high-performance mode for users that need it. As part of EMUI 9, Huawei is introducing a password vault, with data kept inside a secure zone in the processor. There will also be backup capabilities to a NAS with the SMB protocol.
Software
On the software side, due to EMUI and the dual NPU, the AI has improved to allow for more scenes to be detected in the camera view, as well as skeletal representations of people in shot to help with framing. It uses real-time 4D predictive focus to keep objects in focus in videos, and with the wide angle lens can record natively in 21:9. A new feature is an AI-based highlight reel, which can take all the film from a day of shooting, identify people common to many videos and generate 10 second highlight footage of those individuals.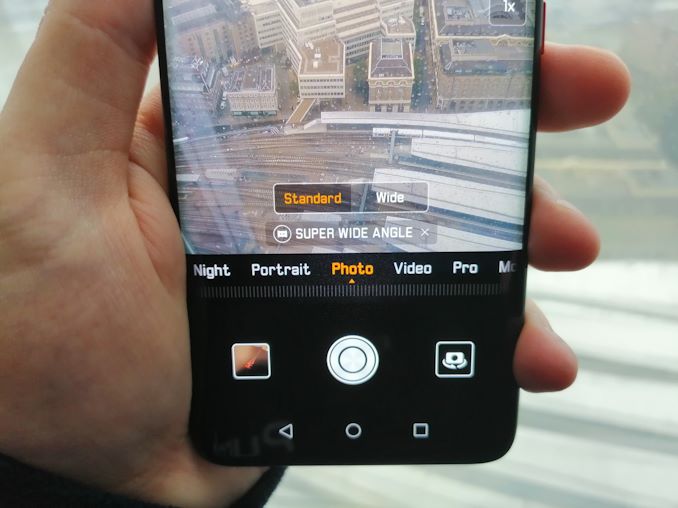 Also in the software is Huawei's push to make it more 'natural', using a slow chirp of nature as the default alarm sound for example. There is a general push to give a more natural aural feedback across the interface. Huawei also states that it is up to 51% faster with built-in app startup, and that its 'born fast, stay fast' philosophy still applies with a supposed better aging process for devices than competitors and even the Mate 9 or Mate 10.
Both the Mate 20 and Mate 20 Pro are also taking Desktop Mode to a new level, by now supporting wireless desktop mode via Miracast. This allows users to take their device with them and stream wirelessly in desktop mode using the smartphone as a trackpad, or supporting a dual screen extension.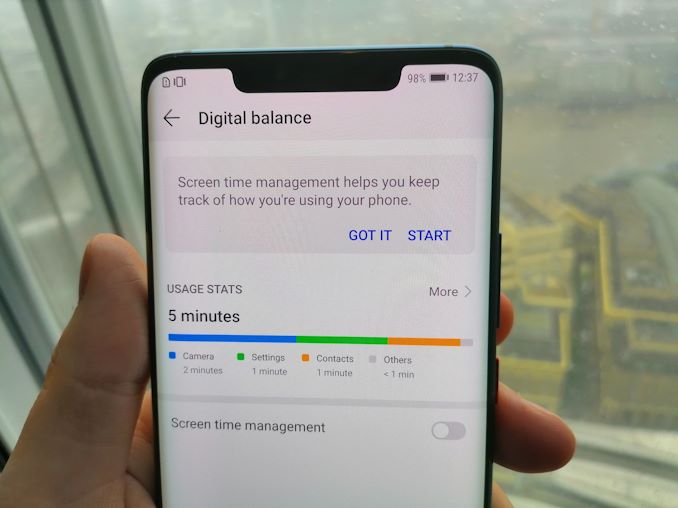 Another feature of the Mate 20 and Mate 20 Pro will be the Digital Balance part of the software, showing users where their time is spent, and offering to give warnings when the user is putting the device in front of their face too often during the day.
Configurations and Pricing
Both devices will come in dual nano-SIM variants, however rather than supporting the standard microSD, Huawei has developed a proprietary standard it is calling 'nanoSD' that it will sell and will fit into a standard nanoSIM slot. This is going to be fun (not).

The Mate 20 will be sold in 4GB+128GB and 6GB+128GB variants, with the Mate 20 Pro only in a 6GB+128GB variant. Exact details of regions and pricing should be announced at today's launch.
We are also expecting another Mate 20 design to be announced today, probably a Porsche Design model, with additional storage and a leather trim with certain PD specific design aspects.