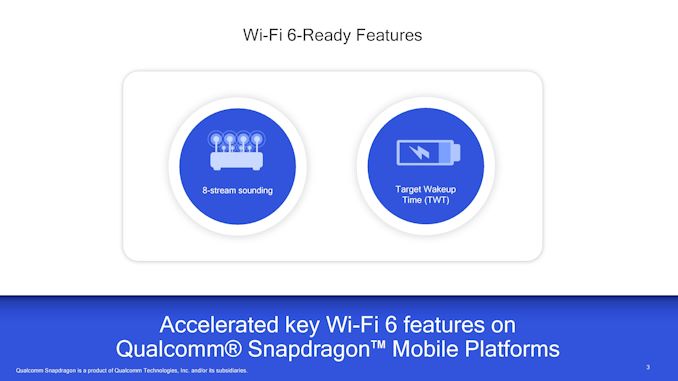 With the upcoming ratification of the Wi-Fi 6 (802.11ax) standard expected in August, a number of companies are gearing up with Wi-Fi 6 'ready' routers and end-points to get the jump on the market. The idea is that the standard won't change much between now and full ratification, and most companies developing chipsets expect to sail through without issues – the only difference between the companies will be on the 'optional' portions of the specifciations. With that, as we saw at Qualcomm's Tech Day at the end of 2018, the company will be pushing its latest Wi-Fi 6 solutions onto the market. Today is the launch of one of the chipsets, the QCA6390, which also incorporates BlueTooth 5.1.
Qualcomm's newest chip, built on a 14FF CMOS process, will support up to 1.8 Gbps of Wi-Fi 6 bandwidth over a combined 1024-QAM dual-band (5 GHz and 2.4 GHz simultaneous, up to 80 MHz) connection, as well as WPA3 security, enhanced BlueTooth 5.1, and additional optional features to the Wi-Fi 6 specification. Two of those optional features relate to Target Wake-Up Time, allowing devices to wake quicker and use less power doing do (up to 67% better power efficiency), and 8-stream sounding, which supports multiple devices doing high-data rate actions without network congestion. There will be additional proprietary power and performance benefits for users with Qualcomm silicon as both the host and the devices.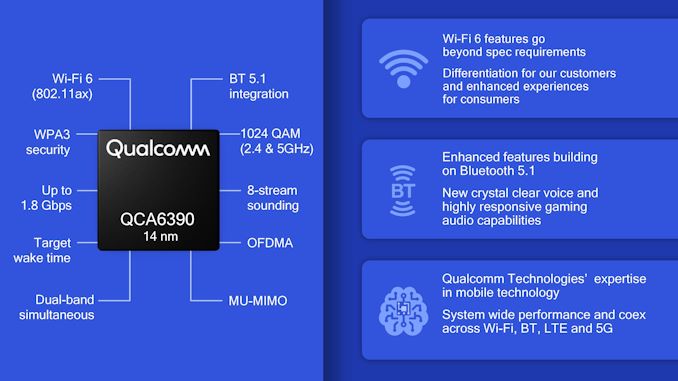 One of the key philosophies of Qualcomm's wireless strategy is that WAN and WLAN are developed in tandem, rather than in isolation. As the WAN or WLAN standards improve, the other has to meet it with similar updates for performance, power, and efficiency. Qualcomm states that as we move into a 5G era, with condensed networks of users performing high-bandwidth operations simultaneously from multiple devices, technologies like 5G and Wi-Fi 6 will sustain a core part of the company's wireless portfolio. We have already found devices that use both the recently released X55 modem, along with the new QCA6390.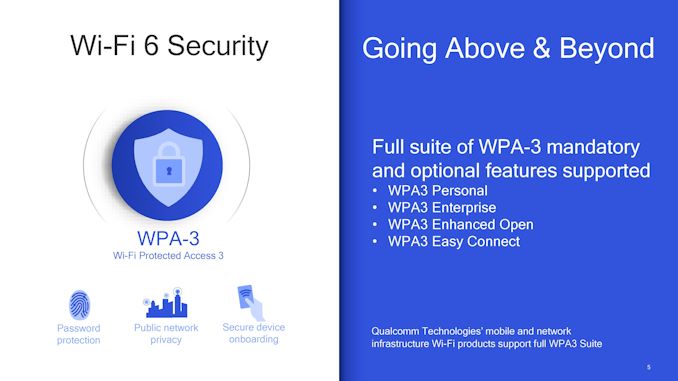 Along with supporting all the mandatory features of Wi-Fi 6 as well as many of the optional features, Qualcomm is doing the same with WPA3 on the QCA6390: supporting the full suite of mandatory and optional features. This includes WPA3 Personal, WPA3 Enterprise, WPA3 Enhanced Open, and WPA3 Easy Connect, making the chipset suitable for consumer, commercial, and enterprise use cases.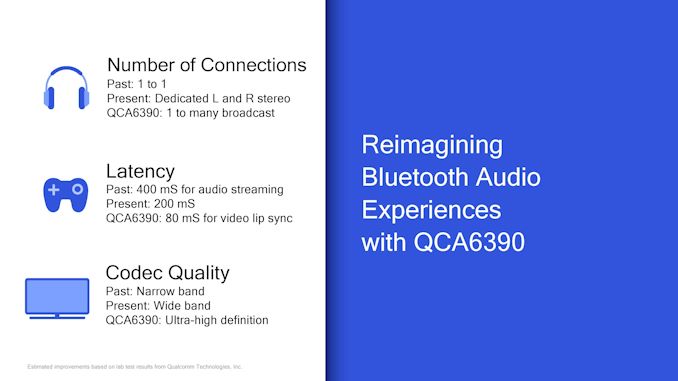 On the BlueTooth 5.1 side of things, Qualcomm wanted to highlight three parts to their implementation. The first is connectivity, with the QCA6390 supporting one-to-many connections. This means that a single chip can support over 1000 devices simultaneously, rather than a 1-to-1 or 1-to-2 implementation, over a single antenna BlueTooth solution today. We were told that attaching more devices to a single control point does increase power consumption slightly, however the biggest change in power will be relative to the distance between the control and the most distant device.
On latency and quality, Qualcomm states that they can support 80ms latency for video lip sync, which equates to just over two frames of video. The new standard also includes support for a number of high quality audio codecs, although in our briefing the speaker was unable to quantify exactly which or what is new.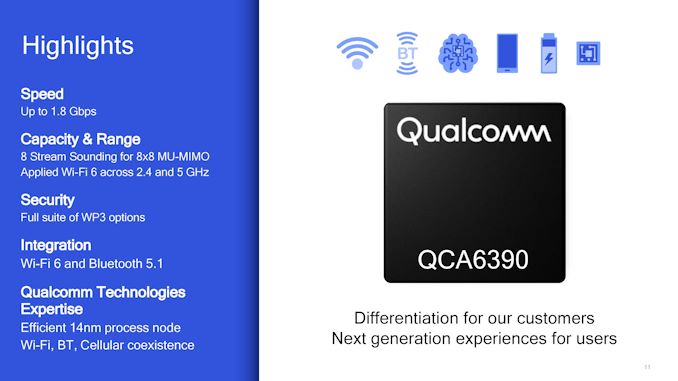 Qualcomm aims for the QCA6390 to be a chipset for multiple wireless markets, and sit at the top of its wireless portfolio as a Mobile and Computing connectivity SoC. This includes mobile, 2-in-1, tablets, smartphones, and even for automotive and smartwatch markets. It has a networking industry counterpart in the IPQ8074. The QCA6390 will be offered to partners as a flip chip design or as part of a module, and Qualcomm states that it has 50% or lower power consumption compared to alternative solutions currently in the market being labelled as Wi-Fi 6.
Related Reading