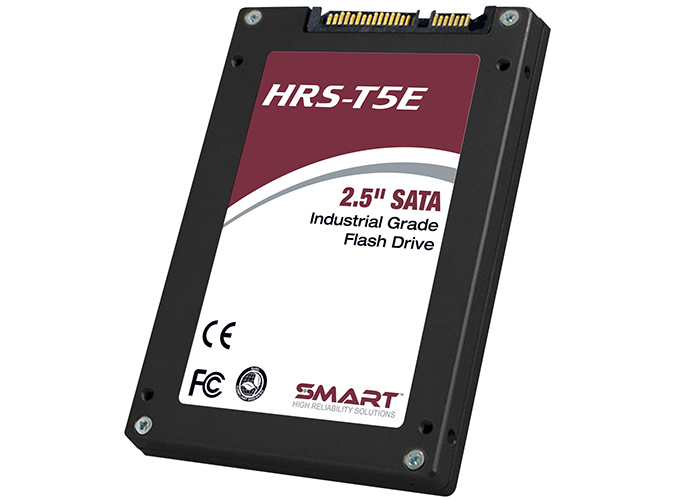 SMART Modular has introduced one of the industry's first ruggedized SSDs based on 3D TLC NAND memory. Aimed at industrial and military customers, the high-reliability 2.5-inch SATA drive incorporates a plethora of features to improve the drive's overall security and operational tolerances.
SMART Modular's HRS-T5E is a 2.5-inch SATA SSD that is based on an unknown controller that's paired with modern 3D TLC NAND, allowing the drives to go up to 4 TB in (raw) capacity. The manufacturer says that the HRS-T5E is reliable enough for read-intensive applications, such as flight data recorders, surveillance systems, and sensor data capture. Meanwhile for customers who need a ruggedized drive more suitable for heavy writing as well, the company also offers the HRS-T5E in pseudo-SLC (pSLC) configurations, which come in capacities up to 1280 GB.
As part of the Smart Rugged family of products, SMART Modular's HRS-T5E SSD can be configured with numerous advanced (or optional) security capabilities. This includes Security Data Elimination Technology (SDET), AES-XTS 256-bit encryption, OPAL 2.0 compliance, and power loss protection. The drives are also designed to meet (or rather, survive) MIL-STD-810G standards for mechanical durability.
As for performance, SMART's new drive offers typical performance for a modern SATA SSD. Read speeds are rated for up to 550 MB/s, while write speeds go up to 535 MB/s. As for endurance, SMART Modular says that the TLC SSD can handle up to 2,100 total drive writes.
SMART Modular HRS-T5E Specifications
Capacity
120 GB - 3840 GB
40 GB - 1280 GB
Model Number
?
?
Controller
?
NAND Flash
3D TLC NAND
3D pSLC
Form-Factor, Interface
2.5-inch, SATA 6 Gbps
Sequential Read
550 MB/s
Sequential Write
535 MB/s
Random Read IOPS
80K IOPS
?
Random Write IOPS
50K IOPS
?
Pseudo-SLC Caching
Supported
Not needed
DRAM Buffer
?
AES Encryption
AES-256
Endurance
Up to 2,100 drive writes
?
Power Management
Idle: 1 W
Operational: 5 W
Warranty
1 year
MTBF
2,000,000 hours
Features
SDET (Optional)
AES-XTS 256-bit encryption automatically protects all data written to the drive
Passes MIL-STD-810G
OPAL 2.0 compliant (Optional)
Industrial grade storage solution for "no-compromise" applications
Advanced flash management for enhanced reliability and durability
Self-Monitoring Analysis and Reporting Technology (S.M.A.R.T.) support
100% 8 hour burn-in over Temperature (-40°C to +85°C, I-Temp Version)
MSRP
?
?
SMART Modular will start shipments of its new HRS-T5E SSDs in the near future. Pricing will depend on the configuration and features ordered.
Related Reading:
Source: SMART Modular