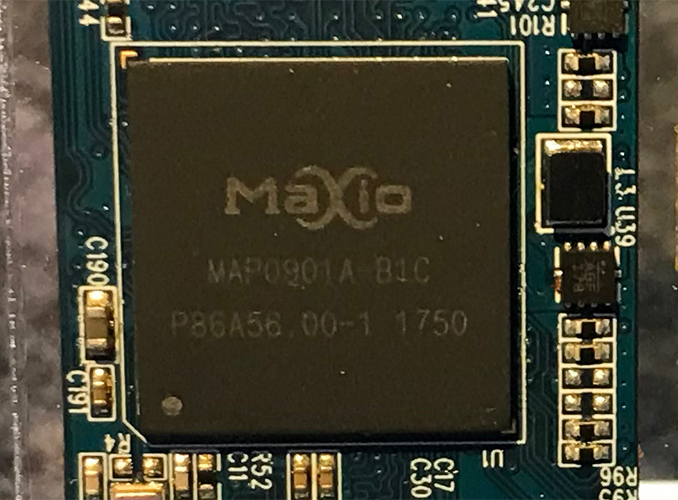 Known primarily for controllers designed for inexpensive SATA SSDs, Maxio Technology is now expanding into the space of higher-performance drives featuring a PCIe interface. At Computex, the company demonstrated its MAP1000 lineup of PCIe SSD controllers aimed at cheaper (as well as higher-end) solutions.
Maxio's family of PCIe SSD controllers includes three chips: the MAP1001 with 8 NAND channels for advanced drives, the MAP1003 with 4 NAND channels for mainstream SSDs, and the MAP1002 with 4 NAND channels for the cheapest DRAM-less solutions. As far as compatibility is concerned, the Maxio MAP1000-series controllers can work with various types of 3D MLC/3D TLC/3D QLC memory from different manufacturers and feature a PCIe 3.0 x4 interface.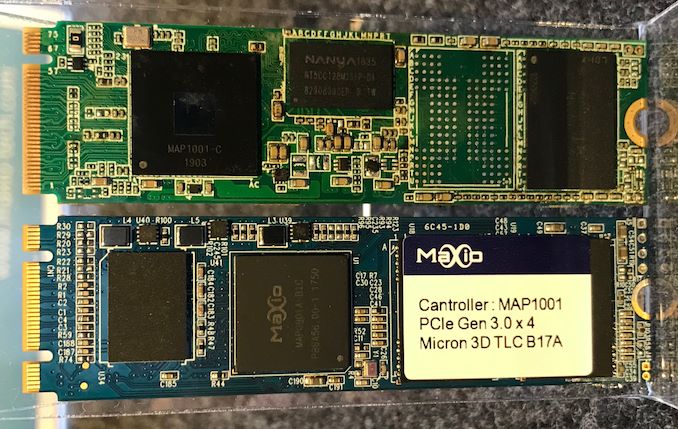 When it comes to performance, Maxio says that drives powered by the MAP1001 will offer up to 3.5 GB/s sequential read speed, up to 3 GB/s sequential write speed, up to 800K read IOPS, and up to 600K read IOPS when used with 3D NAND ICs featuring a 800 MT/s interface. SSDs based on other controllers will be tangibly slower (at up to 2.4 GB/s sequential read speed), but will still outpace SATA drives by a very considerable margin.
Maxio Technology's MAP1000-Series PCIe SSD Controllers
Model
MAP1001
MAP1003
MAP1002
Number of NAND Channels
8 x 4 CE
4 x 4 CE
NAND Interface
Toggle 2/3, ONFI 3/4, 800 MT/s, VCCQ 1.8V/1.2V
DRAM Interface
DDR3, DDR4, LPDDR3
-
NAND Flash
3D MLC/3D TLC/3D QLC
Micron, Intel, Toshiba, Western Digital, SK Hynix, YMTC, UNIC, Samsung
Interface
PCIe 3.0 x4, NVMe 1.x
Sequential Read
3500 MB/s
2400 MB/s
Sequential Write
3000 MB/s
2000 MB/s
Random Read IOPS
800K IOPS
400K IOPS
400K IOPS
Random Write IOPS
600K IOPS
400K IOPS
350K IOPS
Maximum Capacity
8 TB
2 TB
2 TB
ECC
Maxio Agile ECC 2 (LDPC)
Pseudo-SLC Caching
Supported
E2E Data Protection
Yes
Encryption
AES-256, TCG-OPAL 2.0, SHA256, SM2, SM3, SM4
Power Management
ASPM, APST, L1.2
Power, Thermal Throttling
Yes
Embedded RAID
Yes
TBW
15 x 15 mm
11 x 11 mm
7.1 x 11 mm
Process Technology
28 nm
On the feature side of things, the controllers feature Maxio's AgileECC 2 technology (think 2nd generation implementation of its LDPC-based technology); embedded RAID capabilities; end-to-end data protection; AES-256, TCG-OPAL 2.0, and China-specific SM2, SM3, and SM4 encoding; advanced power management, and so on. All the controllers are made using a 28 nm process technology, so the chips are not too expensive to manufacture (just look at their dimensions).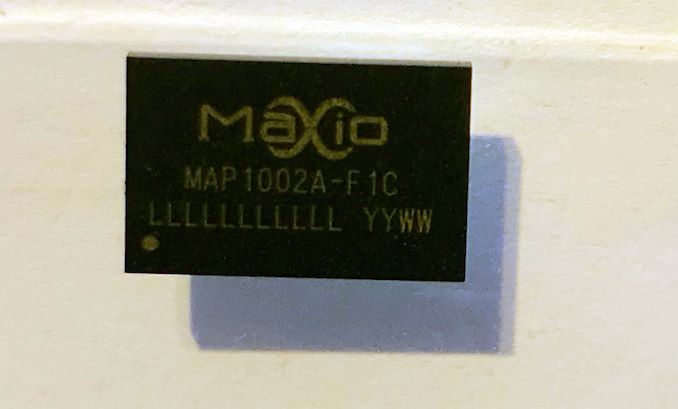 Maxio's customers will test the company's MAP1001 and MAP1002 controllers in the third quarter and at least some of them will be able to roll out commercial drives on their base sometimes late this year or early in 2020.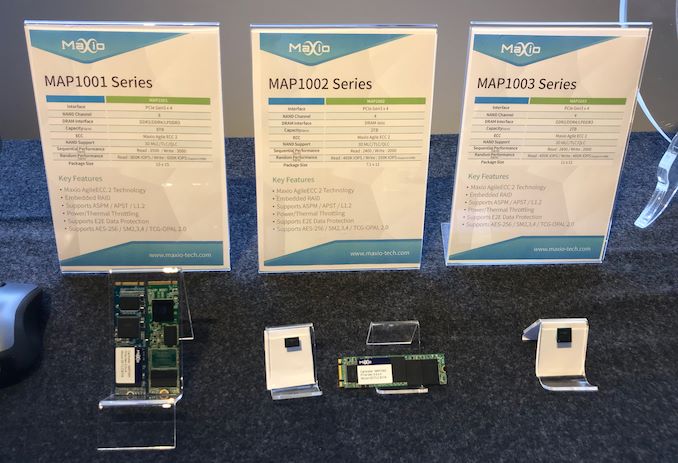 Want to keep up to date with all of our Computex 2019 Coverage?

Laptops

Hardware

Chips
Follow AnandTech's breaking news here!