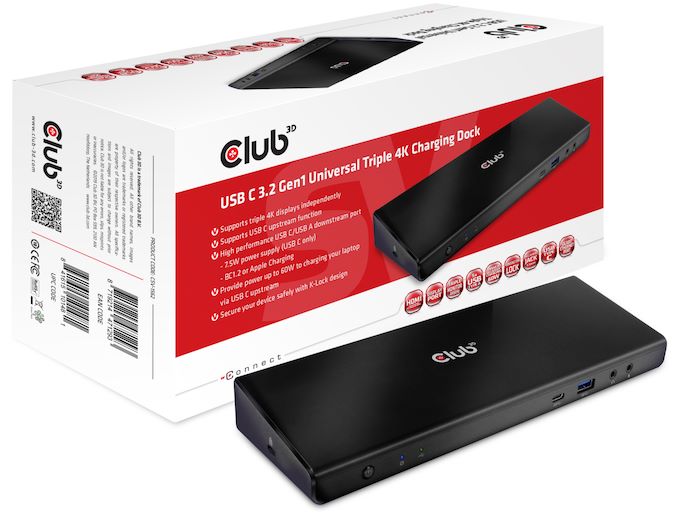 Club 3D has announced its new 15-in-1 USB Type-C docking station which has a total of five display outputs that can drive up to three 4K Ultra-HD monitors. The new CSV-1562 uses display output chips from DisplayLink to enable multiple display connectors, which can add unique capabilities to mainstream notebooks without discrete GPUs.
Aimed at mobile professionals who need multiple ports and many displays, the Club 3D CSV-1562 USB 3.1 Gen 1 Type-C docking station integrates a GbE adapter, five USB 3.1 Gen 1 Type-A ports, one USB 3.1 Gen 1 Type-C connector (that can charge mobile phones), five display outputs (three HDMI 2.0 and two DisplayPort 1.2 connectors), a 3.5-mm audio output, and a 3.5-mm microphone input. In addition, the USB-C dock has a built-in PSU and can deliver up to 60 W of power to its host laptop.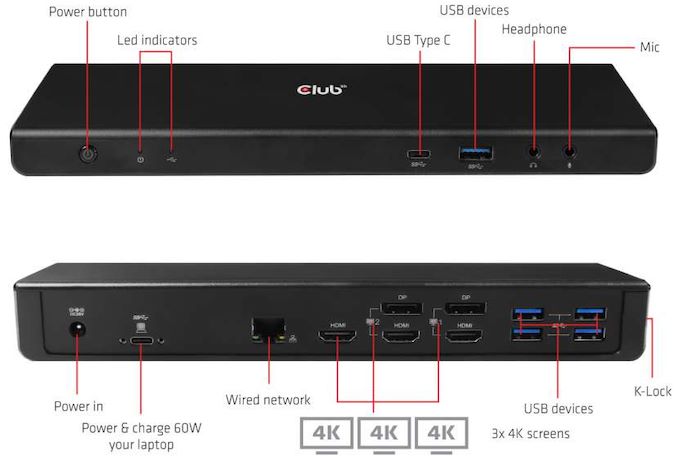 The key feature of the Club 3D CSV-1562 is of course its graphics output capabilities enabled by a USB-based DisplayLink controller. Two out of five outputs can drive two 4K60 monitors, another one can drive a 4K30 display. Alternatively, two DisplayPorts can be used to connect a 5K60 monitor. Because we are talking about a DisplayLink-based solution, the CSV-1562 needs appropriate Virtual Graphics Card (VGC) software/drivers that takes the virtual framebuffer, compresses it and sends the data over USB to the company's proprietary Hardware Rendering Engine (HRE) that converts it to display signals. DisplayLink's software thus naturally consumes some computer resources and has certain requirements.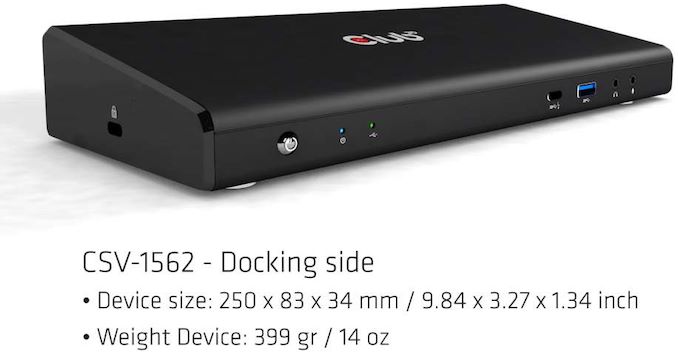 Being a unique USB-C docking solution, the Club 3D CSV-1562 is not cheap at all, but if you have a USB-C laptop yet need to run two or three 4K monitors, you do not really have much of a choice. The unit is currently available in Japan for ¥29,800 (so think about MSRP of around $250 in the USA).
Related Reading: