Corsair on Thursday released its fastest memory kit to date, the Vengeance LPX DDR4-4866, aimed at the most performance-hungry enthusiasts. The modules are specifically tested for compatibility AMD's Ryzen 3000/X570 platforms, though they can work with Intel-based PCs too.
Corsair's Vengeance LPX DDR4-4866 memory kit consists of two 8 GB memory modules (CMK16GX4M2Z4866C18) featuring a CL18 26-26-46 latency and a 1.5V voltage. The unbuffered DIMMs rely on Micron's cherry-picked DRAM devices as well as Corsair's custom 10-layer PCB. The modules are traditionally equipped with aluminum heat spreaders, and are compatible Corsair's Vengeance Airflow fan to improve cooling.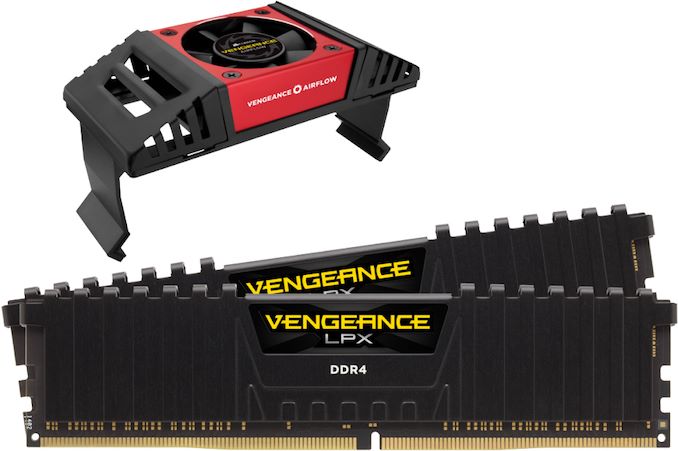 The manufacturer claims that it has tested its Vengeance LPX DDR4-4866 modules with AMD's Ryzen 3000-series processors paired with ASUS's ROG Crosshair VIII Formula, the MSI MEG X570 Godlike, and the MSI Prestige X570 Creating motherboards. Meanwhile, since the UDIMMs feature an XMP 2.0 SPD, they will be able to work with Intel Z390-based platforms at DDR4-4800 as well.
For those who need high-end performance and RGB LEDs as well, Corsair will also offer Vengeance RGB Pro DDR4-4700 16 GB kit. The RGB Pro kit cannot be equipped with a fan, but it will still feature the same DRAM chips, a custom PCB, an XMP 2.0 profile, and aluminum heat spreaders.
Being a true flagship offering, Corsair's 16 GB Vengeance LPX DDR4-4866 memory kit is expensive to say the least: in the US the kit costs $984, whereas in Europe it is priced at €1,064,99.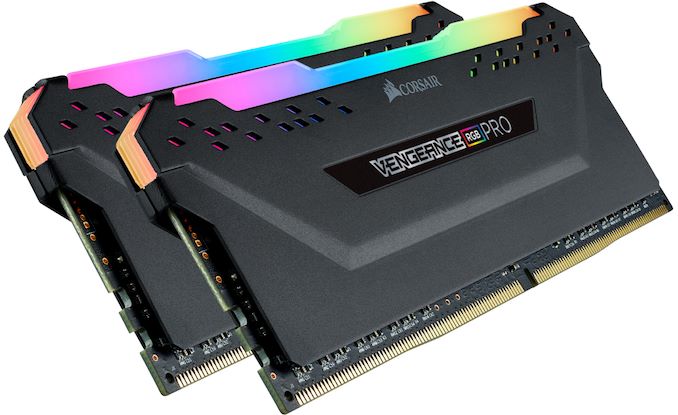 There is one thing to note about Corsair's Vengeance LPX DDR4-4866 and Vengeance RGB Pro DDR4-4700 memory kits. AMD as well as third-party observers sayd that the Ryzen 3000 processors show the highest memory subsystem performance when frequencies of Infinity Fabric (fClk), memory controller (uClk), and DRAM (mClk) are equal (i.e., the fClk to mClk ratio is set at 1:1). Which can be an issue, as few Ryzen CPUs can support such high fClk clocks; so using exceptionally fast DDR4 memory modules (e.g., DDR4-4000+) may be unfavorable in many cases. That said, it remains to be seen what kind of advantages will Corsair's DDR4-4700 and DDR4-4866 kits bring.
Related Reading:
Source: Corsair