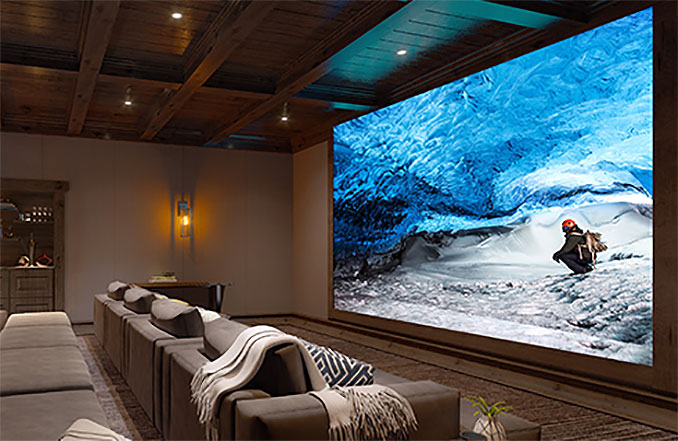 Sony this month started to offer its Micro LED-based displays to well-funded consumers. Officially branded as Crystal LED direct view display systems (aka CLEDIS), these ultra high-end products were previously only available for commercial installations. Designed to offer superior contrasts, brightness levels, and viewing angles, Sony's Crystal LED TVs are designed to replace projector-enabled home theaters and will be available in 2K, 4K, 8K, and 16K versions with sizes of up to 790 inches.
Sony's Crystal LED display systems rely on bezel-less Micro LED modules that are built using 0.003-mm² individually-controlled LEDs. The modules offer up to 1000 nits peak brightness, around 1,000,000:1 contrast ratio, up to a 120 Hz refresh rate, as well as nearly 180° viewing angles. According to Sony, such a display can cover 140% of the sRGB color space or around 100% of the DCI-P3 color gamut.
Since the micro LED modules are rather large – even though they're the fraction of the size of a normal LED, the large number of micro LEDs adds up – the size of a Full-HD Crystal LED display system is around 110 inches in diagonal. Meanwhile the 4K unit doubles that, to 220 inches. Since we are dealing with devices that are designed to replace projection-powered home theaters, such sizes are well justified, but they are naturally too large for an average home.
Sony's Consumer Crystal LED Display Systems
Full HD
4K
8K
16K
Number of CLED Modules
18
72
288
576
Diagonal
110-inches
220-inches
440-inches
790-inches
Dimensions (W×H)
8 ft × 4 ft
2.43 m × 1.22 m
16 ft × 9 ft
4.87 × 2.74
32 ft × 18 ft
9.75 × 5.48
63 ft × 18 ft
19.2 × 5.48
Approximate Price of CLEDs at $10,000 per unit
$180,000
$720,000
$2,880,000
$5,760,000
Sony's Crystal LED-based display systems for residential installation will be available through a select group of individually trained and certified Sony dealers. The devices will be supported by Sony's technicians, who will be able to remotely monitor displays after their installations to provide ongoing service.
Sony is not publicly quoting prices for its consumer Crystal LED products, but there are estimates that each module costs around $10,000 per unit. This would mean that a Full-HD version, which consists of 18 modules, costs over $180,000, whereas a 4K system will be priced at over $720,000.
Related Reading: