Introduction
While Anand and Derek were covering IDF and
Intel Conroe Core benchmarking
, and
Wesley already previewing hardware
in Taiwan, the European branch of AnandTech (that is, me) went to Cebit 2006 in Hannover. The main focus of this article is server and related IT subjects, but there were a few cool things that I couldn't resist, so they ended up in the same report.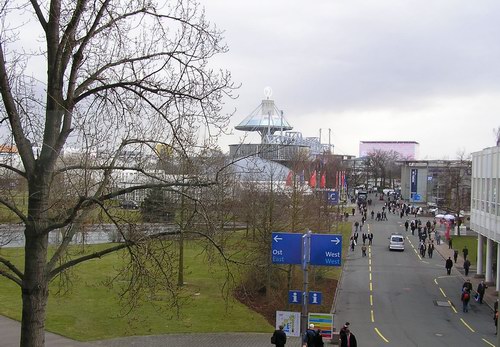 Cebit may not be the big "launch event" trade show anymore, but it is still by far the biggest ICT trade show in the world. "Die Hannover Messe AG" claims that almost 6,300 exhibitors from 70 countries were present at CeBIT 2006. A total of 300,000 square meters is filled with IT related stands, which welcome more than 500,000 visitors.
Intel
Intel had a very big stand on Cebit, and the showpiece of the booth was one of the Formula one cars of the Intel sponsored BMW Sauber F1 Team. Unless you were the "Bundeskanzlerin" of Germany, you couldn't enter the supercar.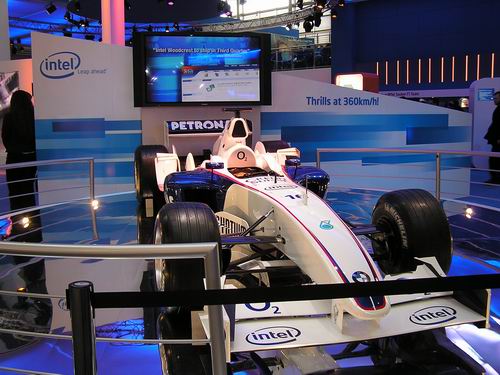 Most of the Intel news was already reported in our IDF report. Woodcrest, the server version of Conroe, will have a TDP of 80 Watt. No hyperthreading is available, which is a bit weird considering that the Core architecture is an architecture that depends on extracting high levels of Instruction Level parallelism. Database applications have a much lower IPC than SPEC CPU Integer 2000 and games. Hyperthreading could probably have done more for Woodcrest than it ever could for the Nocona and Irwindale Xeons.
Woodcrest (Core architecture) and Dempsey (Netburst) are pin compatible and it should be possible to replace a Dempsey CPU with a Woodcrest CPU. However, most server manufactures to whom we spoke, are not so sure. Some said that a new PCB of their motherboard will be necessary, while others said it will be possible only on motherboards that have been validated for Woodcrest (not the current Bensley platforms). But who is going to buy Dempsey when Woodcrest is out?
Virtualisation
Many IT people are looking into virtualisation as a way to make better use of the available server power. However, our own tests in the lab show that software virtualisation is not really easy; it is our experience that guest OS crashes more often on virtualised servers than on real hardware servers. We definitely would advise against running anything mission critical on the current batch of software virtualisation solutions. And Microsoft's virtual server is not even a real virtual layer - it runs on top of a Windows 2003 server OS. In a nutshell, we are rather sceptical about software virtualisation, and rather have set our hope on hardware virtualisation.
Christian Anderka of Intel confirmed that the current Xeon Paxville and all Xeons (Dempsey, Woodcrest) on the Bensley platform feature hardware virtualisation of the CPU. The CPU gives the "hypervisor" or "virtual layer" a separate and higher privileged mode than the kernel mode in which the current OS run. That should increase the stability of virtualised servers greatly.
Intel announced the next generation of Intel Virtualization Technology (Intel VT) for enterprise servers: Intel Virtualization for Directed I/O (Intel VT-d). VT-d adds support for hardware supported virtualisation of disks and others, but it is very unclear when this technology will be really ready. VT-d includes technology such as hardware DMA remapping and works also on the interrupts level. We will discuss virtualisation later in more detail, but it is clear that VT-D will also need to be supported in PCIe, the chipset components and peripherals.
The quad core Clovertown, which is little more than two (dual core) Woodcrests in the same CPU package, will include this VT-d technology somewhere in 2007. Clovertown is socket-compatible with the Bensley (Dempsey, Woodcrest) platform and is slated to ship in early 2007.
It is, however, also clear that the new instructions that are available in the new highly privileged mode for virtual layers will not be used to their full potential at first. We expect that it will take many releases of newer and improved virtual layers ("hypervisors") before the new virtual layer instructions are used to their full potential.