Mushkin XP2 PC2-5300 DDR2
Has the time come for DDR2 memory? Is now the time for enthusiasts to finally embrace DDR2 technology with better performance on Intel based platforms, and the promised Holy Grail of AMD's new AM2 socket with DDR2 support and built-in memory controllers?
Socket AM2, the 940 pin DDR2-ready Athlon 64 socket, will be unleashed upon consumers some time this summer, most likely by the end of July. AMD is expected to have working samples in place by the time of Computex 2006, which will be held from June 6 th to June 10 th in Taipei.
After DDR2 was first introduced for Intel, Micron D fat body chips gained enthusiast's attention in a big way, due to the lower latency timings and the ability to push performance to much higher memory speeds. Unfortunately, the Micron fat body D DDR2 memory chips are now history.
Perhaps Mushkin has discovered an alternative to the famed Fat Body IC's. While 3-3-3 at DDR2-667 is not quite as fast as the 3-2-2 timings seen with the best Micron chips, it is still among the fastest specifications that you will find for DDR2-667 memory modules. It is also worth mentioning that the older, and now discontinued, Micron Fat Body D chips were never specified as performing at 3-2-2- timings, so perhaps these new Mushkin Elpida modules will do even better than their rated timings.
With that in mind, the goal in testing was to see exactly what the new Mushkin XP2 memory could do in our memory test suite. How do the new Mushkin DDR2 with Elpida chips compare to the top Micron DDR2 memory? Is this new Mushkin DDR2 memory a worthy choice for current Intel and future AM2 enthusiasts?
Product Specifications and Information
Mushkin confirmed the use of Elpida IC's for the Extreme Performance Black Series (XP) memory modules.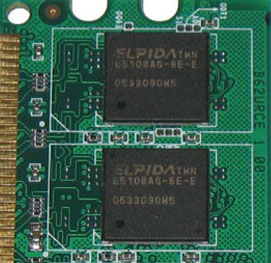 Brain Power confirmed that the B62URCE PCB used in the new Mushkin XP2 PC-5300 is manufactured by them. Brain Power manufactures custom PCB modifications for their customers. They can also supply stock memory boards.
Elpida provided a data sheet for these integrated circuits, which are being utilized by Mushkin in this XP series memory.
| | |
| --- | --- |
| PC2-5300 667MHz DDR2 | CL 3-3-3 (CAS-TRCD-TRP) |
| 2GB (1024MB x 2) | Unbuffered |
| Improved Black Heat Spreader with new thermal tape | Lifetime Warranty |
| 2.1 - 2.3 Volts | 240 Pin DIMM |
| Elpida IC: E5108AG-6E-E | Brain Power PCB: MLL E186014 B62URCE |
In a screen capture from the Elpida data sheet, you can see how to decode the information from the actual IC part number. We are examining the EDE5108AGSE-6E-E part. The "A" in the part number is indicative of voltage (i.e. this is normally specified as a 1.8 volt part).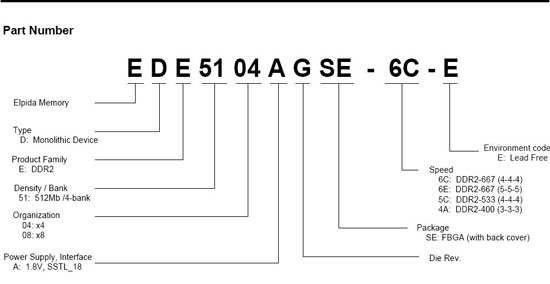 The XP2 PC2-5300 DDR2 memory uses the new Mushkin heat spreader, recently designed to improve Mushkin heat spreader performance. One feature of the new design is the use of better thermal tape.
On July 28, 2005, Mushkin announced their new heat spreader for their high performance memory modules. Mushkin claimed that the new heat spreaders provided 58% more surface area than their previous designs.
Below is a photograph of the sample heat sink design, which Mushkin sent back in July 2005 for feedback.

Consumers and enthusiasts should note that the XP2 PC2-5300 DDR2 memory kits are available in either a 1 GB or 2 GB matched pair. With memory intensive games and applications such as Adobe Photoshop, the advantage of having two gigabytes of memory will be quite apparent.