Introduction
Apple didn't show up, Dell sent their cat, and Lenovo was not interested in attending, but there were still 6100 other exhibitors in the 27 huge expo halls at the "Hannover Messe". Although plenty of booth babes and jet engines on top of monstrous heatsinks were present, we managed to concentrate on the server and storage technology that could be found at CeBIT 2007.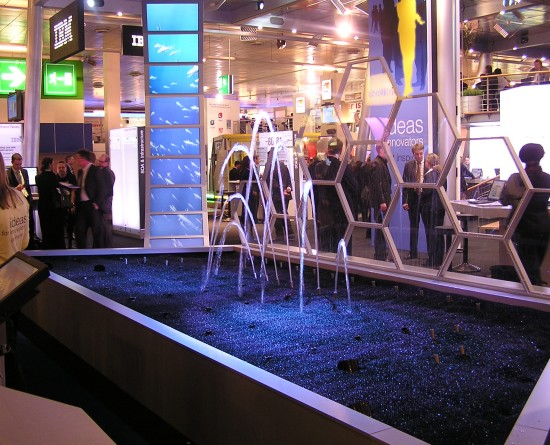 IBM's booth had style, but too much woolly language
In this report we cover the new products of Tyan, Supermicro, Chenbro, Promise, Fujitsu-Siemens and MSI. But to make sure that is not yet another CeBIT report, you will also find an analysis of the AMD "Barcelona" chip and how it compares to Intel's upcoming Xeon products.
Tyan
It was remarkable how many new and improved products were targeted at the HPC market. Although there were plenty of barebones servers and motherboards available, all attention went to Tyan's PSC, previously known as "Typhoon".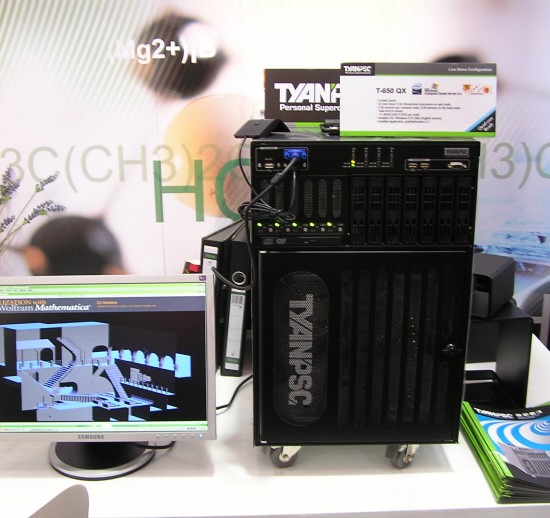 Tyan's T-650Qx
The "new" idea behind the PSC is that the scientist/3D artist should be able to render/simulate on his own Personal Super Computer instead being dependent on the whims of a strict dictator
[also called a system administrator]
to get access to blade servers in the datacenter. Blade servers can pack more crunching power in the same space, but the newly launched Tyan PSC T-500 and T-650Qx do not produce more than 52 dB of noise. 52 dB is far from whisper quiet as some have described it, but it is silent enough to be put under a desk and it won't create a Typhoon like a Blade server.
While the previously launched PSC featured four computing boards, the new PSC has five of them, each with two CPU sockets. The T-500A uses dual core Socket-F Opterons and can contain up to 20 cores and 80GB (16GB per computing board). The interesting thing is that the "master node" has also a PCIe x16 slot, which allows you to use a high-end graphics chip to visualize your rendering or simulation.
The real star is the T-650Qx which can use the new Intel Xeon L5310, the 1.6 GHz 50W low voltage quad core Xeon. At the Tyan booth, the Xeon 5150 (Dual core 2.66 GHz, 1333 MHz FSB) was used, running Windows Compute Cluster Server 2003 and Wolfram's Mathematica. You can use up to eight cores and 12GB per node, good for a total maximum of 60GB RAM and 40 cores (256 GFLOPs) for the complete PSC. Each Tyan PSC has three 600W PSUs. Prices start at $20,000, which is a bit less "personal", but the price/performance for the PSC is pretty reasonable in comparison to the competition.
There were other original ideas at Tyan's booth. For example's Tyan's Tank FT48, a 4U rack or tower server, which has two vertical memory daughter boards to save some space on the board.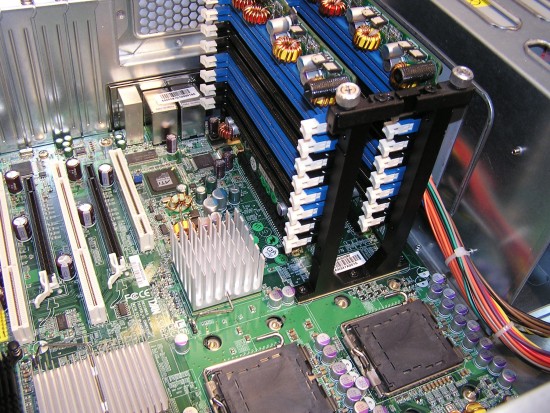 This allows the board to have space for two 100 MHz PCI-X slots, two 133 MHz PCI-X slots, and two PCIe x16 slots (x8 electrically), as well as one PCI slot.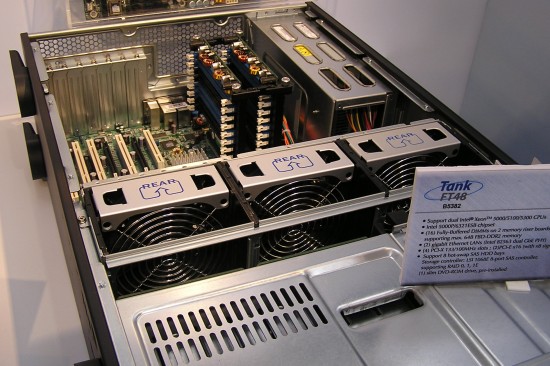 This is an excellent idea, as the whole purpose of 4U server is to give more I/O expandability compared to a 1U, where 16 DIMM slots leave little space: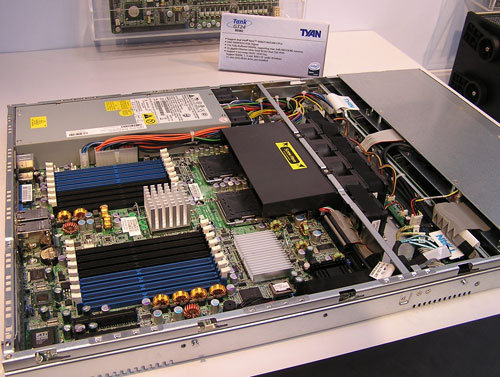 Another remarkable Server is the Tyan VX50, which was updated to use up to eight dual core Opterons, or 16 cores in total. The 5U VX50 mounts two nForce Pro 2200 based boards on top of each other, and offers 32 DIMM slots.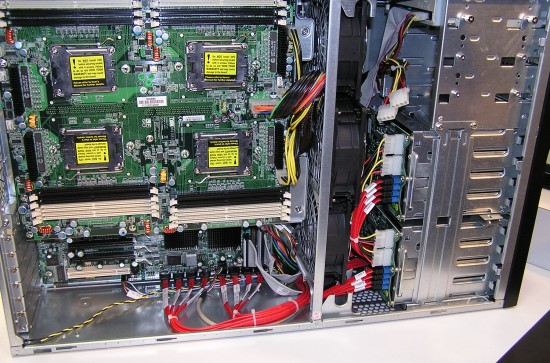 This is quite a remarkable machine with a lot of processing power, but it might be rather complex to service this machine. Personally, we would have preferred to see a SAS controller with one cable to the backplane, instead of eight separate SATA cables.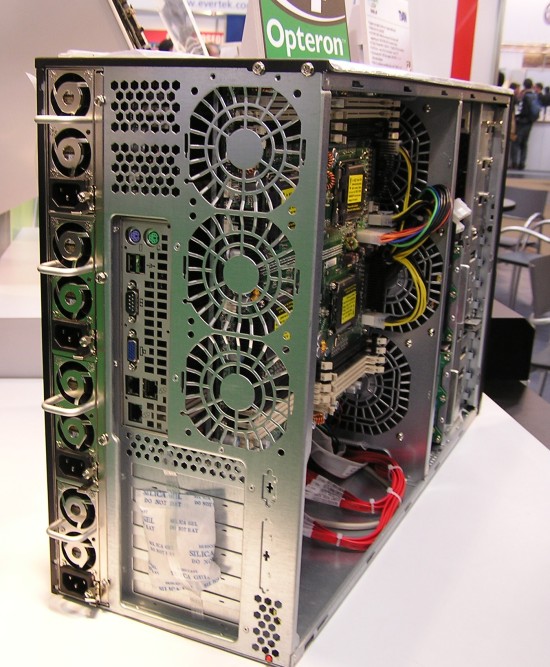 The Tyan VX50 is powered by a powerful 3+1 PSU combination, good for 1620W total.