Western Digital was one of the first storage manufacturers to enter the world of media streamers. Their latest play in the market is the WD TV Live Plus HD media player. This model attempts to provide users with all their local media, as well as thousands of videos from across the web. We have seen several similar players from Western Digital, including the WD TV HD, WD TV Mini, and the WD TV Live.
Western Digital has a vested interest in getting these devices out in the market, since users who purchase these devices are more likely to purchase Western Digital hard drives (such as the WD My Passport, My Book models, etc.). Users buy these drives in order to continually feed the content to the media device. The media player and HDD product mix support each other. In fact, it is not uncommon to see these devices sold side by side at the local Best Buy.
The most prominent differences between the WD TV Live Plus HD media player and the previous generation of WD media streamers are DVD Menu Navigation and Netflix Instant Watch capability. There are also many other desirable features on the device. The WD TV Live Plus boasts one of the broadest feature sets we have ever seen in a media streaming device, including Netflix, Youtube, Flickr, Pandora, Live365 and MediaFly, in addition to full 1080p playback in a wide variety of formats. We will be covering these advertised features and also overall compatibility in this review.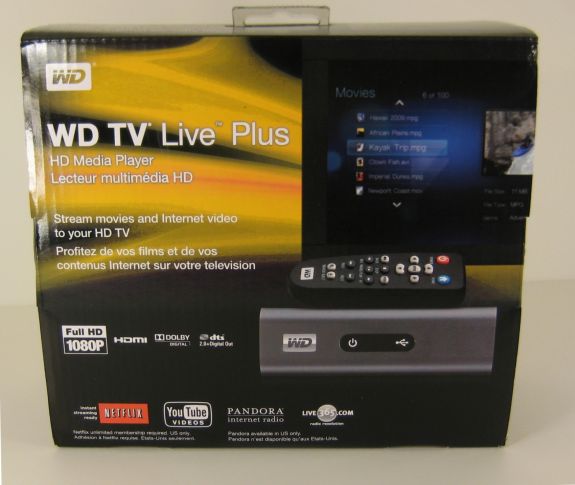 The WD TV Live Plus retails for $149.99, however can easily be found for much less (at the time of writing NewEgg has it for $119.99). At this price, the Plus is hitting the same price target as the WD TV Live before it. The WD TV Live can now be had for $109.99 and The WD TV HD which originally retailed for $129.99 can be found for as little as $89.99. The WD TV Mini has a very limited feature set. The MSRP is $99, but it can be found for $49.99. However, the mini is almost a different class of device geared more towards portability and SD quality content.
For those looking for a high definition device, there is an effective price difference of only $30 between the lowest end device (WD TV HD) and the highest end device we are reviewing today (WD TV Live Plus HD). There is quite a bit of incentive to spend that extra $30. The bit of extra cash gets you Netflix support, Youtube, Flickr, Pandora, Network video viewing support, Windows Play to Support, DVD navigation, and extra connectivity options (component).