The two biggest announcements at CES 2011? Intel's Sandy Bridge and pretty much everything NVIDIA talked about at its press conference (as well as the MS Windows 8/ARM announcement which I'll discuss later).
NVIDIA finally got to talk about Project Denver as well as show off its first Tegra 2 based smartphones. The LG Optimus 2X, Motorola Atrix 4G and Droid Bionic will all be shipping in the next 2 months and all of them use NVIDIA's Tegra 2 SoC.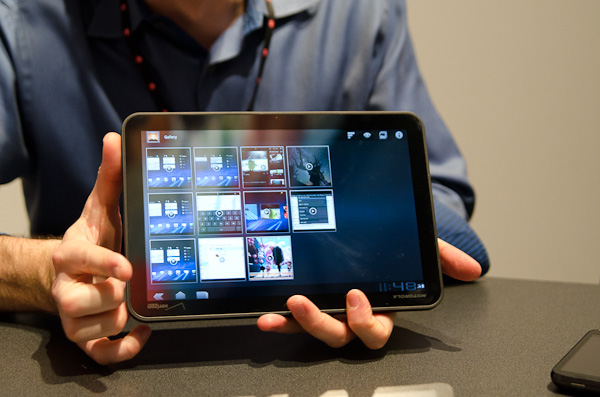 The Android tablet market is another focus for Tegra 2. A little known fact is that Tegra 2 is the reference SoC for Honeycomb, the official Android release for tablets. Being selected by Google is another huge boon for NVIDIA's Tegra business, although from the looks of it we'll still see more Qualcomm based Honeycomb tablets than Tegra 2 solutions by the end of the year.
I played with the Xoom a bit in my Motorola meeting. Unfortunately Google won't allow Honeycomb to be demoed, so Motorola was just running a looped video on the Xoom. Build quality felt good despite being handled tons at the show. The Xoom is very iPad like in its size and functionality. The major physical change is the power/lock button is on the back of the device vs. the top.
The full specs of the Xoom are below:
Motorola XOOM Tablet
OS
Android 3.0 Honeycomb
Differentiation
Larger display in smaller form-factor, 1080p HD support, first tablet with Honeycomb software, dual-core 1GHz processor, and a wide range of docking options
Dimensions
249.1mm (h) x 167.8mm (w) x 12.9mm (d)
Display
10.1" 1280x800
Weight
730 g
Processor
NVIDIA® Tegra™ 2: 1GHz dual-core processor
Battery
Up to 10 hour video playback
Connectivity
3.5mm, micro USB 2.0 HS, Corporate Sync, Wi-Fi 2.4GHz & 5GHz 802.11b/g/n, Bluetooth 2.1 + EDR + HID
Network
EvDO Rev.A - Verizon 800/1900
Messaging/Web/Apps
Email (Corporate Sync, Google Mail, POP3/IMAP embedded, Push Email, Yahoo Mail) , WebKit w/ Flash
Audio
AAC, AAC+, AMR NB, AMR WB, MP3, XMF
Video
720p capture/1080p playback/streaming, H.263, H.264, MPEG4
Camera
5 MP rear-facing camera with dual LED flash/2MP front-facing camera
Memory
32GB on board user memory, SD card support after software update, 1GB DDR2 RAM
One interesting feature is the Xoom will be upgradeable to support LTE. The PCB doesn't have any LTE modem on it however Motorola is hinting at some sort of carrier/OEM upgrade process. Presumably you'd ship your Xoom out to either the carrier or directly to Motorola and they'd mount an LTE modem, give you an LTE SIM and you'd be on your way. The Xoom already ships with the required SIM tray, the modem is the only change you'll have to make to enable LTE.