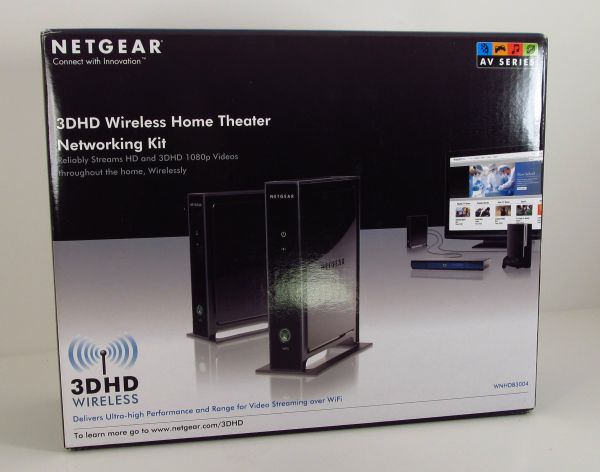 When I first saw the NETGEAR 3DHD product on the showroom floor of CES, there was the device sitting on the table and a video playing on a screen. I was confused as to the nature of the device; was it a wireless HDMI solution? The product model is 3DHD, with 3D, HD 1080p, video, etc. plastered all over the packaging, and the product name is 3DHD Wireless Home Theatre Networking Kit. As we spoke with a Netgear representative, it became clear that this was not a wireless HDMI implementation but an 802.11 networking solution. To put it in clear terms, despite the 3D buzzwords plastered all over the box, to the technical user; this product is a network bridge device.
NETGEAR isn't wrong to focus some of their 802.11 products directly at multimedia applications, as moving video wirelessly and reliably to high definition TV sets is a feature that many people are looking for. For cost, ease of use, and superior reliability, it is always recommended to simply run a cable. Sometimes however, a wireless solution is the only answer. Maybe you rent and your landlord doesn't want any holes punched in the walls, or maybe there is more complexity and cost in getting the wiring in the wall or across the house than by simply using a wireless solution.
NETGEAR's whitepaper documentation identifies bandwidth and interference as the two major challenges to getting reliable, bandwidth intensive video applications to work properly over wireless. To get the required amount of bandwidth, the 3DHD utilizes 4x4 MIMO antenna technology. MIMO systems offer significant increases in data rates, range, and reliability by exploiting the spatial dimension associated with the multiple antennas. The 4x4 MIMO configuration provides two extra transmit antennas for beamforming, which allows significant focusing of the energy in two directions. This is done to improve reliability as well as to reduce interference with existing wireless systems, steering the energy directly in the required direction. We are eager to see if the technical features built into this product provide any advantage over other 5GHz networking devices.