After CES 2011, we had written about A.C.Ryan trying to get into the US market with their new product lineup. One of the products we covered in the write up was the second generation PlayOn!HD2, an updated version of their flagship product from last year. While the first generation product was based on the Realtek 1073DD chipset, the second generation is based on the Realtek 1185DD.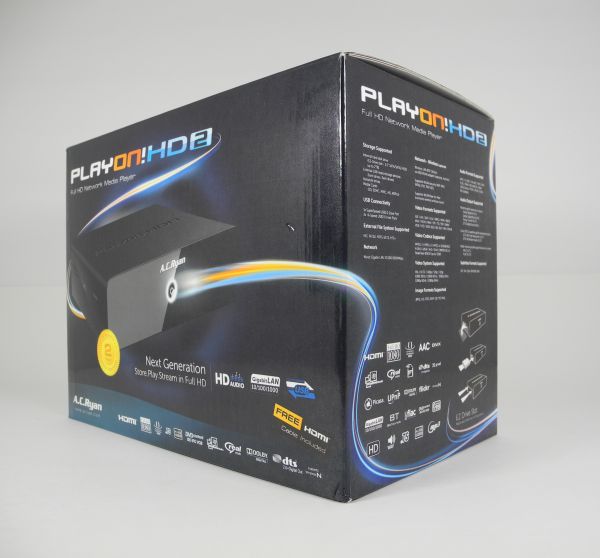 In order to provide A.C.Ryan with feedback prior to the units reaching the hands of the consumers, we opted to go in for a prototype review unit. A.C.Ryan sent us their top configuration, the ACR-PV73700-2TB. This model has a 2 TB Samsung hard drive bundled with the base unit, and will have a suggested retail price of $289 when it launches later this month.

A.C.Ryan warned us that the unit we were receiving was a prototype and even though the hardware was final, the firmware bundled with the unit was not. We weren't expecting the streamer to work wonder right off the box, but that didn't prevent us from connecting the unit to our streamer test bed.

One of the main concerns with the PlayOn!HD2 platform's specifications was the absence of any mention of DTS-HD audio downmix or bitstreaming. Also, we were suspicious of the claimed BD-ISO playback.

Right after hooking up the box, I tried to playback some MKV and M2TS files with DTS-HD MA audio. Bitstreaming of the HD audio worked without a hitch! Like many other media streamers, there is no official support for DTS-HD audio. However, that doesn't prevent the streamer from handling it within the constraints placed by the user's setup and the licensing agreements in place. In this context, the WDTV lineup is the odd one out, refusing to support DTS-HD bitstreaming. Other licensees feel that a license is necessary only for decode and downmix of the HD audio and not for bitstreaming. We feel this is correct, since the end user has already paid the licensing fees for the decoding of DTS-HD audio when purchasing the AV receiver.

Anyway, getting back to the PlayOn!HD2, we tried to look into the claimed BD-ISO support. While both BD-ISOs and folder structures played the movie, the support is still in the form of BD-Lite, i.e, A.C.Ryan's own menu instead of the BD-J enabled one. There are still some tweaks necessary for titles with branched structures, and other areas where the firmware could use some improvement. We have informed A.C.Ryan of the same. A detailed review of the functionality enabled by the firmware will come later.

However, being given an exclusive, we couldn't resist publishing a overview of the hardware platform right away. First, we will have a look at the unboxing experience, following which we will cover the internal hardware platform in detail.