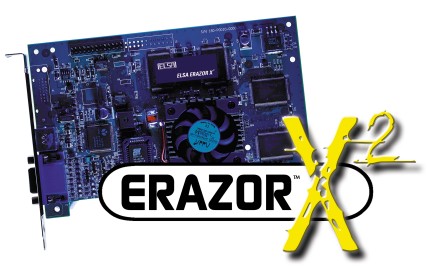 More rarely than often in the PC industry we see a hardware manufacturer stand out because of their admirable dedication to quality instead of focusing on the bottom line of how cheaply they can make a generic product.  Their products usually reflect an added price premium that in turn reflects the old axiom "you get what you pay for." 
In the gaming graphics card industry finding a company that stands out from the rest other than in what handful of games they bundle with their card is quite difficult.  With most manufacturers simply following a reference design set forth by the chipset manufacturer, it's indeed very rare to see a company stand out among the competition.
ELSA is a company that does fall into that rare category of card manufacturers with a distinct look, not because they have some new-born philosophy of setting themselves apart from the crowd, but because they've concentrated on quality in manufacturing from the start back in the early 1980s. 
Originally ELSA was never a user that tailored to the needs of the home-user, much less the gaming population, their roots were in the workstation market.  What the workstation market teaches you, as a company, is that being cost effective comes second to offering the best in quality (especially with drivers).  Unfortunately the exact opposite is sometimes true in the home-user market, but from ELSA's standpoint, they had been taught to go about manufacturing products to the best of their ability from their workstation background and weren't about to change their philosophy upon making an entry into the home-user market. 
Although the German company may not be familiar to those that haven't followed ELSA's products in the workstation market, they are farm from a newcomer to the industry.  In fact, NVIDIA's faith in ELSA's history landed ELSA the exclusive deal to producing boards based on NVIDIA's workstation-level Quadro chipset, a part whose success is largely dependent on driver support much greater than what NVIDIA is prepared to offer with their Detonator driver updates. 
Along with being the only company to produce a Quadro board, ELSA has been working very close with NVIDIA and is going to be among the second wave of card manufacturers to produce cards based on NVIDIA's gaming level flagship, the GeForce 256, but outfitted with Double Data Rate SGRAM.  Their first GeForce product was the recently released Erazor X which featured 166MHz SDRAM (conventionally referred to as Single Data Rate or SDR SDRAM in order to differentiate between regular and DDR SGRAM), but with the accelerated shipping of DDR GeForce boards by the competitors ELSA has gone ahead and released the Erazor X's DDR counterpart, the Erazor X2. 
Boasting a 150MHz DDR memory clock (150MHz x 2 = 300MHz effective clock), the Erazor X2 is the first retail DDR based GeForce card that we are taking a look at. 
The Specs
NVIDIA GeForce 256 @ 120MHz
2D: 256-bit 2D acceleration, optimized pipeline for 16-, 24- and 32-bit color depths
3D: 256-bit engine with 4 independent rendering pipelines, hardware transform & lighting, cube environment bump mapping, projective textures, vertex blending, multi texturing, procedural texturing, table fog, stencil shadowing, texture compression, bilinear-, trilinear- and 8-tap-anisotropic texture filtering, MIP-mapping
AGP 2X/4X Compliant
32MB DDR SGRAM @ 150MHz
Maximum Resolution of 2048 x 1536
S-Video Output
ELSA SmartRefresh and ELSA SmartResolution provide optimal monitor settings
Software Bundle: Drakan from Psygnosis (full version), Corel Draw 7 and Corel PhotoPaint 7 (on the CorelSelect OEM CD), 3D demos CD, video-editing software ELSA MainActor, ELSAmovie (software DVD player) and the ERAZOR X CD with drivers and utilities

| | | | |
| --- | --- | --- | --- |
| Resolution | 256 color (8-bit) | 64k color (16-bit) | 16.7 million (24/32 bit) |
| 1900x1440 | 60-85 Hz | 60-85 Hz | 60-85 Hz |
| 1600x1200 | 60-120 Hz | 60-120 Hz | 60-100 Hz |
| 1280x1024 | 60-170 Hz | 60-170 Hz | 60-150 Hz |
| 1024x768 | 60-200 Hz | 60-200 Hz | 60-200 Hz |
| 800x600 | 60-200 Hz | 60-200 Hz | 60-200 Hz |
| 640x480 | 60-200 Hz | 60-200 Hz | 60-200 Hz |