It's been a while since we've discussed AMD motherboards at AnandTech—over the next few months, I am hoping to bring them back. To start, we have our first Desktop Llano product on the test bed—the ASRock A75 Extreme6. Unfortunately, what I've been testing is still 'a work in progress'—so there are issues with the BIOS and design still to be decided. For now I'll let you know what I've found, in terms of performance and design. But when the full board comes my way with release information, I'll post a full review.
The desktop Llano series is the mainstream jewel in the AMD calendar. As Anand has discussed, the Fusion APU architecture of AMDs plan is split between the Brazos platform (with Ontario and Zacate) of sub 18W processors with Bobcat cores, and the Lynx platform (with Llano) for 25-100W processors. The former has 1-2 Bobcat cores, whereas with Llano we're dealing with 2-4 K10 cores.
In terms of motherboard design, the Llano processors absorb any form of Northbridge, and the motherboard will use a series of 'Fusion Controller Hubs', codename Hudson. The desktop version will use the Hudson-D series Fusion Controller Hubs, with the A75 Desktop 'Lynx' models under the Hudson-D3 header. The main selling points will be the six native SATA 6 Gbps ports and the four native USB 3.0 ports.
The Lynx platform comes up with some interesting points: hybrid CrossfireX with any 6-series GPU and the APU, native USB 3.0 and SATA 6 Gbps, and dual channel DDR3-1866 native support. Here's some comparisons with P67:
Hudson-D3
P67
Codename
Lynx (Desktop)
Sandy Bridge
SATA 6 Gbps + 3 Gbps
6 + 0
2 + 4
Memory Support
DDR3-1866
DDR3-1333 / 2133 OC
PCIe
16x or 8x/8x
16x or 8x/8x
RAID
0,1,10
0,1,5,10
USB 3.0 + 2.0 + 1.1
4 + 10 + 2
0 + 14 + 0
Display Output
VGA + 1 dedicated /
4 shared (HDMI/DVI/DP) from APU
VGA + 3 HDMI/DVI/DP
FIS-Based Switching
No
Yes
Overclocking
Clock
Multiplier
For displays, two four-lane interfaces are dedicated for Display Port 1.1, DVI and HDMI—but various combinations aren't possible: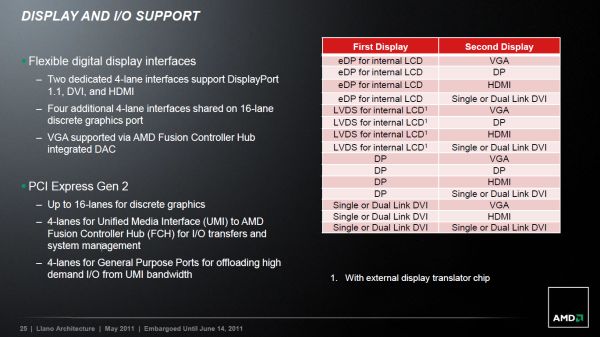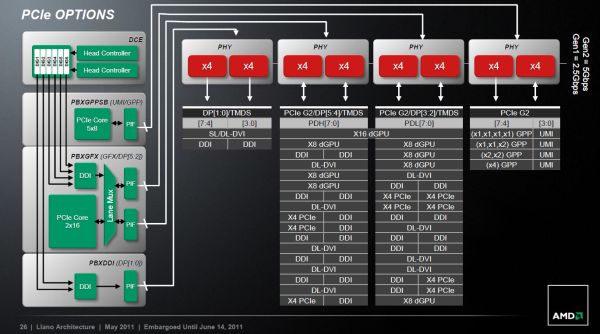 AMD are keen to point out the power consumption curves generated by the gating of the processor and system, depending on various sleep states—citing a one second recovery from S3.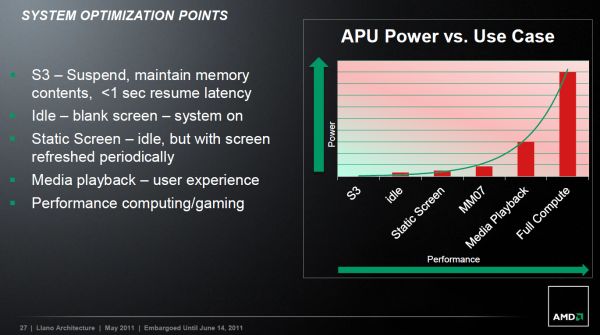 But alas, most of the hype regarding Fusion and Llano is CPU based. In terms of the motherboard, it's up to the designers to get creative, so let's take a look at the ASRock A75 Extreme6.