The current flux in the television market is embodied by the emergence of two closely related categories, namely, the Smart TV and the connected TV. While the former category is being actively promoted by Google (and, till recently, Intel), the latter is in the hands of the usual TV manufacturers like Samsung, LG, Vizio etc. The popularity of OTT (over-the-top) premium content in the form of Netflix, Vudu, Hulu Plus etc. in the US has also aided in popularizing the concept of Smart / connected TVs. With the upgrade cycle for TVs being in the order of 5 - 10 years, there are a large number of consumers who have yet to jump onto either of these bandwagons. This has opened up the market for an intermediate device to bring connected features to their existing TV sets. It is precisely this market that has made devices like the Roku boxes and the Sony network media players successful. Last year, we looked at one of the Roku models that Netgear rebadged, and came away satisfied. This time around, Netgear has decided to come out with its own device for this purpose, namely, the NTV200.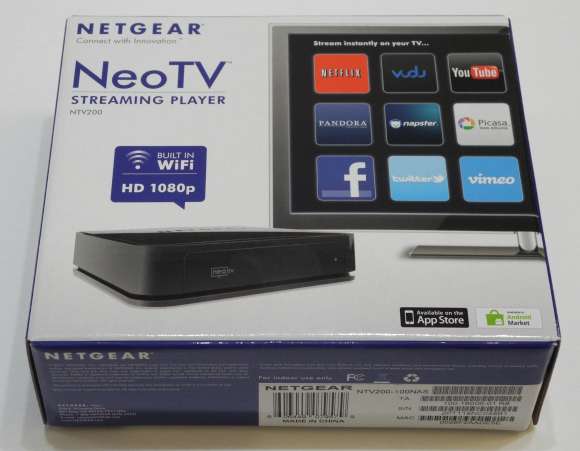 The NTV200 is a low power palm sized box slightly larger than Roku 2. Its intent is to serve up premium service apps like Netflix and Vudu and make your TV a connected one. The box includes both wired and wireless network support.
At the very outset, it must be made clear that the NTV200 has limited appeal if you already own a Smart TV or a connected TV. Without doubt, the Netflix app is meant to be the crowd puller. The Netflix app is the baseline for all connected TV boxes in the US market right now. To put one over the Roku boxes, Vudu streaming is also available. An official YouTube app rounds up the services provided by the NTV200 and not the Roku 2. Of course, Roku 2 has Amazon VoD and Hulu Plus which are not offered by the NTV200. While it is debatable as to whether Amazon VoD or Vudu is more popular, one can take the safe ground here by indicating that both the Roku 2 and the NTV200 are equally matched with respect to popular streaming services.

Support for various online services is only half the story. The user experience and general performance of the device are more important factors. Before looking at those aspects, we will take a look at the hardware and setup impressions.