Over the years, Gigabyte has given us some interesting products. More recently in the past 18 months, Rajinder gave their H55N-USB3 motherboard a well deserved recommendation, and more recently, I have scrutinized their Sandy Bridge range. For X79, Gigabyte is uncharacteristically launching only a few motherboards, of which we are looking at their cheapest model, the X79-UD3. We are also for the first time introduced to what Gigabyte believe should be a graphical BIOS compared to their competitors. Read on for the full review.
The full Gigabyte X79 range consists of a UD3, a UD5, an overclock oriented UD7-OC and a gamer G1 Assassin 2. Typically we see Gigabyte jump at the more esoteric features of a chipset, always willing to take advantage of newer features, but sometimes at the expense of the in-the-box package or memory compatibility.
Overview
It is hard to have a unique overview on the UD3, especially if we compare it to other boards on the market. The price ($270 MSRP) suggests it should sit square between the ASUS P9X79 Pro ($330) and the ASRock X79 Extreme4 ($235), both of which we have reviewed recently, so the expectation should be that it falls between the two:
ASUS P9X79 Pro
Gigabyte
GA-X79-UD3
ASRock
X79 Extreme4
Price (MRSP)
$330
$270
$235
Memory Slots
8
4
4
PCIe
2 x PCIe x16
2 x PCIe x8
2 x PCIe x1
2 x PCIe x16
2 x PCIe x8
2 x PCIe x1
1 x PCI
2 x PCIe x16
1 x PCIe x8
2 x PCIe x1
2 x PCI
SATA 6 Gbps
SATA 3 Gbps
4
4
6
4
5
4
USB 3.0
USB 2.0
6
14
4
14
4
12
Power/Reset Buttons
Yes
No
Yes
Fan Headers
6
5
6
VRM
8+2
8+1
6+2
Clear CMOS
Button
Header
Button
LAN
Intel 82579V
Intel 82579V
Broadcom BCM57781
Audio
Realtek ALC898
Realtek ALC898
Realtek ALC898
In The Box
IO Shield
Manual
Driver CD
6 x SATA cables
Long SLI Cable
3-way Bridge
IO Shield
Manual
Driver CD
4 x SATA Cables
Long SLI Cable
Long CFX Cable
3-way SLI Bridge
4-way SLI Bridge
IO Shield
Driver CD
4 x SATA Cables
Long SLI Cable
3-way SLI Bridge
Warranty
3 Years
3 Years
Depends on Region
Overall, we could consider this review in two ways. One, in terms of performance and features, which for a $270 fits reasonably well in the X79 schema, but comes up against stiff competition from ASRock offerings we have reviewed. Or two, in terms of my experience with the board, which wasn't the most positive experience. I initially had memory problems which required another memory kit, which worked fine the first time to get results, then not any other subsequent time, suggesting a BIOS update will be needed for memory compatibility. I also had an issue with the PCIe bandwidth, which didn't impact to any noticeable degree with results (it only affected certain dual GPU tests) which Gigabyte assure me was more a hardware anomaly rather than par-for-the course.
I see a lot of system bundles here in the UK that offer Gigabyte boards, and no doubt this is a board that should sell well for people looking to move to X79/Sandy Bridge-E on not a lot of money. It has a couple of unique features that other vendors have the option to use but do not (TPM being the prime example), as well as a substantial number of SATA 6 Gbps ports to use, as long as you're not in quad-GPU land.
Visual Inspection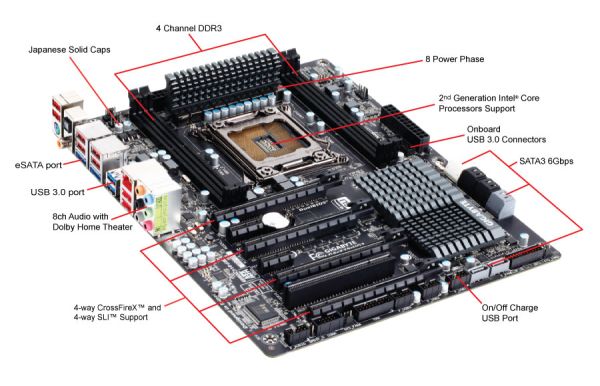 This first image of the board is one I pulled directly from the Gigabyte website - a schematic of the X79-UD3 indicating various features. The CPU socket area is surrounded on either side by two DIMM slots, for quad-channel memory support. The UD3 has one DIMM per channel, which in the 'budget' land of X79 is standard. The 8+1 CPU VRM is below a grey spiky heatsink that doesn't seem to heat up significantly under CPU load, suggesting it is efficient at heat dissipation. Three of the motherboard fan headers are in this area - there are CPU and a SYS fan headers on the top left (both 4-pin), and another SYS fan header to the right of the memory, also 4-pin. The other two SYS headers are on the bottom of the board, and are both 3-pin.
The SATA ports are numerous but slightly abnormal. The pair of white ports don't fit in to the color scheme of the board, but are the two SATA 6 Gbps ports from the PCH. Underneath, are the four black ports, which are the four SATA 3 Gbps, also from the PCH. The two grey ports underneath are a pair of SATA 6 Gbps from a Marvell 88SE9172 controller - there are two more grey SATA 6 Gbps ports from another Marvell controller, but these are located on the south end of the board, with the other headers. Gigabyte have at least done a bit of thinking here - even though these two ports stick out of the board and are at the bottom, the only way to block them is when a user is in quad-GPU mode with four dual slot discrete GPUs. These two ports are ideal to fit in some more drives at the bottom of a case, for example when the SSD is bolted to the bottom rather than the mechanical HDDs which could be to the side.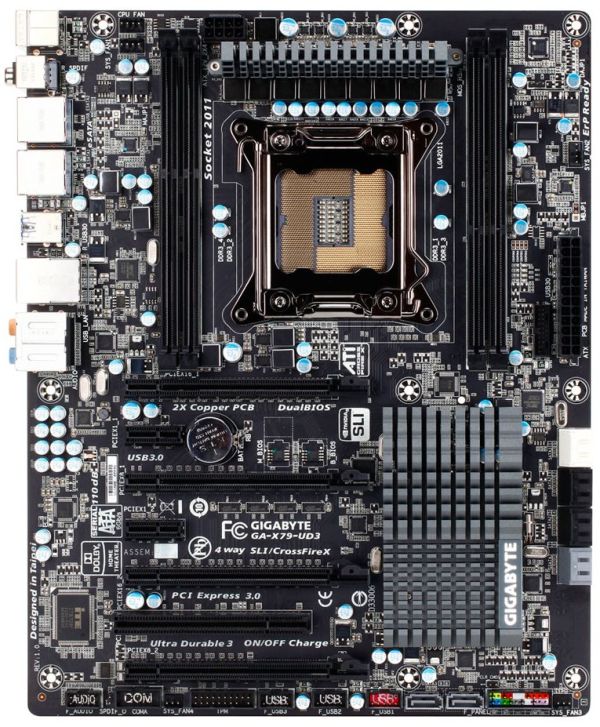 The PCH/chipset cooler is low profile and multi-ridged so allow for maximum airflow. Normally on some of the higher end boards, we see this heatsink attached to another heatsink via a heatpipe. Gigabyte's large but low profile negates the need for this, however it does get a tad warm to touch during high throughput scenarios.
So far we have seen most X79 motherboards having power/reset/Clear CMOS buttons on board and a Debug LED - useful for reviewers when coming up against hardware limits but also for consumers if a certain error has arisen. Unfortunately we don't see these on the UD3, perhaps for different goals (compared to the ASRock X79 Extreme4, which does have them and is cheaper), which is unfortunate. Users will have to short two pins to get a Clear CMOS, which given the initial graphical BIOS implementation and overclock issues I had, is also a little frustrating.
The PCIe layout is as simple as can be, with (from the top) an x16, x1, x8, x1, x16, x1, x8 - when the bottom x8 is populated, the second x16 reduces to x8, as these slots are multiplexed. All the x16 are PCIe 3.0 to help with PCIe bandwidth limited scenarios, but again I have to credit Gigabyte for their thought in layout - I always envisage the scenario when I have two full length, double slot GPUs, and an x1 card. In the X79-UD3, I'd populate the two x16 slots with GPUs, and the x1 card in the available x1 slot (the second x1 on board). This gives both GPUs at least one slot width for airflow. Some motherboard manufacturers still can't get this right, so kudos to Gigabyte.

The back panel as awash with USB ports - eight USB 2.0 ports in red and two USB 3.0 ports in blue. There are also two blue eSATA 6 Gbps ports, a solitary PS/2 port, optical and coaxial SPDIF outputs, an Intel gigabit Ethernet connector, and audio jacks from a Realtek ALC898. Overall, this is a little simple - no Clear CMOS button, and no Firewire ports.