Intel announced the Xeon Phi ("Knights Corner") a few months ago and bought the Qlogic infiniband team and Cray fabric team to bolster its HPC efforts. A clear signal that Intel will not stand idly while GPU vendors try to conquer the HPC market.
Dell, Intel and the Texas Advanced Computing Center (TACC) build the first Supercomputer based upon the Xeon Phi, called Stampede. Stampede can spit out 10 Petaflops. If it was released right now, it would occupy the third place in the top 500 list of supercomputers. Stampede will go live on January the 7th, 2013.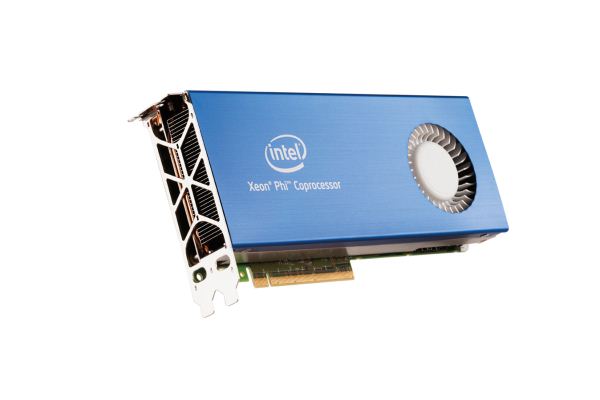 The Xeon Phi consists of 64 x86 cores (256 threads), each with a 512-bit vector unit. The vector unit can dispatch 8 double precision SIMD operations. The Xeon Phi runs at 2 GHz (more or less, probably more soon) and thus delivers (2 GHz x 64 cores x 8 FLOPs) 1 TFlops. For comparison, a quadcore Haswell at 4 GHz will deliver about one fourth of that in 2013. NVIDIA and AMD GPUs can deliver similar FLOPs, programming the Xeon Phi should be a lot easier to use than CUDA- or OpenCL. The same development tools as for the regular Xeons are available: OpenMP, Intel's Threading Building Blocks, MPI, the Math Kernel Library (MKL)...
Anyway, the Xeon Phi is definitly not limited to ultra expensive supercomputers. Supermicro showed us the Superserver 2027GR-TRF which contain 4 Xeon Phi cards thanks to two redundant 1800W (Platinum) PSUs. The rest of the server consists of two Xeon E5 and 16 DIMM slots in total, supporting up to 256 GB. So it seems that one Xeon Phi card consume about 300W.