Introduction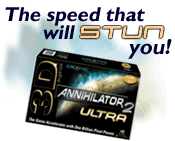 After paying Creative Labs an impromptu visit back in August we were left with a very interesting take on the situation surrounding NVIDIA's GeForce2 Ultra solution and the cards that would be based around it.  At that time, Creative Labs was on track to produce the first cards based on the GeForce2 Ultra and would thus enjoy a retail availability lead of a few weeks over the competition. 
In spite of this, Creative Labs expressed complaints about the cost of producing the boards, however, surprisingly enough, it wasn't the extremely high speed memory or hand picked GeForce2 cores that garnered the highest complaints.  Instead, it was the cost of the various power components, capacitors, resistors, etc… on the board that Creative Labs seemed to have issues with when it came down to final board cost. 
While that was the first and last time we ever heard of such a complaint from a video card manufacturer, it is worthy to note that the situation has changed somewhat since then.  Instead of Creative Labs holding an exclusive lead in terms of shipping GeForce2 Ultra based boards, they have seen delays that have now positioned their Annihilator2 Ultra card as being released around the same time as ELSA's GLADIAC ULTRA which we reviewed just under two weeks ago. 
Without the exclusive availability of their cards for a period of time before other competing manufacturers could join in, and without the ability to undercut the competition too much in price as they did with the GeForce2 GTS based Annihilator2, Creative Labs had very little to differentiate their Ultra based board from soon to be arriving competing solutions.  However one thing that Creative Labs hasn't had to rely on in the past to boost sales were unique features that set them apart from the competition.  As the well recognized brand name and overwhelming presence of products in retail stores would lead you to believe, Creative Labs is at a noticeable advantage with their Annihilator2 Ultra, and it may just be the advantage Creative Labs needs to actually sell these expensive little cards.   
For features of the GeForce2 Ultra visit our GeForce2 Ultra Review.