Since Computex back in June, Gigabyte has been pushing a new power delivery system across parts of its motherboard range. This involves an integrated circuit to combine power delivery MOSFETs into a small form factor with great heat dissipation, high efficiency and a smaller PCB space – the PowIRStage IC3550 they have been using is rated up to 60A of current each. This makes sense in the high end spectrum (Z77X-UP7) where power might be needed, or in low airflow situations (mITX) to ensure longevity. But is it required on a desktop Trinity board? These things are expensive, which made me wonder if it is a worthwhile investment in a desktop Trinity system. Read on for the full run-down of the F2A85X-UP4.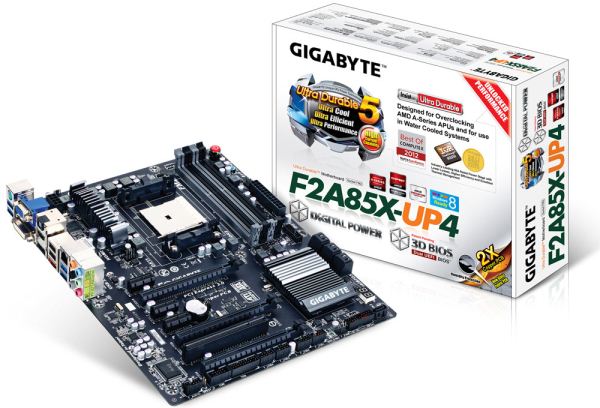 Gigabyte F2A85X-UP4 Overview
Very rarely does a motherboard ever just 'work'. Normally there is a little issue here or there, but looking back on the notes I made while testing, nothing significant came up while testing the Gigabyte F2A85X-UP4. However, ultimately the goal of a motherboard should be to bring something new to the table – the concept of a board 'doing everything it should do out of the box' has to be the standard, not the exception.
The F2A85X-UP4 brings a little more to the Trinity platform than some of its competition. PowIRStage IR3550 ICs, which we have detailed in previous reviews, are used and for a minor increase in cost we get a fewer phases rated at a higher amperage that due to their design should provide a higher efficiency and run cooler than the previous premium power delivery ICs. Whether that increased cost is justified on a platform such as Trinity could be debatable, but Gigabyte insist that at least the high end board in each platform should have something similar. To take credence with the efficiency, the F2A85X-UP4 system draws the least power in our at-the-wall power tests.
Design wise we have enough PCIe slots for three GPUs in CrossFireX (no SLI, not certified), seven SATA 6 Gbps ports on board, a TPM header, DualBIOS methodology, power/reset buttons, a debug LED, the Realtek ALC892 audio codec and a Realtek 8111E NIC. Two extra USB 3.0 ports are also supplied through an Etron EJ168 controller.
The A85X platform in Gigabyte's hands uses their 3D-BIOS system, which over the previous year we have detailed almost to excess. The software on the platform is seemingly limited, with EasyTune6 showing its age and not giving any automatic overclock settings. In terms of manual overclock, our board performed up to 4.5 GHz on default LLC before voltages required for stability got a little crazy.
In terms of performance, the Gigabyte F2A85X-UP4 sits well with the rest of the pack of FM2/A85X boards we have reviewed so far. As mentioned previously, the place it really excels seems to be in terms of power usage at idle, during CPU load and during dual GPU gaming. In the box we get a couple more SATA cables than in other FM2/A85X packages.
For $130 the Gigabyte F2A85X-UP4 is pushing the upper limits in terms of Trinity motherboard pricing, but with the PowIRStage IR3550s being used to increase stability while decreasing power dissipation, it is clear to see why. While it does not surpass any of the competition (some would argue it is at a lower price:performance ratio), it falls into the category of a rare board that passes my desk without any serious issues, and it should be seriously considered as a reliable purchase.
Visual Inspection
What struck me most about the UP4 over other motherboards is the lack of heatsink covering the power delivery. In most motherboard designs we typically see a multi-ridged heatsink oriented both above and to the left of the CPU socket area, possibly with a heatpipe connecting down to the chipset heatsink. On the UP4, due to the 'UP' in the name, Gigabyte has used Ultra Durable 5. To the system builder, this means PowIRStage IR3550 ICs which are reported to reduce VRM temperatures by up to 10-20°C in limited airflow environments over previous high-end solutions. The additional cost of these ICs (which should in turn give lower RMA rates) is slightly offset by the reduction in cost of the smaller heatsink over something larger, and that these ICs are rated at 60A and thus fewer should be required on board. But there is still an overall premium from using the upgraded power delivery.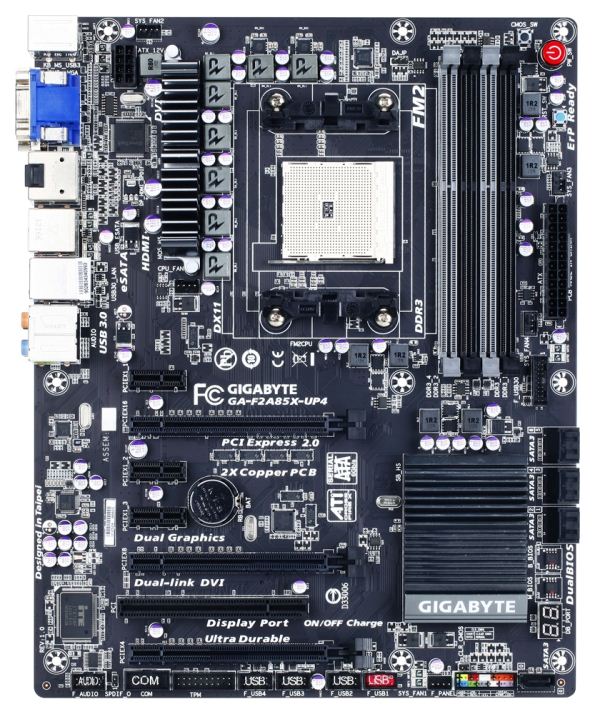 In terms of fan headers this board gets five - all 4-pin. The CPU fan header is located underneath the power delivery heatsink, and around the socket a SYS fan header is above the power delivery heatsink. Two of the fan headers are next to the 24-pin ATX power connector, and the final one is on the bottom of the board. Ideally I would have preferred one of the headers moved to where the CPU fan header is to allow for multi-fan setups. Nonetheless, the socket area is very clean for any manner of large air cooler.
The memory slots unfortunately do not use a single latch system; though to the top right of them we have a large power button in red flanked by two smaller buttons for reset and clear CMOS. On the right hand side of the board underneath the 24-pin ATX power connector we have a USB 3.0 port powered by the chipset, and six black SATA 6 Gbps ports. The FM2 chipset supports eight of these ports, so Gigabyte has located the seventh on the bottom of the board at a different angle and the eighth on the IO panel in the form of eSATA. All the SATA ports support RAID 0, 1, 5 and 10, meaning that this FM2 setup is good for a single OS drive and a 6-drive RAID 5 storage array. Below the SATA ports are two BIOS chips for Gigabyte's DualBIOS, and a two-digit debug.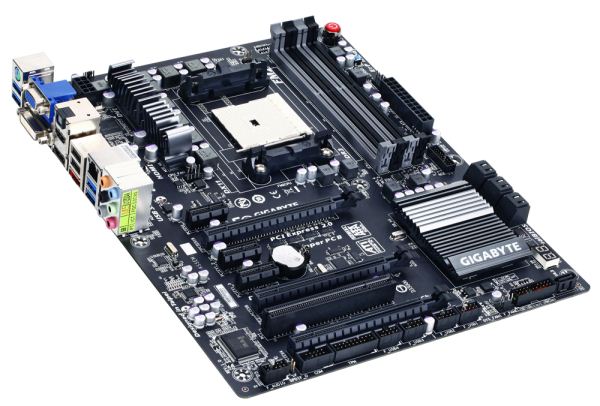 Along the bottom of the board is our usual array of fixtures on a Gigabyte product – a TPM header, a COM header, four USB 2.0 headers (one with quick charging), front panel audio, a front panel header, a fan header and a SATA port.
The PCIe layout is beneficial to dual GPU users with a PCIe x1 sound card – the GPUs can go into the top two full length PCIe lanes and the sound card can go in either the top port or between the cards. In order we have an x1, x16 (x8 in dual), x1, x1, x8, PCI, x4 (from the chipset). This final PCIe slot is routed via the chipset, and thus will cause this x4 to have a higher latency than a standard x4 port.

For the rear IO panel we get a combination PS/2 port, two USB 3.0 from the chipset, a VGA, a DVI-D, an optical S/PDIF output, HDMI, DisplayPort, two USB 2.0, an eSATA 6 Gbps, a Realtek GbE, two USB 3.0 (Etron controller) and standard audio jacks. There is scope for improvement on the F2A85X-UP4 in that the VGA and DVI-D ports can be combined into a single DVI-I. This would allow the rear IO panel to take advantage of a more esoteric collection of ports.
Board Features
Gigabyte F2A85X-UP4
Price
Link
Size
ATX
CPU Interface
FM2
Chipset
AMD A85X
Memory Slots
Four DDR3 DIMM slots supporting up to 64 GB
Dual Channel, 1066-1866MHz
Video Outputs
D-Sub
DVI-D
HDMI
DisplayPort
Onboard LAN
Realtek 8111
Onboard Audio
Realtek ALC892
Expansion Slots
2 x PCIe 2.0 x16 (x16/- or x8/x8)
1 x PCIe 2.0 x4
3 x PCIe 2.0 x1
1 x PCI
Onboard SATA/RAID
7 x SATA 6 Gbps, Supporting RAID 0, 1, 5, 10
1 x eSATA 6 Gbps
USB
4 x USB 3.0 Ports (Chipset) [2 back panel, 2 onboard]
2 x USB 3.0 Ports (Etron EJ168) [2 back panel]
10 x USB 2.0 Ports (Chipset) [2 back panel, 8 onboard]
Onboard
7 x SATA 6 Gbps
1 x USB 3.0 Header
4 x USB 2.0 Headers
5 x Fan Headers
1 x COM Header
1 x S/PDIF Output Header
1 x TPM Header
Power/Reset Buttons
Clear CMOS Button
Power Connectors
1 x 24-pin ATX Power Connector
1 x 8-pin CPU Power Connector
Fan Headers
1 x CPU (4-pin)
4 x SYS (4-pin)
IO Panel
1 x PS/2 Combination Port
2 x USB 3.0 (Etron)
2 x USB 3.0 (Chipset)
D-Sub
DVI-D
HDMI
DisplayPort
Optical S/PDIF Output
2 x USB 2.0
1 x eSATA 6 Gbps
1 x Gigabit Ethernet (Realtek)
Audio Jacks
Warranty Period
3 Years
Product Page
Link
In order to compensate for using Ultra Durable 5 / IR3550 ICs, in order to meet a price point Gigabyte must rely on the Realtek ALC892 audio and a Realtek 8111 NIC. For specific applications, we often prefer the Intel NIC or the later version of Realtek audio, even though it comes at cost.
What I would actually like to see is a replacement chip for the iTE SuperIO controller. This chip is onboard to deal with some of the more legacy components, but it takes up a lot of space on the PCB that could be used for other things. This chip is either dirt cheap, or there is not a replacement available – but I would suggest that if the Realtek audio chip or Etron USB 3.0 controller is so small, then why is the iTE so large?