All the major motherboard manufacturers run different nomenclature when grouping their channel and high end products. ROG, Fatal1ty and Big Bang are to name a few, and each have an associated meaning with the name. Thus when products come along with a suffix such as 'Golden', we expect the best of the best, something that is number one. Gold is for winners, and we will not accept anything less, otherwise it would be Silver, Bronze, or a wooden spoon. The ECS Golden range covers graphics cards and motherboards, the latest of which is the motherboard we are testing today in the FM2/A85X Trinity line up – the ECS A85F2-A Golden.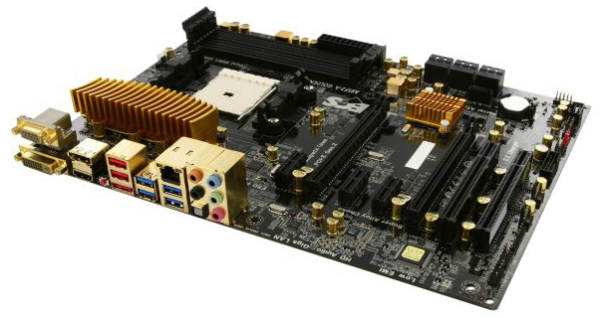 ECS A85F2-A Golden Overview
Visually, I have to say that a golden color scheme on a motherboard works quite well in my option. As something to look at, if paired with the right accessories and hardware, it could be a work of art. Annoyingly, there major thing wrong with the previous statement is that there are no proper accessories that go well with a golden motherboard, except a golden GPU or a copper pipe water cooling setup. Despite this, several case builders and modders have taken up the challenge and produced a works of art in the gold-style theme, and it even takes center stage in ECS' ModMen competition as the center piece of several builds. Gold also has status in certain parts of the world, and motherboards like the ECS A85F2-A Golden fit in that niche better than most.
The A85F2-A Golden currently e-tails for $126, which is at the high end of the FM2 spectrum, compared to ECS A85F2-A Deluxe which is around $89. For such a price, I would not be remiss in asking for a good look (check), a solid system in terms of performance, BIOS and software, and some extras in the box. On the board itself we get seven of the eight SATA 6 Gbps directly, and the final SATA 6 Gbps comes as an eSATA on the rear IO. ECS have decided to use a VIA VT1819S audio codec which performs well, and a standard Realtek NIC. Aside from having all four video outputs on the rear IO, we get a total of six USB 3.0 onboard and three fan headers (though on a board this side I would prefer at least five).
To start, on the release BIOS the motherboard failed to acknowledge a POST with my normal testing memory, a set of G.Skill 2400 C9. As there is no two-digit debug on the motherboard I was unsure as what the problem was, so I changed the CPU and GPU before using several memory kits to test. Eventually the board POSTed with a set of 1600 C9 memory installed – anything higher and no POST at all. As there is no BIOS update utility in the BIOS itself or at boot time, I had to update the BIOS after installing an OS. Before doing so, I noted that CPU-Z detected the 1600 C9 memory as either 1600 C5 (single channel) or 1600 C11 (dual channel). After updating to BIOS 11/14, the system was able to post with 2400 C9 installed. However, it would not accept that speed with XMP enabled, causing not to POST again – I adjusted the memory to 2133 C9 and the board booted. Even with this option, CPU-Z reported 1600 C11 being applied instead. This occurred over all our G.Skill memory kits (2133 C9, 1866 C9). As a result, our testing of the A85F2-A Golden is all done at 1600 C11 due to memory issues (we were sent the latest beta which had the same problems).
Despite the memory issues, the ECS board has a topsy-turvy results list. In terms of performance, the board applied the top turbo multiplier of the A10-5800K CPU (4.2 GHz) in all loading, meaning that in non-memory limiting multi-threaded tests, the ECS board came out as number one. In our Deferred Procedure Call latency test, the board spiked to over 600 microseconds, well above the 200 microsecond 'great' and 500 microseconds 'acceptable' limits, suggesting that there is part of the board that is given a lot higher priority in the call stack (possibly fans and temperature sensors) which could interfere with time-sensitive data recording.
The ECS BIOS has had a mild update for FM2, featuring a nice graphical EZ mode, albeit combined with the 'wall-of-text' advanced mode. As mentioned, there is no update BIOS option from the BIOS still, and fan controls are limited to a single fan header. There is a Windows 8 Fast Boot option, whereas Windows 7 with two GPUs clocked in at 11.50 seconds to POST. The software is also fairly dichotomous, with the overclocking tool eOC getting a face lift, but others such as eDLU and eBLU not connecting properly to ECS servers.
Overall, the ECS A85F2-A is a hard sell. It looks good if you like gold, and runs the processor out of the box at stock fairly fast, but if you want to overclock, put good memory in it or play around with fan settings, the options are fairly limited if they work at all.
ECS A85F2-A Golden Visual Inspection
The A85F2-A Golden itself plants the large AMD socket next to the golden VRM heatsinks, covering ECS 'Hyper Alloy Chokes'. The socket area has access to a single fan header to the top right of the socket which is slightly annoying – the best motherboards offer at least three in the socket area for additional cooling options.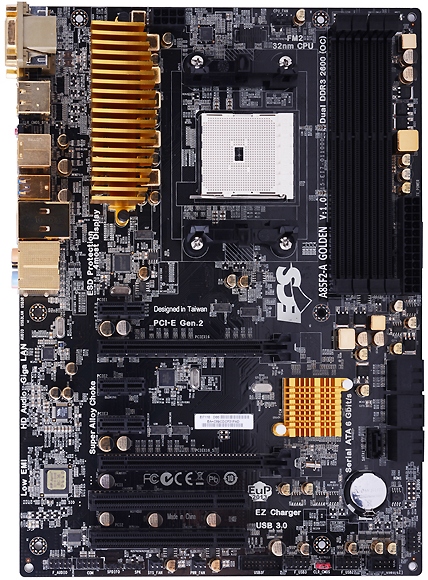 The motherboard is slightly smaller than the ATX standard in the left-to-right dimension, measuring 220mm rather than the usual 244mm. This allows ECS to drop the mounting points on the right hand side and place components like the SATA connectors up against the motherboard edge. We have seen this on other motherboards from other manufacturers as well.
On the right hand side, our memory slots use double side latches despite a general motherboard market drift to single side memory latches. Beside these is the 24-pin ATX power connector, and below we have the SATA ports. The A85X chipset specification gives us a total of eight SATA 6 Gbps ports to use, of which ECS place six here in a normal SATA placement, and one more coming out of the board behind the SATA block. The eighth SATA 6 Gbps port is routed to the rear IO panel as an eSATA 6 Gbps port. Next to the SATA ports is the golden chipset heatsink. Note that there is no power/reset buttons or two-digit debug LED on the motherboard for system debugging – something that frustrated me to no end on the default BIOS and memory compatibility as mentioned above.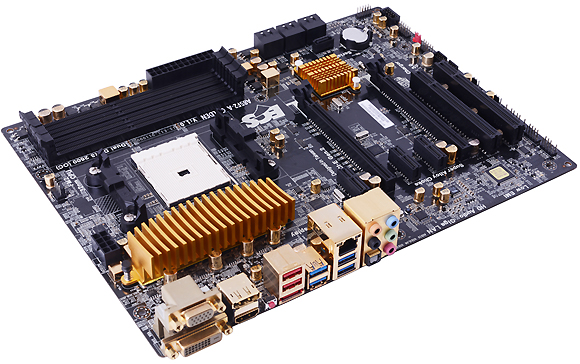 On the bottom of the board we get the front panel audio, a COM header, an SPDIO header, two of the fan headers, a USB 3.0 header, three USB 2.0 headers and a Clear CMOS switch. Above these are the PCIe slots, which give an x1, x16 (x8 in dual mode), x1, x1, x8, PCI, PCI. This allows users with two full length double-slot GPUs to have access to two x1 slots and a PCI slot for other devices as needed.

The rear IO panel is a fairly standard representation of a normal FM2 IO panel – we get all the video outputs (D-Sub, DVI-D, HDMI, DisplayPort), a ClearCMOS button, two USB 2.0, an eSATA 6 Gbps, four USB 3.0, a Realtek 8111E NIC, and audio ports from a VIA VT1819S. Normally I prefer more than two USB 2.0 ports on the back panel for installing Windows 7 via USB, which typically needs one for the USB stick, one for the keyboard and one for the mouse, although the mouse is not strictly necessary.
Board Features
ECS A85F2-A Golden
Price
Link
Size
ATX
CPU Interface
FM2
Chipset
AMD A85X
Memory Slots
Four DDR3 DIMM slots supporting up to 64 GB
Dual Channel, 1066-2600MHz
Video Outputs
D-Sub
DVI-D
HDMI 1.4a
DP 1.2
Onboard LAN
Realtek 8111E
Onboard Audio
VIA VT1819S
Expansion Slots
2 x PCIe 2.0 x16 (x16/- or x8/x8)
3 x PCIe 2.0 x1
2 x PCI
Onboard SATA/RAID
7 x SATA 6 Gbps (Chipset), RAID 0, 1, 5, 10
1 x eSATA 6 Gbps
USB
4 x USB 3.0 (Chipset) [4 back panel]
2 x USB 3.0 (Controller) [2 onboard]
8 x USB 2.0 (Chipset) [2 back panel, 6 onboard]
Onboard
7 x SATA 6 Gbps
1 x USB 3.0 Header
3 x USB 2.0 Headers
3 x Fan Headers
1 x COM Header
1 x ClearCMOS Header
Front Panel Header
Audio Header
Power Connectors
1 x 24-pin ATX Power Connector
1 x 8-pin CPU Power Connector
Fan Headers
1 x CPU (4-pin)
1 x SYS (3-pin)
1 x PWR (3-pin)
IO Panel
2 x USB 2.0
4 x USB 3.0
1 x eSATA 6 Gbps
1 x D-Sub
1 x DVI-D
1 x HDMI
1 x DisplayPort
1 x Realtek NIC
1 x Clear_CMOS Button
1 x SPDIF Optical Output
Audio Jacks
Warranty Period
3 Years
Product Page
Link
On the hardware side, using the VIA VT1819S is something different in the land of FM2 motherboards that we have tested. I am a little disappointed in the lack of fan headers – I would normally expect at least three around the socket and two at other places on the board, with the ability to control the voltage/power to them. The lack of a two digit-debug on motherboards like this can be a frustrating experience when something goes wrong and you are never entirely sure what the problem is.