Where there is a challenge, there is fun to be had! Here in this forum we share the fun. Challenge yourself to maximize your distributed potential! Become part of our Team's challenge to dominate all of the distributed projects!

Winning prize money, however unlikely, is not the carrot that keeps members in for the long haul: Stats, team rivalries, and fun, are.

-ZapZilla, Team AnandTech member and RC5 cracking fiend
To most of us, it's a thrill to play with the hottest new processors and other hardware. With each new generation of hardware, we also see new software emerge that takes advantage of it. For some of us it's 3D gaming, for others it's graphic design, for still others it's database work or 3D modeling. But throw that smokin' new computer up against the big tasks, and it's clear that the hot new hardware is still just a small incremental step forward, not a quantum leap. Imagine rendering one of the recent full-length computer-generated films on just one computer, for instance!
The rendering of a feature-length computer-generated movie is a task that's obviously too large for one computer to do in a timely fashion. The rendering is instead carried out simultaneously on many computers, which collaborate to accomplish what no single computer is (presently) able to do. This technique of breaking a very large task into smaller pieces, and using many computers to work on them, is distributed computing. Analyzing radio-telescope data, computing the effects of shielding in the storage of radioactive waste, and the computation of Optimal Golumb Rulers and large prime numbers are other tasks in which distributed computing is sometimes used. Grouping many small machines into one large, discrete computer is one method of executing distributed computing. A good example of this is ASCI.
The following is a link to info about the latest ASCI computer, called ASCI White: http://www.llnl.gov/asci/news/white-news.html.
There is another approach to distributed computing, one which has resulted in speed and power that dwarfs even ASCI White. The exciting thing is that this power is not locked away in huge supercomputers or "render farms!" Hundreds of thousands of private computer users throughout the world are participating in the growing field of public distributed computing. These public distributed-computing projects use the idle CPU time of ordinary computers to crunch data, using simple "client" programs that run as a screensaver or an icon on the Taskbar. AnandTech is proud to have a distributed-computing Team that has grown to be a powerful contender in several of the world's most popular distributed-computing efforts, including the hotly-contested RC5-64 Challenge, the Optimal Golumb Ruler project, Gamma Flux, and the famous SETI@Home. Here is a quick overview of these popular projects: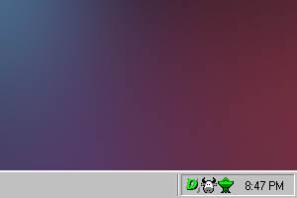 TeamAnandTech members will be quite familiar with one or more of these icons in their systrays