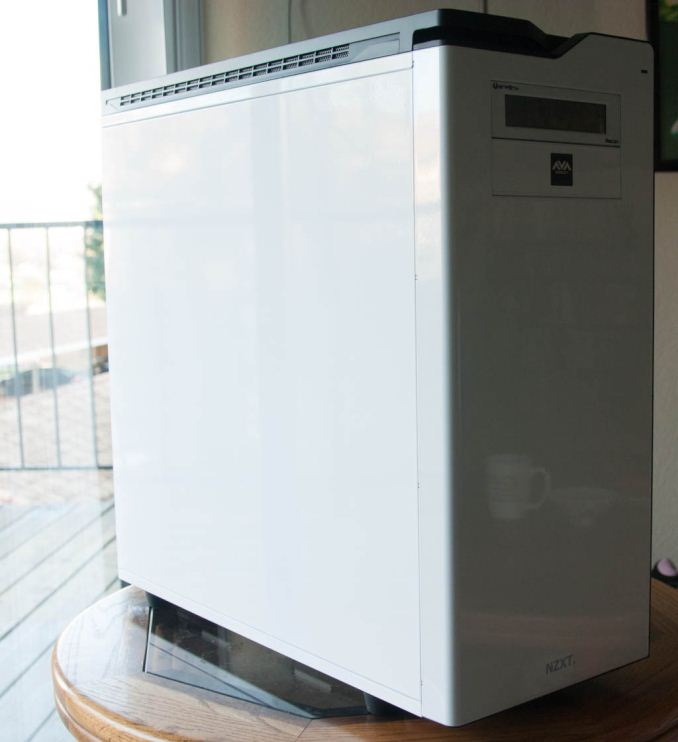 Building a quiet gaming system is something that takes a surprising amount of care, owing largely to smart choices in component selection and often careful tuning. The last time we checked in with AVADirect, they for the most part had the balance down with the exception of the NZXT H2 enclosure. We liked the system overall, and the revision of the H2 helped to alleviate some of the enclosure's airflow issues, but it wasn't what we were looking for in a high end, specialized configuration. With our third go, it looks like that problem has been eliminated. Sort of.
In the NZXT H2's stead, AVADirect has sent us the much beefier and more respectable NZXT H630 along with updated internals. They've also taken some care in not just configuring, but rigorously tuning this build, and as we go on we'll evaluate the fruit of that labor.
AVADirect Quiet Gaming PC Specifications
Chassis
NZXT H630 White
Processor
Intel Core i7-4770K
(4x3.5GHz + HTT, Overclocked to 4.2GHz, 22nm, 8MB L3, 84W)
Motherboard
ASUS Z87-C
Memory
4x4GB Kingston HyperX DDR3-1600 CAS 9 1.35V (max 4x8GB)
Graphics
Gigabyte WindForce 3X NVIDIA GeForce GTX 780
(2304 CUDA cores, 954MHz/6GHz core/memory, 384-bit memory bus)
Storage
2x Kingston HyperX 3K 120GB 6Gbps SSD in RAID 0

Western Digital Caviar Black 2TB 6Gbps HDD
Optical Drive(s)
N/A
Power Supply
Seasonic SS760XP 760W 80 Plus Platinum
Networking
Realtek RTL8111 PCIe Gigabit Ethernet
Audio
Realtek ALC892
7.1 surround jacks
Front Side
BitFenix Recon Fan Controller
Right Side
Headphone and mic jacks
2x USB 2.0
2x USB 3.0
SD card reader
Back Side
PS/2 port
2x USB 2.0
HDMI (IGP)
DVI (IGP)
VGA (IGP)
4x USB 3.0
Ethernet
7.1 surround jacks
2x DVI (GTX 780)
HDMI (GTX 780)
DisplayPort (GTX 780)
Operating System
Windows 7 Home Premium 64-bit SP1
Extras
80 Plus Platinum power supply
Card reader
Heavily optimized for silent operation
Silenced 3.5" hard disk enclosure
Zalman Cube CPU Cooler
BitFenix Recon Fan Controller
Warranty
3-year parts and labor
Pricing
Starting at $1087
Price as configured: $2,456
Honestly it's pretty hard to find too much fault with what AVADirect has done here, at least in terms of component selection. There are going to be aspects of this build that will be matters of taste, but this build has obviously skewed in favor of performance over absolute silence. That's totally fine; it's "Quiet," not "Silent."
The Intel Core i7-4770K is at this point a reliable workhorse, the fastest CPU you can get for most practical purposes. AVADirect has given it a modest overclock up to 4.2GHz with 1.28V on the core, and it idles down to 800MHz and ~0.72V like it's supposed to, so no complaints there. Strapped to its integrated memory controller is 16GB of low voltage DDR3-1600, CAS 9, courtesy of Kingston. This is pretty standard, but I'd've actually opted to make the move to DDR3-1866 for a performance system. Ian has handily demonstrated that DDR3-1600 is no longer really the sweet spot for Haswell.
Handling graphics duties is the Gigabyte WindForce 3X model of NVIDIA's GeForce GTX 780. A custom version of AMD's Radeon R9 290 or 290X would possibly be more ideal, but with cryptocurrency substantially disrupting prices on AMD's high end, the GTX 780 really does strike a strong balance, offering excellent performance.
I'm a little more fussy about the storage subsystem. I like the silenced enclosure for the Western Digital Caviar Black, but the price premium on that coupled with the drive itself suggests that just going with a 480GB SSD for not too much more money might have been more ideal. The two Kingston HyperX SSDs in RAID 0 are cute, but striped RAID on SSDs serves no real practical purpose except to boost benchmark scores. This probably could be more optimized; in the future I'd almost suggest opting for a single ~1TB class SSD.