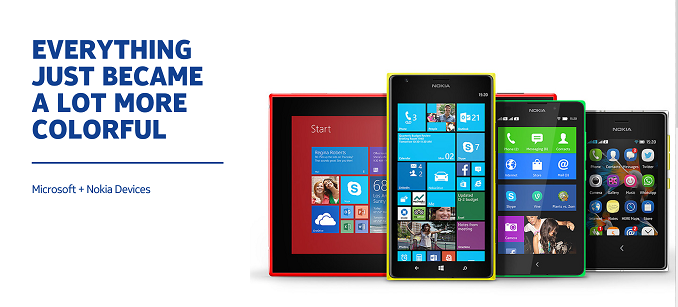 Back on September 3rd 2013, Microsoft announced its intentions to purchase Nokia's mobile phone business, and after several extra months of waiting for regulatory approval, that deal officially closes today.
Microsoft has acquired almost all of the Nokia devices and services segments, as well as an agreement to license patents from Nokia, and to license the HERE mapping technology.
Nokia's devices and services will now be known as Microsoft Mobile Oy (Oy being a Finnish abbreviation of Osakeyhtiö which translates to Limited company ala Wikipedia) and for the time being, Microsoft Mobile Oy will be run as a subsidiary of Microsoft.
Though the final price was not officially announced yet, it is expected to be slightly higher than the $7.2 billion originally announced. As part of the deal, Microsoft now employs about 25,000 former Nokia employees, as well as owning most of Nokia's manufacturing. Several of the plants did not transfer ownership due to various factors – the manufacturing facility in India which employs 7500 workers is subject to an asset freeze over ongoing taxation proceedings and therefore will still be owned by Nokia but a service agreement has been reached with Microsoft to allow them to keep the plant active. Also, one plant in Korea which employs about 200 people will close rather than transfer.
Former Nokia CEO Stephen Elop will now report to Satya Nadella as executive vice president of the Microsoft Devices Group – now expanded to include Lumia smartphones, Nokia mobile phones, and the recently forked AOSP versions of the Nokia X phones in addition to Xbox hardware, Surface, Perceptive Pixel products and accessories.
What this brings to Microsoft is quite a lot of experience in building not only mobile device hardware, but also software and imaging. It's been clear to see the influence Nokia had on Windows Phone since they initially signed on as exclusive partners in 2011. Obviously the hope by Microsoft is that bringing this experience tighter into the organization will allow them to add features at a quicker pace.
Also the manufacturing component is something that Microsoft as a software company has never had direct control over, and it may help them in other areas with the move to a devices and services company last year. Surface 2, for example, has been in short supply and while it's far too early for Microsoft to move production of their own products to the former Nokia manufacturing facilities, it is possible they can leverage that for future products.
Steve Ballmer announced that Microsoft was moving from being a traditional software company to a Devices and Services focus, and with this acquisition, they have fleshed out the devices side. Now they need to execute that strategy and try to kick start their mobile efforts which have struggled in the marketplace so far.