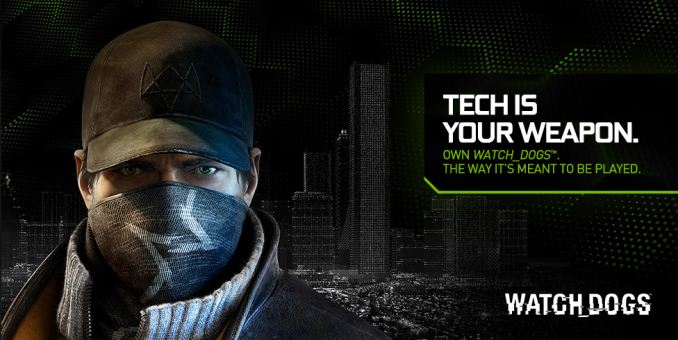 In a surprise move today, NVIDIA has announced that they are updating their spring GeForce game bundle mid-cycle with a new game.
Effective immediately, Ubisoft's upcoming open world techno thriller Watch Dogs is being bundled with the GTX 660 and above. This replaces NVIDIA's previous Daylight bundle for these cards, which started last month and we had previously been expecting to run through May.
Ubisoft is of course one of NVIDIA's closest partners, and while NVIDIA hasn't bundled all of Ubisoft's high profile games they have bundled a number of them over the years, including games from the Splinter Cell and Assassin's Creed series. Watch Dogs in turn is not an unexpected bundle choice (if a bit early) and for video card buyers it represents a step up in value, replacing the budget priced Daylight with a AAA priced game. Meanwhile as NVIDIA's new flagship game under The Way It's Meant To Be Played program, Watch Dogs will be packing a few enhancements from NVIDIA's GameWorks libraries, including TXAA anti-aliasing and HBAO+.
NVIDIA Spring 2014 Game Bundles
Video Card
Bundle
GeForce GTX
760/770/780/780Ti/Titan
660/660Ti/670/680/690
Watch Dogs
GeForce GTX 650/650Ti/750/750Ti
$150 Free-To-Play
(Warface, Heroes of Newerth, Path of Exile)
Select GTX 700M/800M-based Notebooks
$150 Free-To-Play
(Warface, Heroes of Newerth, Path of Exile)
GeForce GT 640 (& Below)
None
As this bundle is a straight-up replacement of the previous Daylight bundle, the cards it does (and doesn't) apply to are the same as before. The GeForce GTX 660 and up qualify for Watch Dogs, while the GTX 650 series, GTX 750 series, and GeForce Mobile series remain a part of NVIDIA's lesser Free-To-Play bundle. Meanwhile for video card buyers this comes hot on the heels of last week's game bundle refresh from AMD, which saw AMD launch their Never Settle Forever bundle for the Radeon 200 series.
Finally, as always, these bundles are being distributed in voucher from, with retailers and etailers providing vouchers with qualifying purchases. So buyers will want to double check whether their purchase includes a voucher for either of the above deals. Checking NVIDIA's terms and conditions, the codes from this bundle are only good through June 30th, so it looks like this bundle is only scheduled to run for a couple of months.
Source: NVIDIA