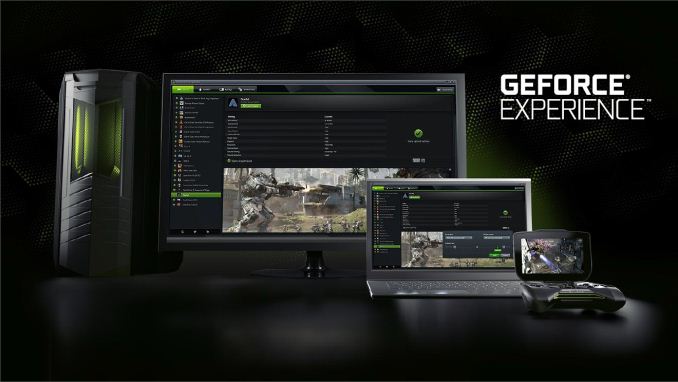 It has been a bit over 2 years since NVIDIA first announced GeForce Experience, and while it took them a bit longer to get off the ground than they had planned on, since then they've been quickly iterating on the utility to add features and fix bugs. The previous release of GeForce Experience was April's version 2.0, which added laptop functionality along with new ShadowPlay and GameStream features. Now NVIDIA is back with a smaller point update, releasing GeForce Experience 2.1 today.
As is common for GeForce Experience point updates, 2.1 is a combination of small new features and bug fixes. On the feature side GeForce Experience is getting a little more FRAPSy, with the addition of an in-game framerate overlay for ShadowPlay. Note however that because this is a ShadowPlay feature, it only functions when ShadowPlay is enabled, so you'll still want to keep around FRAPS (or your favorite overlay) if not using ShadowPlay.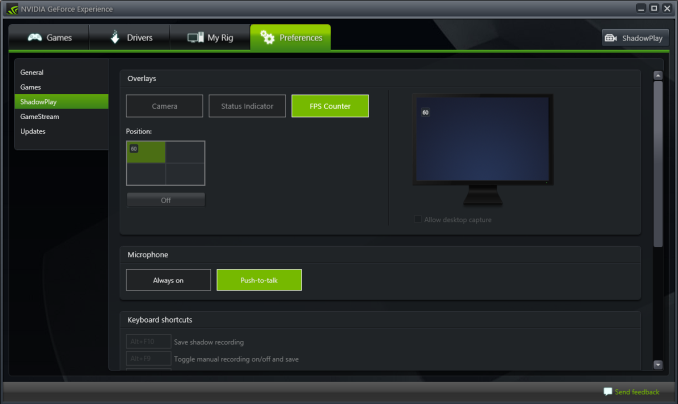 Speaking of ShadowPlay, 2.1 also adds the ability to do desktop capture in ShadowPlay's shadow mode. The desktop capture ability was introduced in 2.0, and previously only worked with manual recordings. Meanwhile ShadowPlay microphone recording functionality also gains a Push-To-Talk (PTT) recording mode as an alternative to the existing always-on recording mode. Finally, NVIDIA has increased the maximum ShadowPlay recording resolution from 1920x1200 to 2560x1600, so WQXGA and QHD users will finally be capture to capture at their native resolutions.
As for the bug fix side, NVIDIA noted they have fixed a number of bugs. Twitch streaming stability and audio synchronization with Adobe Premiere are specifically mentioned among the fixed bugs.
Finally, as always you can grab the latest version of GeForce Experience over at NVIDIA's GeForce Experience download page.
Source: NVIDIA